The Socialist 17 November 2010
Fight for your future!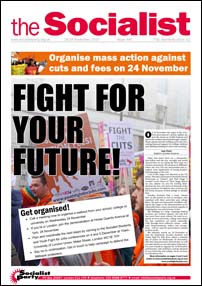 ---
Massive student demo shows anti-cuts anger
24 November - Strike against fees and cuts
10 November demonstration: Students fighting back
---
Afghanistan: Withdraw the troops now!
---
Kirklees - fighting £400 million budget cut
Protests and meetings against the cuts
Ballot cancelled in BA dispute
National Shop Stewards Network: Anti-cuts conference
---
Universal Credit - a thinly veiled attack on the sick and unemployed
Coalition turns back the clock on justice
Tories promote fast food nation
---
The Trade Unionist and Socialist Coalition launches its campaign for the 2011 local elections
---
Ireland: 'Not simply a crisis but an absolute disaster'
Ireland: United Left Alliance to challenge at next general election
Support the Laura Ashley strikers
---
Britain's trillion pound horror story
PDFs for this issue

Page1 pdf

Page2 pdf

Page3 pdf

Page4 pdf

Page5 pdf

Centre pages pdf

Page8 pdf

Page9 pdf

Page10 pdf

Page11 pdf

Page12 pdf
PO Box 1398, Enfield EN1 9GT
020 8988 8777

Link to this page: https://www.socialistparty.org.uk/issue/647/10632
Home | The Socialist 17 November 2010 | Join the Socialist Party
Jobs threat in Knowsley
Council officers announced 400 job losses on 9 November in Knowsley, north Merseyside, with more to follow. Jeff Bowe, a Knowsley Unison member, explained the situation to Hugh Caffrey:
We met with council officers when the job losses were announced. The context to this is a £30 million black hole in the authority's finances, which we already knew about, on the back of central government spending cuts. What the council have done now is quantify that to mean at least 400 redundancies.
I think it's hard to conceive of 400 people magically volunteering for redundancy in the current climate.
We also know that there will be a further package of cuts to terms and conditions. In 2012-13 the authority is planning a further £16 million round of cuts, meaning that over two and a half years almost £50 million is being cut from a budget of £170 million, so it's massive.
The effects will be devastating. Of course there will be the human and economic impact on our members. But it is impossible to take that amount of money out of services without harming frontline services.
A couple of things are worth mentioning especially. We're aware that this is happening up and down the country, that all local authorities are in the same boat because of the central government cuts.
Knowsley is a particularly socially deprived borough. Lots of our members work and live within the local authority, and will be facing a double whammy of being at risk from whatever the central government decides to do to benefits while at the same time facing cuts in the council services on which they rely.
We will now be consulting, together with the other unions, over what action we want to take. In normal times members would be looking towards industrial action, and I wouldn't rule that out, but as we know we are not living in normal times and so I think members are looking for more than that.
People are looking for a broader alliance together with community groups and people who use the services we provide, and while we're confronted first of all by the employer, which is the local authority, then this situation demands a wider political and industrial strategy than just the traditional one or two day strike and a collective bargaining solution.
---
In this issue
---
Socialist Party youth and students

Fight for your future!

Massive student demo shows anti-cuts anger

24 November - Strike against fees and cuts

Defend student protesters!

10 November demonstration: Students fighting back
---
War and occupation

Afghanistan: Withdraw the troops now!
---
Socialist Party workplace news

Kirklees - fighting £400 million budget cut

Protests and meetings against the cuts

Victory in law centre battle

Jobs threat in Knowsley

Ballot cancelled in BA dispute

National Shop Stewards Network: Anti-cuts conference

Workplace news in brief
---
Socialist Party news and analysis

Universal Credit - a thinly veiled attack on the sick and unemployed

Coalition turns back the clock on justice

Tories promote fast food nation

Fast news
---
Trade Unionist and Socialist Coalition

The Trade Unionist and Socialist Coalition launches its campaign for the 2011 local elections
---
International socialist news and analysis

Ireland: 'Not simply a crisis but an absolute disaster'

Ireland: United Left Alliance to challenge at next general election

Support the Laura Ashley strikers
---
Socialist Party review

Britain's trillion pound horror story
---
Home | The Socialist 17 November 2010 | Join the Socialist Party