The Socialist 17 November 2010
Fight for your future!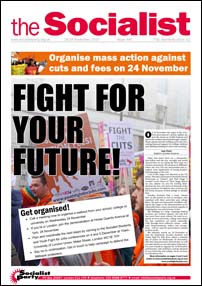 ---
Massive student demo shows anti-cuts anger
24 November - Strike against fees and cuts
10 November demonstration: Students fighting back
---
Afghanistan: Withdraw the troops now!
---
Kirklees - fighting £400 million budget cut
Protests and meetings against the cuts
Ballot cancelled in BA dispute
National Shop Stewards Network: Anti-cuts conference
---
Universal Credit - a thinly veiled attack on the sick and unemployed
Coalition turns back the clock on justice
Tories promote fast food nation
---
The Trade Unionist and Socialist Coalition launches its campaign for the 2011 local elections
---
Ireland: 'Not simply a crisis but an absolute disaster'
Ireland: United Left Alliance to challenge at next general election
Support the Laura Ashley strikers
---
Britain's trillion pound horror story
PDFs for this issue

Page1 pdf

Page2 pdf

Page3 pdf

Page4 pdf

Page5 pdf

Centre pages pdf

Page8 pdf

Page9 pdf

Page10 pdf

Page11 pdf

Page12 pdf
PO Box 1398, Enfield EN1 9GT
020 8988 8777

Link to this page: https://www.socialistparty.org.uk/issue/647/10635
Home | The Socialist 17 November 2010 | Join the Socialist Party
Workplace news in brief
Southampton strike
NUJ members mounted a successful picket at the Daily Echo offices in Southampton last week as part of their fight for decent pay. As journalists struggle with a pay freeze since July 2008, a director at 'hardpressed' Newsquest awarded himself a massive 21.5% pay rise.
Barry Fitzpatrick, national NUJ officer and Sally Churchward, Echo MOC, said support for the strike had been very strong with large numbers of members supporting the pickets from early in the morning. "Membership has increased to over 80%." A further two day strike planned for 16 and 17 November has been suspended pending negotiations.
NUJ members on the Brighton Argus will be striking on 18 and 19 November, after Newsquest announced plans to move production to Southampton.
Send messages of support to [email protected] and donations to 'NUJ Southampton Special' and post cheques to NUJ Treasurer, Canute House, Petersfield Road, Cheriton, Alresford, SO24 0NH or directly into bank account 'NUJ Southampton Special' sort code 086001 account number 20181226
Wales rail strike
Train drivers' union Aslef members employed by Arriva Trains Wales are to strike on 26 and 27 November in a dispute over pay. 92% of those voting in a turnout of 80% voted for strike action. Aslef says its members will not be penalised for working in Wales, where driver pay rates are lower than the rest of the UK.
The RMT is also balloting its members at Arriva Trains Wales over the same issues, their ballot will close on 30 November.
Merseyrail
The RMT is balloting staff on Merseyrail, excluding guards and drivers. Two pay offers have been rejected by the workers. The ballot runs from 15 to 30 November.
RMT election
Socialist Party member Lewis Peacock is standing for election to the RMT's council of executives. Lewis has been an RMT member for 21 years, working on London Underground. He is standing on a programme of defending jobs and fighting the cuts, building on the union's fighting policies. He is also calling for the development of a new workers' party, to provide a political alternative to the establishment parties. Voting is continuing until mid December.
Teachers' pensions
The national executive of the teachers' union NUT agreed unanimously at its November meeting to ballot for strike action over pensions. This will take place in the spring.
Government plans so far show an attempt to make teachers pay more and work longer for a lower pension. The exact timetable for the ballot will be agreed in December.
BBC latest
NUJ members at the BBC suspended their strike action planned for 15 and 16 November, pending negotiations. This is after a very successful two-day strike on 5 and 6 November. The dispute is over threats to pensions.
---
In this issue
---
Socialist Party youth and students

Fight for your future!

Massive student demo shows anti-cuts anger

24 November - Strike against fees and cuts

Defend student protesters!

10 November demonstration: Students fighting back
---
War and occupation

Afghanistan: Withdraw the troops now!
---
Socialist Party workplace news

Kirklees - fighting £400 million budget cut

Protests and meetings against the cuts

Victory in law centre battle

Jobs threat in Knowsley

Ballot cancelled in BA dispute

National Shop Stewards Network: Anti-cuts conference

Workplace news in brief
---
Socialist Party news and analysis

Universal Credit - a thinly veiled attack on the sick and unemployed

Coalition turns back the clock on justice

Tories promote fast food nation

Fast news
---
Trade Unionist and Socialist Coalition

The Trade Unionist and Socialist Coalition launches its campaign for the 2011 local elections
---
International socialist news and analysis

Ireland: 'Not simply a crisis but an absolute disaster'

Ireland: United Left Alliance to challenge at next general election

Support the Laura Ashley strikers
---
Socialist Party review

Britain's trillion pound horror story
---
Home | The Socialist 17 November 2010 | Join the Socialist Party