The Socialist 23 November 2010
Youth Fight for Education: No cuts, no fees, save EMA!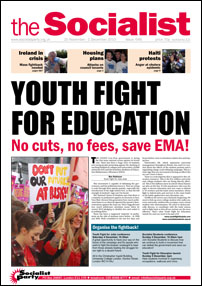 ---
Youth Fight for Education: No cuts, no fees, save EMA!
No to victimisation, defend student protesters!
Defend university access for all!
Universities occupied over fees and cuts
---
Not one job or one service to be cut
Mass organised action can stop cuts
1,000 march in Gloucester against 'scorched earth policy'
Fighting cuts: A militant stance is what's needed
Profiting from the most vulnerable
Government plans are an attack on council tenants
---
McCluskey elected Unite general secretary
---
Scotland and Wales: Don't accept the 'hand you have been dealt'
Cholera epidemic sparks clashes between Haitians and UN troops
Massive food price hikes spell disaster for poorest people
PDFs for this issue

Page1 pdf

Page2 pdf

Page3 pdf

Page4 pdf

Page5 pdf

Centre pages pdf

Page8 pdf

Page9 pdf

Page10 pdf

Page11 pdf

Page12 pdf
PO Box 1398, Enfield EN1 9GT
020 8988 8777

Link to this page: https://www.socialistparty.org.uk/issue/648/10660
Home | The Socialist 23 November 2010 | Join the Socialist Party
1,000 march in Gloucester against 'scorched earth policy'
'HOW WOULD you like your cuts?,' the 'consultations' by Gloucestershire County Council's (GCC) Road Show asked, mainly when working people could not attend. Allegedly, 5,000 people (out of 600,000 living in the county) opted for cuts in youth services and libraries.
Gloucestershire Socialist Party
However, they got a different answer when scores of county employees lobbied a GCC Cabinet meeting on 18 November. Then on 20 November, 1,000 protesters joined a march and rally in Gloucester, organised by Gloucester Districts Trades Council.
The GCC cuts are a scorched earth policy for many services. Scarcely a youth club will remain, library services face 43% cuts, legal aid and trading standards will be ransacked. 1,000 county council jobs will go, plus police officers and firefighters.
Gloucestershire is a rural county so 40% cuts to bus transport and road maintenance will have a dire effect, especially if people need to travel further for other services.
Trade unionists, library staff, youth workers and people eager to save their libraries, youth clubs and centres for the disabled turned out with placards and colourful banners. Trevor Hall, regional organiser for the Unite union, told us: "The crisis is not of our making ... why should we pay? The super-rich must pay their taxes like you and I do. This is just the start... the first of many big protests".
Billy Hayes, general secretary of the Communications Workers Union, praised the big response. He said his members are not just facing Tory cuts but Royal Mail is also under renewed threat of privatisation.
He urged us to show the coalition government what we think of it at the ballot box. People around us muttered "too late", we can't wait nearly five years for the next general election.
Fortunately, John McInally, vice-president of the PCS civil servants union, spoke next. Echoing what previous speakers said about the nature of the crisis, he also reminded us that cuts and privatisation had been on Labour's agenda too. Now Labour authorities in Wales threaten to dismiss 10,000 council workers if they refuse new contracts.
John said the government could be defeated but it would require coordinated strike action linked to community initiatives and local anti-cuts unions. His words struck a chord and every point he made was applauded by angry marchers.
All fighting speeches - and there were several - got support. But Parmjit Dhanda, Gloucester's former Labour MP, looked forlorn - it wasn't the weather, he'd got the message. And he's aware that his broken pledge to defend the post offices is not forgotten.
A campaigner from the Forest of Dean spoke. Half of the forest (owned by the state since nationalisation in 1924) is to be sold off and people are livid. Strong local resistance thwarted Thatcher's attempt to privatise the forest in the 1980s, so this campaign will be big and militant.
At a meeting after the rally to discuss how to set up anti-cuts unions, 45 people heard John McInally, Phil Jordan, trades council secretary and firefighters' union regional chair and Sue Powell from Gloucestershire Socialist Party, speak.
Anti-cuts groups are being set up across the county. Gloucester districts trades council must provide effective coordination through the anti-cuts alliance it founded in October. Community action will be crucial in defending youth services and libraries.
Gloucestershire county council leader Mark Hawthorne has an appetite for cuts, clawing even more money back than the county lost through Westminster's local government cuts.
In September the Road Shows were hailed as the "community's chance to meet the challenge". Judging by last week's protests and the mounting campaign in the Forest of Dean, they might soon regret that offer!
---
In this issue
---
Youth Fight for Education

Youth Fight for Education: No cuts, no fees, save EMA!

No to victimisation, defend student protesters!

Defend university access for all!

Universities occupied over fees and cuts
---
Anti-cuts campaign

Not one job or one service to be cut

Mass organised action can stop cuts

1,000 march in Gloucester against 'scorched earth policy'

Fighting cuts: A militant stance is what's needed

Profiting from the most vulnerable

Government plans are an attack on council tenants

Fast news
---
Socialist Party workplace news

Firefighters on the march

McCluskey elected Unite general secretary
---
International socialist news and analysis

Ireland in crisis

Scotland and Wales: Don't accept the 'hand you have been dealt'

Cholera epidemic sparks clashes between Haitians and UN troops

Massive food price hikes spell disaster for poorest people
---
Home | The Socialist 23 November 2010 | Join the Socialist Party