The Socialist 23 November 2010
Youth Fight for Education: No cuts, no fees, save EMA!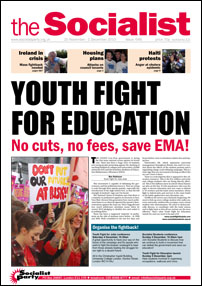 ---
Youth Fight for Education: No cuts, no fees, save EMA!
No to victimisation, defend student protesters!
Defend university access for all!
Universities occupied over fees and cuts
---
Not one job or one service to be cut
Mass organised action can stop cuts
1,000 march in Gloucester against 'scorched earth policy'
Fighting cuts: A militant stance is what's needed
Profiting from the most vulnerable
Government plans are an attack on council tenants
---
McCluskey elected Unite general secretary
---
Scotland and Wales: Don't accept the 'hand you have been dealt'
Cholera epidemic sparks clashes between Haitians and UN troops
Massive food price hikes spell disaster for poorest people
PDFs for this issue

Page1 pdf

Page2 pdf

Page3 pdf

Page4 pdf

Page5 pdf

Centre pages pdf

Page8 pdf

Page9 pdf

Page10 pdf

Page11 pdf

Page12 pdf
PO Box 1398, Enfield EN1 9GT
020 8988 8777

Link to this page: https://www.socialistparty.org.uk/issue/648/10669
Home | The Socialist 23 November 2010 | Join the Socialist Party
Fast news
Afghanistan war
SEVERAL THOUSAND protesters marched through central London on 20 November against the escalating war and continuing occupation of Afghanistan by Nato forces.
The demo coincided with a summit in Lisbon, Portugal, of the leaders of Nato's states as they grappled with an exit strategy for their 138,000 troops from war-torn Afghanistan. A war in which the Taliban insurgency is growing and civilian and Nato casualties are rising.
Britain's prime minister David Cameron set a deadline of withdrawing UK troops by 2015 and handing over control of security to Afghanistan's army and police. However, Cameron's sanguine comments contrasted with those of Nato's secretary general Anders Fogh Rasmussen who insisted that any withdrawal wouldn't be 'calendar based' but 'conditions based'.
Good news
TORY ENTERPRISE minister Lord Young has resigned from the government following the peer's 'you've never had it so good' gaffe. Notwithstanding today's 'great recession' the noble had mimicked the words of Tory prime minister Harold Macmillan, whose 1957 utterance coincided with the high water mark of the post-war capitalist upswing.
With one and a half million jobs being axed and services slashed as a result of the current government's £81 billion of cuts, the ludicrous suggestion from Young that a majority of people were enjoying the halcyon days of capitalism left Cameron with no choice but to let the former Thatcher minister go.
Peer pressure
ANOTHER 52 new peers have been appointed by the coalition government to the House of Lords. 85 new peers have been created since Cameron became PM. The majority of the new ermine-collared intake are Tory and Liberal peers, bringing the total number of state subsidised Lords to 800 - no cuts there then!
Along with the appointment of a number of celebrities, Tory ranks will be swollen by two party donors - Stanley Fink, who has given the party £1.9 million since 2003, and Bob Edmiston, the millionaire car importer who converted a £2 million loan into a donation four years ago.
Millionaire Sir Gulam Noon, who has given Labour more than £700,000 over the last decade, will join the opposition benches.
Both Edmiston and Noon were questioned by police back in 2007 over possible 'cash for honours' charges.
Labour's Oona King, who lost her Bethnal Green and Bow parliamentary seat to anti-Iraq war candidate George Galloway in 2005, was also ennobled.
Get real Osborne
HOW DIVORCED from reality is it possible to be? Ask Tory chancellor George Osborne who wrote the following missive in 2006:
"Ireland stands as a shining example of the art of the possible in long-term economic policymaking..."
"They have freed their markets, developed the skills of their workforce, encouraged enterprise and innovation and created a dynamic economy. They have much to teach us, if only we are willing to learn." Quite.
---
In this issue
---
Youth Fight for Education

Youth Fight for Education: No cuts, no fees, save EMA!

No to victimisation, defend student protesters!

Defend university access for all!

Universities occupied over fees and cuts
---
Anti-cuts campaign

Not one job or one service to be cut

Mass organised action can stop cuts

1,000 march in Gloucester against 'scorched earth policy'

Fighting cuts: A militant stance is what's needed

Profiting from the most vulnerable

Government plans are an attack on council tenants

Fast news
---
Socialist Party workplace news

Firefighters on the march

McCluskey elected Unite general secretary
---
International socialist news and analysis

Ireland in crisis

Scotland and Wales: Don't accept the 'hand you have been dealt'

Cholera epidemic sparks clashes between Haitians and UN troops

Massive food price hikes spell disaster for poorest people
---
Home | The Socialist 23 November 2010 | Join the Socialist Party