The Socialist 13 February 2013
Defend the NHS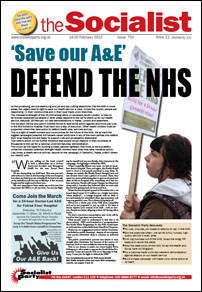 ---
'Save our A&E' - Defend the NHS
Mid Staffs hospital scandal: Big business culture kills
---
GCSE U-turn shows all Gove's 'reforms' can be stopped
Smash the blacklist - not the unions!
Victory over 'workfare' sanctions
Horsemeat scandal: good for profit, bad for health
"Fully funded" social care plan - still needed
---
15 February 2003: A million on the streets to stop the war
---
TUSC: 'No cuts' candidate in Eastleigh
Nottingham: Campaigning for comedy without misogyny
Support the fight for a socialist alternative
Socialist Party 2013 national youth and student meeting
---
Unison region calls for general strike
Care workers fight cuts in pay and conditions
---
Greece: Martial law ends ferry workers' strike
---
Low pay + high prices = debt misery
Film review: 'No' - an exercise in rewriting Chile's history
Spielberg's Lincoln by Tony Mulhearn
PO Box 1398, Enfield EN1 9GT
020 8988 8777

Link to this page: https://www.socialistparty.org.uk/issue/752/16119
Home | The Socialist 13 February 2013 | Join the Socialist Party
Subscribe | Donate | PDF | ebook
Victory over 'workfare' sanctions
Step up the fight for real jobs
Campaigners demand all 'workfare' schemes are shut down immediately
The victory in the Court of Appeal on 12 February for Cait Reilly and Jamie Wilson has dealt a massive blow to the government's work-for-your-benefit schemes. It turns out the government can't even follow its own rules!
Cait Reilly, a university graduate, originally lost her High Court case against being forced to give up career-relevant volunteering to work at Poundland.
But the three Appeal judges overturned this decision as the scheme was not compulsory.
Jamie Wilson, an unemployed HGV driver, was told that he would stop getting Jobseeker's Allowance for six months after he refused to work unpaid - for 30 hours a week - in the Community Action Programme. The judges ruled in favour of Jamie as the maximum benefit sanction was two weeks.
The ruling alone will not make the government scrap workfare. However, it does mean that all people who, like Cait and Jamie, have wrongly had their benefits stopped because of workfare may be able to claim money back. The government is appealing to the Supreme Court to get the decision reversed.
Claire Laker-Mansfield, from Youth Fight for Jobs, a key campaign in the fight against workfare, said: "A day's pay for a day's work is a basic right in any supposedly democratic society.
"The government must now respond to this ruling by immediately shutting down all unpaid workfare schemes.
"These schemes have amounted to a massive bailout to big business. The likes of Poundland have been allowed thousands of hours of free labour courtesy of the taxpayer."
The fight for decent jobs continues. 2.5 million people are unemployed, including one million young workers.
There are less than 500,000 job vacancies - many are not even real jobs. Millions more are under-employed or in the growing 'precariat' - low-paid workers in insecure jobs with bosses that don't allow even basic rights such as guaranteed hours.
But it doesn't have to be like this. Big businesses are sitting on £800 billion as they see no 'profitable outlet' for it.
An immediate 50% levy on this, combined with full nationalisation of the banking industry under democratic control, would be a good start to freeing up resources.
This money could then be invested in needed jobs, infrastructure, public services and green energy. Instead services are being destroyed in order to pay for the banksters' bailouts.
More job cuts in the private sector get announced every week - like those at HMV, Barclays, and Rolls-Royce.
Even in prime minister David Cameron's own back yard, 130 jobs are going as a Chipping Norton school for disabled children faces closure.
As Claire said: "It's high time the government started investing in creating secure, socially useful jobs paid a living wage - not punitive, ineffective slave labour schemes.
"But the Con-Dems' track record shows this is unlikely to happen without a struggle. That is what Youth Fight for Jobs is here for."
For more info about Youth Fight for Jobs see www.youthfightforjobs.com, email
[email protected]

or call 020 8558 7947 or 07757 207289
---
BBC video of announcement of victory
---
This version of this article was first posted on the Socialist Party website on 12 February 2013 and may vary slightly from the version subsequently printed in The Socialist.
---
In this issue
---
Socialist Party NHS campaigning

'Save our A&E' - Defend the NHS

Mid Staffs hospital scandal: Big business culture kills
---
Socialist Party news and analysis

GCSE U-turn shows all Gove's 'reforms' can be stopped

Smash the blacklist - not the unions!

Victory over 'workfare' sanctions

Horsemeat scandal: good for profit, bad for health

"Fully funded" social care plan - still needed

Them & Us
---
Socialist Party feature

15 February 2003: A million on the streets to stop the war
---
Socialist Party reports and campaigns

Campaigning against cuts

TUSC: 'No cuts' candidate in Eastleigh

Nottingham: Campaigning for comedy without misogyny

Support the fight for a socialist alternative

Socialist Party 2013 national youth and student meeting
---
Socialist Party workplace news

Unison region calls for general strike

Care workers fight cuts in pay and conditions

Workplace In Brief
---
International socialist news and analysis

Greece: Martial law ends ferry workers' strike
---
Reviews and readers' comments

Low pay + high prices = debt misery

Film review: 'No' - an exercise in rewriting Chile's history

Spielberg's Lincoln by Tony Mulhearn
---
Home | The Socialist 13 February 2013 | Join the Socialist Party