The Socialist 13 February 2013
Defend the NHS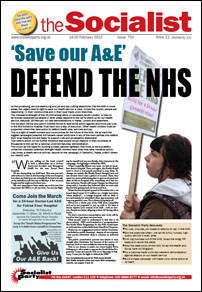 ---
'Save our A&E' - Defend the NHS
Mid Staffs hospital scandal: Big business culture kills
---
GCSE U-turn shows all Gove's 'reforms' can be stopped
Smash the blacklist - not the unions!
Victory over 'workfare' sanctions
Horsemeat scandal: good for profit, bad for health
"Fully funded" social care plan - still needed
---
15 February 2003: A million on the streets to stop the war
---
TUSC: 'No cuts' candidate in Eastleigh
Nottingham: Campaigning for comedy without misogyny
Support the fight for a socialist alternative
Socialist Party 2013 national youth and student meeting
---
Unison region calls for general strike
Care workers fight cuts in pay and conditions
---
Greece: Martial law ends ferry workers' strike
---
Low pay + high prices = debt misery
Film review: 'No' - an exercise in rewriting Chile's history
Spielberg's Lincoln by Tony Mulhearn
PO Box 1398, Enfield EN1 9GT
020 8988 8777

Link to this page: https://www.socialistparty.org.uk/issue/752/16122
Home | The Socialist 13 February 2013 | Join the Socialist Party
Subscribe | Donate | PDF | ebook
Campaigning against cuts
Rotherham NHS - 'scams' and cuts
"Hospital goes into intensive care" claimed the Rotherham Advertiser. Before Christmas Rotherham NHS Foundation Trust announced it has to make £50 million cuts. Now it admits that in 2011 it 'lost' £684,000 in an email scam!
They've also paid private financial consultants nearly £3 million over the last three years. An IT system for patient records, costing £50 million to install, still doesn't work. The chief executive who proposed the cuts including downsizing the hospital and 750 job losses, then retired on a £250,000 a year pensions package.
Now the interim chief executive has been replaced by an American Healthcare company boss who has been hired by a management consultant who is allegedly being paid £2,500 a day!
The new Trust board took a £68,000 full page advert in the local paper to reassure the public and staff that the Trust can "meet all payroll and creditor obligations". The Trust chairman can only say that Rotherham hospital is like a "distressed child in need of a hug"! You couldn't make it up.
Rotherham Trade Unionist and Socialist Coalition (TUSC), took a petition with 3,000 signatures against the cuts to the Trust governors last month, having made links with the hospital Unison branch. They are organising a public meeting with a speaker from the Mid Yorkshire NHS admin and clerical strike, to help give staff the confidence that they can fight back against the cuts.
Alistair Tice
South London - hidden costs of NHS butchery
After Con-Dem health secretary Hunt agreed to butcher services at Lewisham hospital and others within the neighbouring South London Healthcare Trust (SLHT) two surgeons at QE11 hospital in Woolwich have already been declared 'surplus to requirements'.
Lewisham hospital is due to have its A&E and maternity services removed over three years. But figures released by Private Eye suggest that the cost of preparing the hospital for Trust boss Matthew Kershaw's plans could be £56 million.
On top of that £21 million is the estimated cost of plans to expand capacity at surrounding hospitals that are already under attack or overstretched. £47 million is earmarked for 'transitional costs'. £207 million to write off SLHT's immediate debts. That's £331 million already.
Longer-term spending plans include clearing up SLHT's 'excess' PFI costs at Bromley and Woolwich, starting with £23 million and rising every year until 2031. So the total costs would be nearly £750 million.
Most of the financial problems stem from PFI. If the cost-slashing Tory government decides that PFI companies cannot be allowed to lose out, promised replacements could well give way to further attacks on services, jobs, pay and conditions.
Cuts threaten the health service, its staff and users. We should step up the opposition with mass action to save our NHS - with trade union strike action at its heart.
Roger Shrives
Trusts hit staff pay
Around 1,000 staff at Sussex Partnership NHS Foundation Trust, including nurses, stand to lose £600 a year through removal of the recruitment and retention premia agreed by the National Pay Review Body and implemented as part of the Agenda for Change agreement in 2005.
The Trust justified the cut by saying they no longer have to incentivise staff to recruit them, so the payment is no longer needed. They claim loss of pay will protect patients and jobs.
Trust Chief Executive, Lisa Rodrigues, says costs must be managed with 'forensic precision'. Ms Rodrigues did not apply the same rigour when the premium was introduced. Many nurses were told their posts did not attract the payment, when in fact it was a contractual right.
As for protection of patients, the Trust's own information show staff motivation at one of the lowest levels in the country. It's time for a democratic NHS that protects both service users and staff, and rejects cuts to jobs and services fuelled by a privatisation agenda.
Sharon Mitchell
Homeless protest cuts
On 2 February, homeless people protested in Leicester as the Labour council plans £2.2 million worth of cuts to the homeless service. This could lead to 200 hostel beds being lost and other vital services to the homeless being cut. Homeless people sat on cardboard with placards to show what the city centre will see much more of - if these cuts go through.
The 'Streetlife' action group was formed by homeless people to campaign against the proposals. Leicester council's own homelessness review predicts that by the end of 2012/13 the council will have dealt with over 2,350 households facing homelessness, almost 20% up on the previous year.
It makes no sense to cut these services. If enough council accommodation existed to rehouse the homeless permanently then maybe the number of hostel beds could be cut - as that isn't the case, these cuts are crazy. There will be protests as long as Labour keeps passing on government cuts.
Steve Score
Who's defrauding who?
A young single mother claimed income support while working but after the court case she will be better off, because she hadn't claimed everything she was entitled to.
Joanne Gibbons made a legitimate claim in 2010 for income support. She later got a job with the NHS trust, and then a clothes shop, without informing the DWP. Someone tipped off the DWP and she was brought to court.
If her wages were taken into account she was being overpaid £66 a week. But officials examining her claim realised she should have been claiming child benefit and tax credits totalling £130, ie £64 more than she got in benefits.
Her defence solicitor told magistrates: 'she would have saved the government money if she had continued the fraud'. Magistrates accepted this argument and although Ms Gibbons got a 12 month community order she does not have to pay back the £3,140 she was originally charged with obtaining illegally.
£2 billion a year in income support alone goes unclaimed, with billions more in other benefits, because people don't know their entitlement, Through lack of information this young mother fell foul of the system and was criminalised.
Paul Gerrard
Fight or stand aside!
At a Salford against Cuts meeting, 60 people heard staff and service users put the case against cuts to vital frontline services. Calls for councillors to refuse to implement cuts, or stand aside for those who will fight them, were vigorously applauded.
Two years ago people gave Labour councillors, with their promise to 'protect the vulnerable', the benefit of the doubt. No longer. A resolution was passed unanimously, calling for a mass campaign by Labour councils to defeat the cuts, but saying that if they fail to do so Salford against Cuts will encourage and support council candidates who will.
Matt Kilsby
Birmingham
About 200 people from council unions, students, service users and socialist campaigners lobbied Birmingham council Labour group on 4 February against the massive cuts they are proposing. The main call was to oppose all cuts and for Labour to set a 'needs budget'.
Earlier some protesters had occupied the Council House balcony and unfurled anti-cuts banners. They were allowed to stay there and even had police protection! Councillors used a side entrance to avoid having to meet protesters. The budget setting meeting on 26 February will also be lobbied.
Clive Walder
---
In this issue
---
Socialist Party NHS campaigning

'Save our A&E' - Defend the NHS

Mid Staffs hospital scandal: Big business culture kills
---
Socialist Party news and analysis

GCSE U-turn shows all Gove's 'reforms' can be stopped

Smash the blacklist - not the unions!

Victory over 'workfare' sanctions

Horsemeat scandal: good for profit, bad for health

"Fully funded" social care plan - still needed

Them & Us
---
Socialist Party feature

15 February 2003: A million on the streets to stop the war
---
Socialist Party reports and campaigns

Campaigning against cuts

TUSC: 'No cuts' candidate in Eastleigh

Nottingham: Campaigning for comedy without misogyny

Support the fight for a socialist alternative

Socialist Party 2013 national youth and student meeting
---
Socialist Party workplace news

Unison region calls for general strike

Care workers fight cuts in pay and conditions

Workplace In Brief
---
International socialist news and analysis

Greece: Martial law ends ferry workers' strike
---
Reviews and readers' comments

Low pay + high prices = debt misery

Film review: 'No' - an exercise in rewriting Chile's history

Spielberg's Lincoln by Tony Mulhearn
---
Home | The Socialist 13 February 2013 | Join the Socialist Party