The Socialist 13 February 2013
Defend the NHS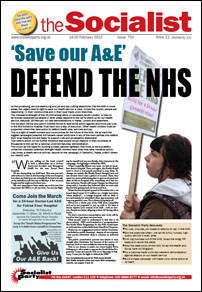 ---
'Save our A&E' - Defend the NHS
Mid Staffs hospital scandal: Big business culture kills
---
GCSE U-turn shows all Gove's 'reforms' can be stopped
Smash the blacklist - not the unions!
Victory over 'workfare' sanctions
Horsemeat scandal: good for profit, bad for health
"Fully funded" social care plan - still needed
---
15 February 2003: A million on the streets to stop the war
---
TUSC: 'No cuts' candidate in Eastleigh
Nottingham: Campaigning for comedy without misogyny
Support the fight for a socialist alternative
Socialist Party 2013 national youth and student meeting
---
Unison region calls for general strike
Care workers fight cuts in pay and conditions
---
Greece: Martial law ends ferry workers' strike
---
Low pay + high prices = debt misery
Film review: 'No' - an exercise in rewriting Chile's history
Spielberg's Lincoln by Tony Mulhearn
PO Box 1398, Enfield EN1 9GT
020 8988 8777

Link to this page: https://www.socialistparty.org.uk/issue/752/16126
Home | The Socialist 13 February 2013 | Join the Socialist Party
Subscribe | Donate | PDF | ebook
Them & Us
Making a mint from mince
British government officials are desperately trying to get a derogation (exemption) from new EU laws which limit the amount of fat and collagen (used in cosmetic surgery) which can be present in minced meat.
The new regulations state that lean minced meat should have a maximum of 19% fat and collagen, pure minced beef no more than 35%, and minced meat made using pork no more than 48%.
A Defra report last year pointed out that: "A significant proportion of mincemeat currently sold in the UK contains a greater proportion of collagen than would be permitted."
The report goes on to say the total savings for UK businesses from avoiding this regulation would be £829,799. This is a pittance compared to profits made in the meat processing industry - for example, when profits crashed last year food giant Vion still made £12 million profit! Yet again, profits come before our health and nutrition.
Housing crisis
The Con-Dems are commissioning just 37,000 new 'affordable' homes - less than a fifth of what was promised. And 'affordable' now means 80% of market rates - so not very affordable anyway!
In 2011-12, new affordable housing starts fell by 68%.
Average rents in England are rising by £300 a year, and by over £600 in one-tenth of the country. So much for Prime Minster David Cameron's claim that housing benefit cuts were making rents fall.
For real affordable housing there should be rent caps - not benefit caps, and an emergency plan to build and renovate publicly owned housing.
By the rules?
Zambia Sugar, part of Associated British Foods (ABF), paid only 0.5% of its $123 million pre-tax profit in Zambian corporation tax between 2007 and 2012.
ABF says it is 'playing by the rules'. In which case the rules need to change!
Multinational tax avoidance in the developing world is estimated to total £70 billion a year.
ABF, which also owns Primark, has a holding company in the tax-haven of Luxembourg to help it pay less tax in Britain and Ireland too.
Cash piles
The Socialist regularly reminds readers of the fact that £850 billion is sitting idle in the banks of big business in Britain. But internationally, just one company - Apple - has its very own hoarded cash pile of ($137 billion) £87 billion! The company is being sued by one of its investors to share out the money to shareholders.
Wealth inequality
In the mid-1990s the top 1% of earners received 7% of all income paid, today it's 10%. The bottom 50% of earners, on the other hand, have seen our slice of the pie reduced from 19% to 18%.
TUSC in Eastleigh
Dave Nellist
Pleased to announce #RMT Council of Executives member Darren Procter to stand in #Eastleigh by-election #TUSC
If food prices had risen like house prices, a chicken would cost £51.18. Cut rents, not benefits #TUSC #Eastleigh
Dazprocter
Looking forward to standing as the #TUSC candidate 4 #Eastleigh. We want jobs, public services, protection of the vulnerable not the greedy!
Do MPs deserve the money they receive?? If a party truly represents the workers, they would take a worker's wage, wouldn't they?? I would!!
Before the people of #Eastleigh vote, ask yourself this - who caused us to be in this situation? Bankers? Why is no party saying this?? #TUSC
#Eastleigh will candidates be looking to represent the area or looking to further a personal political career? #TUSC standing 2represent u!!
How much would #Eastleigh benefit if we chased the £120bn worth of tax money evaded, avoided or uncollected.......only #TUSC asking??
---
In this issue
---
Socialist Party NHS campaigning

'Save our A&E' - Defend the NHS

Mid Staffs hospital scandal: Big business culture kills
---
Socialist Party news and analysis

GCSE U-turn shows all Gove's 'reforms' can be stopped

Smash the blacklist - not the unions!

Victory over 'workfare' sanctions

Horsemeat scandal: good for profit, bad for health

"Fully funded" social care plan - still needed

Them & Us
---
Socialist Party feature

15 February 2003: A million on the streets to stop the war
---
Socialist Party reports and campaigns

Campaigning against cuts

TUSC: 'No cuts' candidate in Eastleigh

Nottingham: Campaigning for comedy without misogyny

Support the fight for a socialist alternative

Socialist Party 2013 national youth and student meeting
---
Socialist Party workplace news

Unison region calls for general strike

Care workers fight cuts in pay and conditions

Workplace In Brief
---
International socialist news and analysis

Greece: Martial law ends ferry workers' strike
---
Reviews and readers' comments

Low pay + high prices = debt misery

Film review: 'No' - an exercise in rewriting Chile's history

Spielberg's Lincoln by Tony Mulhearn
---
Home | The Socialist 13 February 2013 | Join the Socialist Party