The Socialist 13 February 2013
Defend the NHS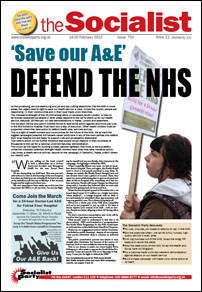 ---
'Save our A&E' - Defend the NHS
Mid Staffs hospital scandal: Big business culture kills
---
GCSE U-turn shows all Gove's 'reforms' can be stopped
Smash the blacklist - not the unions!
Victory over 'workfare' sanctions
Horsemeat scandal: good for profit, bad for health
"Fully funded" social care plan - still needed
---
15 February 2003: A million on the streets to stop the war
---
TUSC: 'No cuts' candidate in Eastleigh
Nottingham: Campaigning for comedy without misogyny
Support the fight for a socialist alternative
Socialist Party 2013 national youth and student meeting
---
Unison region calls for general strike
Care workers fight cuts in pay and conditions
---
Greece: Martial law ends ferry workers' strike
---
Low pay + high prices = debt misery
Film review: 'No' - an exercise in rewriting Chile's history
Spielberg's Lincoln by Tony Mulhearn
PO Box 1398, Enfield EN1 9GT
020 8988 8777

Link to this page: https://www.socialistparty.org.uk/issue/752/16130
Home | The Socialist 13 February 2013 | Join the Socialist Party
Subscribe | Donate | PDF | ebook
Workplace In Brief
Mid Yorks Hospital strike
Hospital workers fighting massive pay cuts have forced Mid Yorks hospital Trust to extend the deadline for agreeing to new contracts by three weeks so that negotiations can proceed.
Plans to ballot all 3,000 Unison members at the Trust are on hold until the next meeting with the Trust on 24 February.
London firefighters fight cuts
After lobbies by the FBU, the London Fire Authority has voted not to comply with mayor Boris Johnson's order to go ahead with public consultations over £45 million in cuts and the closure of 12 fire stations. The FBU has vowed to continue the campaign against the cuts.
PCS ballot
Members of the Public and Commercial Services union (PCS) are voting in a ballot for industrial action, including strike action.
This national ballot, covering a quarter of a million workers, is about cuts in pay, pensions and terms and conditions.
The government is refusing to negotiate so the union has called the ballot which runs from 8 February to 4 March.
Construction protest
There is a mass picket at the Capenhurst construction site near Chester/Ellesmere Port planned for 6am Wednesday 20 February, organised by Unite and GMB.
Jacobs Engineering are refusing to sign up to full Blue Book terms (the national agreement covering this category of construction project).
Delegations of construction workers from sites in Cheshire, Merseyside and Wales are coming. Unite are providing transport from Liverpool Unite office, 5am at Jack Jones House.
Site address: Urenco, Capenhurst Lane, near Chester, CH1 6ER
An NSSN supporter in the construction industry
Fight prison closures
On 13 February members of the POA prison officers' union will be lobbying parliament in protest at the plans to close seven prisons and partially close two more.
This will cut 2,600 prison places from an already overcrowded system. Almost 5,000 places have been lost since the Con-Dems were elected.
Overcrowded prisons lead to greater levels of violence, drug use, and bullying behaviour. During 2011 there were already an average of 42 assaults a day in prisons.
These cuts have more to do with the drive to the privatisation of prisons rather than the 'rehabilitation revolution' the government boasts of.
The lobby starts at 12.30pm in Old Palace Yard.
Defend the Four
Unison members campaigning against witch-hunts against socialists in the union and for democratic control over all Unison structures are urged to encourage their branch to support a model resolution.
This can be found on www.stopthewitchhunt.org.uk.
Unison members are also urged to support the Reclaim the Union candidates in the elections for the union's national executive.
BBC strike
Members of the National Union of Journalists (NUJ) working for the BBC are due to strike on 18 February unless the corporation agrees to end compulsory redundancies.
A work to rule will start on 15 February. The BBC is planning 2,000 job cuts across the organisation and is trying to force people out at the same time as advertising jobs to external candidates. Negotiations are continuing.
---
In this issue
---
Socialist Party NHS campaigning

'Save our A&E' - Defend the NHS

Mid Staffs hospital scandal: Big business culture kills
---
Socialist Party news and analysis

GCSE U-turn shows all Gove's 'reforms' can be stopped

Smash the blacklist - not the unions!

Victory over 'workfare' sanctions

Horsemeat scandal: good for profit, bad for health

"Fully funded" social care plan - still needed

Them & Us
---
Socialist Party feature

15 February 2003: A million on the streets to stop the war
---
Socialist Party reports and campaigns

Campaigning against cuts

TUSC: 'No cuts' candidate in Eastleigh

Nottingham: Campaigning for comedy without misogyny

Support the fight for a socialist alternative

Socialist Party 2013 national youth and student meeting
---
Socialist Party workplace news

Unison region calls for general strike

Care workers fight cuts in pay and conditions

Workplace In Brief
---
International socialist news and analysis

Greece: Martial law ends ferry workers' strike
---
Reviews and readers' comments

Low pay + high prices = debt misery

Film review: 'No' - an exercise in rewriting Chile's history

Spielberg's Lincoln by Tony Mulhearn
---
Home | The Socialist 13 February 2013 | Join the Socialist Party