The Socialist 13 February 2013
Defend the NHS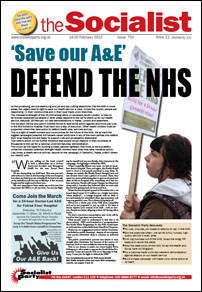 ---
'Save our A&E' - Defend the NHS
Mid Staffs hospital scandal: Big business culture kills
---
GCSE U-turn shows all Gove's 'reforms' can be stopped
Smash the blacklist - not the unions!
Victory over 'workfare' sanctions
Horsemeat scandal: good for profit, bad for health
"Fully funded" social care plan - still needed
---
15 February 2003: A million on the streets to stop the war
---
TUSC: 'No cuts' candidate in Eastleigh
Nottingham: Campaigning for comedy without misogyny
Support the fight for a socialist alternative
Socialist Party 2013 national youth and student meeting
---
Unison region calls for general strike
Care workers fight cuts in pay and conditions
---
Greece: Martial law ends ferry workers' strike
---
Low pay + high prices = debt misery
Film review: 'No' - an exercise in rewriting Chile's history
Spielberg's Lincoln by Tony Mulhearn
PO Box 1398, Enfield EN1 9GT
020 8988 8777

Link to this page: https://www.socialistparty.org.uk/issue/752/16131
Home | The Socialist 13 February 2013 | Join the Socialist Party
Subscribe | Donate | PDF | ebook
Mid Staffs hospital scandal - Big business culture kills
Jon Dale
The Francis report into Mid-Staffordshire NHS hospital has exposed appalling neglect that many patients suffered between 2004 and 2008.
Ill, frail and elderly patients were left for hours in soiled beds, unable to drink or eat. Between 400 and 1,000 people are believed to have died prematurely.
There has been an inquiry because of the determination and campaigning of relatives, who organised themselves and fought to overcome official indifference and cover-up.
Francis called the Mid-Staffordshire scandal a failure of the NHS culture: "doing the system's business - not that of the patients."
This has been seized on by right-wing politicians and press who want to undermine the very idea of a publicly owned free national health service available to all.
The truth is that for 30 years governments have pushed big business 'culture' down the NHS's throat and this is the result.
Big business
In 1983 Thatcher asked Roy Griffiths, from Sainsbury's, to produce a report that changed the way hospitals were managed and budgeted, paving the way for the internal market.
Labour chancellor Gordon Brown asked a banker, Derek Wanless, to report on NHS finance. Many other businessmen and women have seduced Tory, Labour and Con-Dem governments with the supposed efficiencies of the private sector that 'out-dated' public service supposedly needed.
One such change was the last Labour government's introduction of Foundation Trusts in 2003. These allowed NHS Trusts to break from direct government control and have more financial independence.
As the Socialist said at the time, this was a step towards the breakup and privatisation of the NHS. We warned: "All a three-star rating shows is that the managers are good at reaching, or appearing to reach, the latest targets. The quality of healthcare provided is a different matter (Socialist 11.10.03).
Mid-Staffordshire NHS Trust decided to become a Foundation Trust in 2005. To do so it had to show its finances were sound and to be meeting targets set by New Labour.
The problem was it was already running a £10 million a year deficit. A PFI deal on redeveloping the hospital entrance could only increase this deficit.
Directors were determined to eliminate the deficit so they could convince the regulator, Monitor, the Trust should get Foundation status.
Their thinking may have been influenced by the high salaries Trust chief executives and directors were awarding themselves.
To get the deficit down meant cutting the wages bill. Despite being short of 100 nurses, 160 redundancies were announced in 2006.
Ward staff were already stretched to the limit. Managers proposed a shift from 60:40 trained to untrained staff - to 40:60.
Why did nursing and medical staff not blow the whistle as care standards on the wards dropped dangerously? Francis has lifted the lid on the bullying that senior executives passed down. In an atmosphere where workers feared redundancy it was not easy to speak out.
Another factor contributing to poor care continuing over such a long period is the loss of any accountability of health services to their local communities.
Democratic control
There has never been genuine democratic control of the NHS, but elected councillors used to have seats on local health authorities.
Community Health Councils were introduced in 1973. They had no authority but could issue reports highlighting local problems, which managers were forced to respond to in the local press.
Labour abolished Community Health Councils in 2003, replacing them with completely toothless Patient and Public Involvement (PPI).
Prime Minister Cameron, Health Secretary Hunt and all pro-big business politicians will pin the blame on a few individuals for this terrible breakdown of the NHS's most basic duty of care.
They will gleefully smear the reputation of the NHS to boost their privatisation agenda. But Tory, Labour and Lib Dems are all guilty, for it is their policies that resulted in such an awful situation.
Mid-Staffs will not be the last such scandal either. Big business interests mean it is more important to measure and try to increase a nurse's 'productivity', than whether patients are clean, comfortable, fed and spoken to kindly.
Instead of exhausted, frightened, demoralised staff, a socialist NHS would ensure well-trained, well-paid healthcare workers with the time to enjoy practising their skills and feel pride in a job well done.
Genuine democratic control by elected representatives from the community, health workers and a socialist government, together with the resources needed would provide decent care with dignity for all.
The need for good trade union organisation
Bullying managers, fear of redundancy and staff shortages can lead to demoralisation if there seems to be no way to change the situation. Whistle-blowers have often ended up losing their jobs and even their careers.
Strong trade unions and fighting leaders are the key. They can give health workers the confidence to speak out, not as isolated individuals at risk of victimisation, but as a powerful collective voice.
Francis severely criticised the Royal College of Nursing, which many nurses see as their trade union.
At Stafford, the RCN's priority appeared to be representing the interests of the Director of Nursing and other senior nurse managers.
Unison has 800 members at Mid-Stafford and Unite has 180. Unison branch secretary, Kath Fox, told Francis that as early as 2005 concerns were being raised in the corridors about staff shortages but she didn't receive any formal complaints because nobody: "felt confident enough to raise their head above the parapet".
She also told the inquiry that it had become increasingly hard for reps to get time off for trade union activities. This is what the Con-Dem government now propose across the board.
A new chief executive was appointed in 2005. He had worked in the USA health system and wanted to maximise the income from private patients. Kath Fox told Francis that he took an aggressive attitude to the unions.
She reported that the branch leadership got very frustrated at the impending redundancies. A Unison branch meeting decided to go outside the Trust structures and send a delegation to the local Labour MP.
He listened to them and then went to see the chief executive, who reassured him. He wrote back to Kath Fox to tell her this.
She ripped up the letter and threw it in the bin. After that, she felt there: "was nowhere else to go."
National and regional Unison and Unite officials, while opposing the Foundation Trust policy, were tied to supporting the Labour government that pushed this through.
Local branch officials could not feel confident their leaders would back them to the hilt in a struggle, including industrial action, against the cuts and redundancies that resulted.
A fighting union leadership was needed that put forward a clear strategy for a battle to defend all jobs and stop all cuts.
This would have meant building support in the community, with public meetings and demonstrations. Health care workers would have gained confidence to take strike action.
This is never easy, but it could have won huge support from other trade unionists, their families and the community as a whole.
National trade union leaders should have explained that Mid-Staffs was not alone in facing cuts to meet Foundation Trust requirements.
A national campaign could have built the mood for national action, including industrial action, with a clear call to the rest of the trade union movement to take action in support of healthcare workers and to defend their NHS.
---
Patients are not just numbers
Becky Johnson, student nurse
My friend and colleague hit the nail on the head when she said: "It makes me sad and very angry that something so disgusting and tragic was allowed to happen...
This is why NHS hospitals should not be run as business organisations by people who are managers but nothing else. Patients are not just numbers!"
Mid Staffs were so obsessed with being one of New Labour's Foundation Trusts, a step towards privatisation, that they ran it like a business.
Footfall, turnover and productivity became paramount. A culture of bullying started at the top and permeated down.
Far from alleviating the underlying factors that led to poor care at Mid Staffs 2005-2009, today's era of austerity cuts and privatisation compounds systemic problems, making further crises of care likely.
Francis recommends the implementation of Performance Related Pay for nurses. We will be paid on the basis of how "compassionate" we are, judged by individual patient feedback forms.
The practicalities of implementing and utilising such a system, especially when nursing patients with dementia, who are unconscious, experiencing confusion or under anaesthesia are complex. Compassion is subjective. It can't be measured by tick-list.
Sometimes, patients are reluctant to follow medical advice. The nurse that encourages a patient with breathing difficulties to get out of bed is not always popular, but she is compassionate! Fear of being marked down by patients could see many nurses feeling they have no choice but to compromise their professional integrity.
Also health care is delivered by a team, not individuals working alone, set up to be in competition with each other.
Unqualified staff
The Francis report also advocates registration for unqualified healthcare assistants (HCAs).
HCAs provide the majority of hands-on personal care, under the supervision of a registered nurse.
They are underpaid for the work they do and are often unsupported in their jobs.
Because they are cheaper, the government wants a move towards more HCAs, managed by fewer qualified nurses.
This takes nurses further away from the caring side of nursing, with qualified staff focusing on more technical, high-status tasks. This division of labour has come about in order to reduce costs.
Funding needs to be made available to up-skill HCAs into registered nurses. Wards should grant secondment to HCAs who want to do their nursing training and guarantee them a job at the end of it.
There has been much criticism of university based nurse education. Some have suggested it is responsible for creating uncaring nurses.
But a university education equips nurses for the reality of the job. Skill and compassion are not mutually exclusive qualities, we just work under a system that restricts our ability to show either.
---
London demonstrations: Save the NHS
Valentine Day card for Ealing hospital, to be handed to NHS NW London, Thursday 14 February
Save Lewisham hospital rally, Friday 15 February, 1pm Lewisham hospital
Defend the NHS singing flash mob, Friday 15 February, 5.45pm, a central London station
Hammersmith and Charing Cross hospitals campaign protest march, Saturday 16 February, 12 noon, Lyric Square, King Street
Kingston Save Our Hospitals demonstration, Saturday 16 February, 12 noon, Norbiton Station, march to Guildhall http://www.facebook.com/events/478817202164014/?fref=ts
Defend Whittington hospital action, Saturday 16 February, Holloway Road, N19
Ealing hospital action, Saturday 16 February, 12 noon, Ealing Broadway shopping centre
---
In this issue
---
Socialist Party NHS campaigning

'Save our A&E' - Defend the NHS

Mid Staffs hospital scandal: Big business culture kills
---
Socialist Party news and analysis

GCSE U-turn shows all Gove's 'reforms' can be stopped

Smash the blacklist - not the unions!

Victory over 'workfare' sanctions

Horsemeat scandal: good for profit, bad for health

"Fully funded" social care plan - still needed

Them & Us
---
Socialist Party feature

15 February 2003: A million on the streets to stop the war
---
Socialist Party reports and campaigns

Campaigning against cuts

TUSC: 'No cuts' candidate in Eastleigh

Nottingham: Campaigning for comedy without misogyny

Support the fight for a socialist alternative

Socialist Party 2013 national youth and student meeting
---
Socialist Party workplace news

Unison region calls for general strike

Care workers fight cuts in pay and conditions

Workplace In Brief
---
International socialist news and analysis

Greece: Martial law ends ferry workers' strike
---
Reviews and readers' comments

Low pay + high prices = debt misery

Film review: 'No' - an exercise in rewriting Chile's history

Spielberg's Lincoln by Tony Mulhearn
---
Home | The Socialist 13 February 2013 | Join the Socialist Party