The Socialist 13 February 2013
Defend the NHS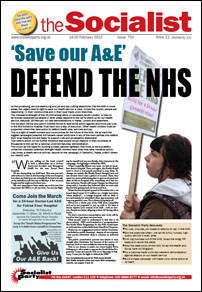 ---
'Save our A&E' - Defend the NHS
Mid Staffs hospital scandal: Big business culture kills
---
GCSE U-turn shows all Gove's 'reforms' can be stopped
Smash the blacklist - not the unions!
Victory over 'workfare' sanctions
Horsemeat scandal: good for profit, bad for health
"Fully funded" social care plan - still needed
---
15 February 2003: A million on the streets to stop the war
---
TUSC: 'No cuts' candidate in Eastleigh
Nottingham: Campaigning for comedy without misogyny
Support the fight for a socialist alternative
Socialist Party 2013 national youth and student meeting
---
Unison region calls for general strike
Care workers fight cuts in pay and conditions
---
Greece: Martial law ends ferry workers' strike
---
Low pay + high prices = debt misery
Film review: 'No' - an exercise in rewriting Chile's history
Spielberg's Lincoln by Tony Mulhearn
PO Box 1398, Enfield EN1 9GT
020 8988 8777

Link to this page: https://www.socialistparty.org.uk/issue/752/16132
Home | The Socialist 13 February 2013 | Join the Socialist Party
Subscribe | Donate | PDF | ebook
Smash the blacklist - not the unions!
Defend and extend workers' rights to organise
Neil Cafferky, London Socialist Party
The recent scandal around blacklisting in the construction industry once again highlights the ruthless steps employers are willing to take in order to undermine hard-won terms and conditions at work, and attack union organisation.
Tireless work by union activists, including the Blacklist Support Group, has exposed the Consulting Association, a firm of private investigators that compiled a list of over 3,000 workers in the industry.
Evidence presented at parliamentary hearings shows that workers were on these lists for trade union or left-wing political activity, but also for raising concerns about health and safety.
The results for many workers and their families have been devastating. As Unite general secretary Len McCluskey put it: "Lives have been ruined and families have been torn apart just because workers have raised safety concerns in Britain's most dangerous industry, or just because they exercised their human rights to belong to a trade union."
Blacklisting of trade union and political activists has been a tool of the employers in the UK for many years.
In the 1970s and 1980s the Economic League played a similar role to that of the Consulting Association today.
Evidence presented to Parliament shows at least 20 major construction firms using the Consulting Association. This indicates a very sophisticated and widespread web of spying on workers.
A senior Information Commissioners Office officer, himself a former police officer, alleges that some of the information found on Consulting Association files had come from the security services.
The revelations about blacklisting have caused outrage. There have been calls for a full public inquiry along the lines of the Leveson Inquiry.
John McDonnell, Labour MP for Hayes and Harlington, said: "This goes on today, just because you're a trade unionist, you stand up for health and safety or simply because you want to ensure justice and fairness at work.
"I want the inquiry to examine all those things in the past but I want an inquiry that opens up the doors and invites people to come forward with evidence."
Blacklist the blacklisters
There is no doubt an inquiry is necessary to expose the shadowy world of blacklisting and to punish those who ruined the lives of thousands of workers.
However an inquiry by itself can only expose wrongs in the past. Many workers will ask themselves, what is to prevent a different company following the example of the Consulting Association?
Even if a criminal investigation and convictions were to follow from an inquiry, there would always be an economic incentive for firms to blacklist.
Trade unions have called for firms found to have been involved in blacklisting to be refused further public sector contracts.
This demand needs to be taken up as a coordinated political campaign by the unions, with particular demands placed on Labour-controlled local councils.
Unions that are contributing members' money to Labour politicians need to make it clear that rewarding blacklisting firms with lucrative council contracts will not be tolerated, and if it continues unions will withdraw their support.
In the long run a return of a directly employed council construction workforce can help combat private sector blacklisting.
There is greater public scrutiny and democratic accountability of the employer, the local council.
The root cause of blacklisting is the monopoly the employer exercises in deciding who is hired and fired.
In the absence of a properly organised union presence it is easy for the employer to dictate who works in the industry and who does not.
The best weapon to fight blacklisting is strong, democratic and accountable union organisation on the sites.
The task for the labour movement is firstly to launch a massive recruitment drive in the industry. Alongside this unions need to begin to set up registered lists of unemployed members in the industry and fight to ensure that, when employers are hiring, those lists are the first port of call.
In this way unions can monitor employers' hiring practices and ensure blacklisting becomes much more difficult in the future.
---
In this issue
---
Socialist Party NHS campaigning

'Save our A&E' - Defend the NHS

Mid Staffs hospital scandal: Big business culture kills
---
Socialist Party news and analysis

GCSE U-turn shows all Gove's 'reforms' can be stopped

Smash the blacklist - not the unions!

Victory over 'workfare' sanctions

Horsemeat scandal: good for profit, bad for health

"Fully funded" social care plan - still needed

Them & Us
---
Socialist Party feature

15 February 2003: A million on the streets to stop the war
---
Socialist Party reports and campaigns

Campaigning against cuts

TUSC: 'No cuts' candidate in Eastleigh

Nottingham: Campaigning for comedy without misogyny

Support the fight for a socialist alternative

Socialist Party 2013 national youth and student meeting
---
Socialist Party workplace news

Unison region calls for general strike

Care workers fight cuts in pay and conditions

Workplace In Brief
---
International socialist news and analysis

Greece: Martial law ends ferry workers' strike
---
Reviews and readers' comments

Low pay + high prices = debt misery

Film review: 'No' - an exercise in rewriting Chile's history

Spielberg's Lincoln by Tony Mulhearn
---
Home | The Socialist 13 February 2013 | Join the Socialist Party