The Socialist 13 February 2013
Defend the NHS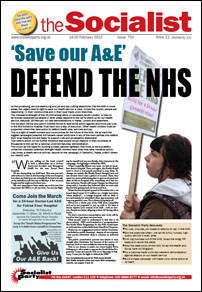 ---
'Save our A&E' - Defend the NHS
Mid Staffs hospital scandal: Big business culture kills
---
GCSE U-turn shows all Gove's 'reforms' can be stopped
Smash the blacklist - not the unions!
Victory over 'workfare' sanctions
Horsemeat scandal: good for profit, bad for health
"Fully funded" social care plan - still needed
---
15 February 2003: A million on the streets to stop the war
---
TUSC: 'No cuts' candidate in Eastleigh
Nottingham: Campaigning for comedy without misogyny
Support the fight for a socialist alternative
Socialist Party 2013 national youth and student meeting
---
Unison region calls for general strike
Care workers fight cuts in pay and conditions
---
Greece: Martial law ends ferry workers' strike
---
Low pay + high prices = debt misery
Film review: 'No' - an exercise in rewriting Chile's history
Spielberg's Lincoln by Tony Mulhearn
PO Box 1398, Enfield EN1 9GT
020 8988 8777

Link to this page: https://www.socialistparty.org.uk/issue/752/16134
Home | The Socialist 13 February 2013 | Join the Socialist Party
Subscribe | Donate | PDF | ebook
Socialist Party 2013 national youth and student meeting
Fighting for our future!
Mary Finch, Waltham Forest Socialist Party
The Socialist Party held its 2013 national youth and students meeting on Saturday 9 and Sunday 10 February, with around 80 people attending from across England and Wales.
The meeting opened with Socialist Party deputy general secretary Hannah Sell leading the discussion on the struggle for socialism around the world, including the most recent struggles in Greece and South Africa, and developing struggles in Britain.
The meeting split into separate political commissions, including: the need for a revolutionary party, how Marxist economics explain the current capitalist crisis, and what happened in Russia - could Stalinism rise again?
On Sunday, Claire Laker-Mansfield spoke about youth perspectives, and the work that young members in the party are supporting, particularly Youth Fight for Jobs and its 'Sick of Your Boss?' campaign, Socialist Students and Rape is No Joke.
Several people gave short reports of local successes with Socialist Students on campus, and in unionising their workplaces.
The meeting identified unemployment and underemployment, housing, sexism and education as some key issues currently surrounding and engaging youth.
The meeting ended with more commissions focussing on building the Socialist Party: writing for the Socialist, writing a leaflet, visiting a picket line, organising a demonstration, and attracting new members to the party.
We need fighting student unions
The youth and student meeting compared the anger of students with the lack of a fightback by the officialdom of the National Union of Students (NUS) and local student unions.
Socialist Students, as well as building campaigns among students, also demands a democratically accountable, fighting student leadership.
Edmund Schluessel spoke about why he is standing for Socialist Students in this year's NUS executive elections, to be held at the NUS conference on 8-10 April.
Students occupy against job cuts
Students from Sussex Against Privatisation have occupied the Bramber House conference centre at Sussex University.
They are protesting against plans from the university management to privatise services which will affect 10% of staff.
Socialist Students also extended its full solidarity the recent occupation of the Finance and Human Resources department at Birmingham University over the sacking of lecturer Joseph Nafafe.
Socialist Students joins with Birmingham students in calling for his immediate reinstatement.
See socialiststudents.org.uk for more
---
In this issue
---
Socialist Party NHS campaigning

'Save our A&E' - Defend the NHS

Mid Staffs hospital scandal: Big business culture kills
---
Socialist Party news and analysis

GCSE U-turn shows all Gove's 'reforms' can be stopped

Smash the blacklist - not the unions!

Victory over 'workfare' sanctions

Horsemeat scandal: good for profit, bad for health

"Fully funded" social care plan - still needed

Them & Us
---
Socialist Party feature

15 February 2003: A million on the streets to stop the war
---
Socialist Party reports and campaigns

Campaigning against cuts

TUSC: 'No cuts' candidate in Eastleigh

Nottingham: Campaigning for comedy without misogyny

Support the fight for a socialist alternative

Socialist Party 2013 national youth and student meeting
---
Socialist Party workplace news

Unison region calls for general strike

Care workers fight cuts in pay and conditions

Workplace In Brief
---
International socialist news and analysis

Greece: Martial law ends ferry workers' strike
---
Reviews and readers' comments

Low pay + high prices = debt misery

Film review: 'No' - an exercise in rewriting Chile's history

Spielberg's Lincoln by Tony Mulhearn
---
Home | The Socialist 13 February 2013 | Join the Socialist Party