The Socialist 5 June 2013
Food bank Britain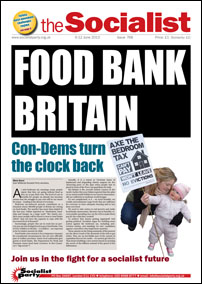 ---
Food bank Britain: Con-Dems turn the clock back
NSSN conference : Unite to fight all the cuts
Legal aid cuts: Justice in the balance
Continued deterioration of the Labour Party
---
Mass joblessness wrecks lives! Youth must fight for a future
A day in the life of a Primark employee
---
NHS crisis: Turn anger into action
---
Turkey: Mass movement challenges Erdogan's authoritarian government
---
97% vote for strike action at Carling brewery
Thera Trust: the campaign moves up a gear
Unison and Labour: Welsh government cuts are still cuts
Lecturers' union UCU members vote to fight austerity
---
1983: A political voice for the working class
---
Campaigning against the bedroom tax
Standing for TUSC in Woolston, Southampton
Save the Independent Living Fund
Needed: new social housing NOT unaffordable rents
Support the Fighting Fund collectathon!
Socialist Party national organisers' school
---
Crackdown on democratic rights
PO Box 1398, Enfield EN1 9GT
020 8988 8777
editors@socialistparty.org.uk

Link to this page: https://www.socialistparty.org.uk/issue/768/16755
Home | The Socialist 5 June 2013 | Join the Socialist Party
Subscribe | Donate | PDF | ebook
97% vote for strike action at Carling brewery, Burton-on-Trent
Andy Bentley
Brewery workers in Burton-on-Trent have voted 97% in favour of strike action against a vicious assault on pay and conditions from their employers Molson Coors.
As Molson Coors CEO of Europe counts his £360,137 a year, brewery workers face £8,000-£9,000 a year pay cuts, cuts in working conditions and a threat to sack everybody if they don't agree to the proposals by 14 June.
Some workers face losing their homes as a result of this savage attack and have no choice but to fight against this ultimatum.
But as Unite branch secretary Phil Salt says: "We are a well-organised site with over 90% membership.
"We believe that if we allow this to happen, employers will believe they can do anything, anywhere".
The outcome of this struggle will be watched by workers and employers in the food, drink and tobacco industry across the Midlands and nationally.
It's in the interests of all these workers that Burton brewery workers win this battle to defend pay and conditions. To do that they will need maximum support.
Trade union members should raise it in their branches and discuss what practical and financial support they can give.
For more information about the dispute see:
unitetheunion.org/...supportcarlingworkers
Messages of support may be sent to Burton.Brewery@unitetheunion.org or via #burtonbrewery on Twitter.
A fighting fund has been established. Cheques should be made payable to 'Unite' with 'Burton Brewery' written on the back and sent to Unite the Union, Finance Department, Transport House, 9-17 Victoria Street, West Bromwich, West Midlands, B70 8HX
Update written on 3rd June:
Concessions have already been forced from Molson Coors. Following the 97% strike vote, Unite regional officer Rick Coyle reported that management "has massively changed its position".
The hated shift proposals have been completely withdrawn and there has been huge movement on proposed pay cuts. The details will be put to workers over this week and the offer will be voted upon.
---
This version of this article was first posted on the Socialist Party website on 29 May 2013 and may vary slightly from the version subsequently printed in The Socialist.
---
In this issue
---
Socialist Party news and analysis

Food bank Britain: Con-Dems turn the clock back

NSSN conference : Unite to fight all the cuts

Legal aid cuts: Justice in the balance

Continued deterioration of the Labour Party

Them & Us
---
Youth feature

Mass joblessness wrecks lives! Youth must fight for a future

A day in the life of a Primark employee
---
NHS feature

NHS crisis: Turn anger into action
---
International socialist news and analysis

Turkey: Mass movement challenges Erdogan's authoritarian government
---
Socialist Party workplace news

PCS rolling strike programme

97% vote for strike action at Carling brewery

Thera Trust: the campaign moves up a gear

Unison and Labour: Welsh government cuts are still cuts

Lecturers' union UCU members vote to fight austerity

Workplace news in brief
---
Socialist history

1983: A political voice for the working class
---
Socialist Party reports and campaigns

Campaigning against the bedroom tax

Stopping the BNP in London

EDL blocked by counter demo

Standing for TUSC in Woolston, Southampton

Save the Independent Living Fund

Needed: new social housing NOT unaffordable rents

Support the Fighting Fund collectathon!

Socialist Party national organisers' school
---
Readers' comments

Stop drone attacks!

Crackdown on democratic rights
---
Home | The Socialist 5 June 2013 | Join the Socialist Party
Related links:

Unite takes legal action against Argos

1920s Britain: A "country nearer Bolshevism than at any time since"

The Tyneside apprentices' strike during WW2

Plymouth students discuss rent strike

Refuse collection workers strike

Fight continues for safety on London buses

No return to unsafe construction sites

Rolls Royce threatens 8,000 job losses

PCS pay claim: Vital work unrecognised

Furlough: We are not 'all in the same boat'

Council finance disaster: set emergency no-cuts budgets and fight for funds!