The Socialist 5 June 2013
Food bank Britain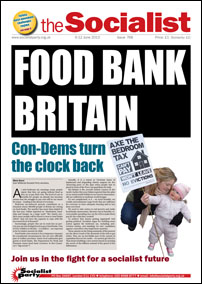 ---
Food bank Britain: Con-Dems turn the clock back
NSSN conference : Unite to fight all the cuts
Legal aid cuts: Justice in the balance
Continued deterioration of the Labour Party
---
Mass joblessness wrecks lives! Youth must fight for a future
A day in the life of a Primark employee
---
NHS crisis: Turn anger into action
---
Turkey: Mass movement challenges Erdogan's authoritarian government
---
97% vote for strike action at Carling brewery
Thera Trust: the campaign moves up a gear
Unison and Labour: Welsh government cuts are still cuts
Lecturers' union UCU members vote to fight austerity
---
1983: A political voice for the working class
---
Campaigning against the bedroom tax
Standing for TUSC in Woolston, Southampton
Save the Independent Living Fund
Needed: new social housing NOT unaffordable rents
Support the Fighting Fund collectathon!
Socialist Party national organisers' school
---
Crackdown on democratic rights
PO Box 1398, Enfield EN1 9GT
020 8988 8777
editors@socialistparty.org.uk

Link to this page: https://www.socialistparty.org.uk/issue/768/16834
Home | The Socialist 5 June 2013 | Join the Socialist Party
Subscribe | Donate | PDF | ebook
Needed: new social housing NOT unaffordable rents
Helen Pattison, East London Socialist Party
Newham council is currently housing 29 families outside the east London borough, including ten that have been shipped out to Birmingham.
A family involved in the No Bedroom Tax in Newham campaign is now threatened with being moved out of the area by the council to either Luton or Birmingham.
Speaking to the mother of four, it is obvious the move will hugely disrupt the children's education - two are studying their GSCEs - as well as having a big impact on her disabled brother who she also cares for.
Newham council admits it has a shortage of good-quality housing with around 24,000 people on its council house waiting list.
The all-Labour council has spent £30 million on B&Bs for homeless families in the last three years. There is an urgent need for affordable housing in Newham and across London.
No evictions!
The No Bedroom Tax in Newham campaign calls on the Labour council not to evict any families because of the bedroom tax; this will just make the problem worse. They need to start building affordable social housing now.
Last month the council held an event where those being affected by the bedroom tax could add their names to the council housing waiting list and apply to downsize.
But the Labour councillors used the event to blame the Tory government for the bedroom tax.
Yet, other councils have said they will not evict because of bedroom tax arrears for one year. Three councils are reclassifying rooms as studies or box-rooms so the bedroom tax is not applied.
No Bedroom Tax in Newham and East London Socialist Party calls on all councillors to refuse to implement the bedroom tax, reallocate rooms and stand up for the community by building the houses we need.
---
In this issue
---
Socialist Party news and analysis

Food bank Britain: Con-Dems turn the clock back

NSSN conference : Unite to fight all the cuts

Legal aid cuts: Justice in the balance

Continued deterioration of the Labour Party

Them & Us
---
Youth feature

Mass joblessness wrecks lives! Youth must fight for a future

A day in the life of a Primark employee
---
NHS feature

NHS crisis: Turn anger into action
---
International socialist news and analysis

Turkey: Mass movement challenges Erdogan's authoritarian government
---
Socialist Party workplace news

PCS rolling strike programme

97% vote for strike action at Carling brewery

Thera Trust: the campaign moves up a gear

Unison and Labour: Welsh government cuts are still cuts

Lecturers' union UCU members vote to fight austerity

Workplace news in brief
---
Socialist history

1983: A political voice for the working class
---
Socialist Party reports and campaigns

Campaigning against the bedroom tax

Stopping the BNP in London

EDL blocked by counter demo

Standing for TUSC in Woolston, Southampton

Save the Independent Living Fund

Needed: new social housing NOT unaffordable rents

Support the Fighting Fund collectathon!

Socialist Party national organisers' school
---
Readers' comments

Stop drone attacks!

Crackdown on democratic rights
---
Home | The Socialist 5 June 2013 | Join the Socialist Party