The Socialist 5 June 2013
Food bank Britain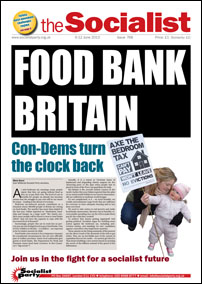 ---
Food bank Britain: Con-Dems turn the clock back
NSSN conference : Unite to fight all the cuts
Legal aid cuts: Justice in the balance
Continued deterioration of the Labour Party
---
Mass joblessness wrecks lives! Youth must fight for a future
A day in the life of a Primark employee
---
NHS crisis: Turn anger into action
---
Turkey: Mass movement challenges Erdogan's authoritarian government
---
97% vote for strike action at Carling brewery
Thera Trust: the campaign moves up a gear
Unison and Labour: Welsh government cuts are still cuts
Lecturers' union UCU members vote to fight austerity
---
1983: A political voice for the working class
---
Campaigning against the bedroom tax
Standing for TUSC in Woolston, Southampton
Save the Independent Living Fund
Needed: new social housing NOT unaffordable rents
Support the Fighting Fund collectathon!
Socialist Party national organisers' school
---
Crackdown on democratic rights
PO Box 1398, Enfield EN1 9GT
020 8988 8777
editors@socialistparty.org.uk

Link to this page: https://www.socialistparty.org.uk/issue/768/16836
Home | The Socialist 5 June 2013 | Join the Socialist Party
Subscribe | Donate | PDF | ebook
Support the Fighting Fund collectathon!
Socialist Party members will be hitting the town centres and shopping arcades on Saturday 8 June for the launch of a fundraising collectathon fortnight.
Socialist Party branches will be organising extra campaign stalls, and spending more time at them, with the aim of boosting sales of the Socialist and ensuring we reach the fighting fund target for the April to June quarter.
Unlike the political parties who are bankrolled by big business and their lobbyists, the Socialist Party relies solely on the donations of ordinary working-class people.
We aim to help build a movement that can stop the Con-Dems austerity attacks in their tracks and a political alternative, through the Trade Union and Socialist Coalition, that doesn't rely on the "iron discipline" of New Labour's own programme of cuts but instead stands for resistance to all cuts.
Can you spare some time to help on a campaigning stall or with a fundraiser to bring in some extra fighting fund? Can you make a donation to help us reach our target of £25,000 by the end of the quarter on 28 June?
Ken Douglas
---
In this issue
---
Socialist Party news and analysis

Food bank Britain: Con-Dems turn the clock back

NSSN conference : Unite to fight all the cuts

Legal aid cuts: Justice in the balance

Continued deterioration of the Labour Party

Them & Us
---
Youth feature

Mass joblessness wrecks lives! Youth must fight for a future

A day in the life of a Primark employee
---
NHS feature

NHS crisis: Turn anger into action
---
International socialist news and analysis

Turkey: Mass movement challenges Erdogan's authoritarian government
---
Socialist Party workplace news

PCS rolling strike programme

97% vote for strike action at Carling brewery

Thera Trust: the campaign moves up a gear

Unison and Labour: Welsh government cuts are still cuts

Lecturers' union UCU members vote to fight austerity

Workplace news in brief
---
Socialist history

1983: A political voice for the working class
---
Socialist Party reports and campaigns

Campaigning against the bedroom tax

Stopping the BNP in London

EDL blocked by counter demo

Standing for TUSC in Woolston, Southampton

Save the Independent Living Fund

Needed: new social housing NOT unaffordable rents

Support the Fighting Fund collectathon!

Socialist Party national organisers' school
---
Readers' comments

Stop drone attacks!

Crackdown on democratic rights
---
Home | The Socialist 5 June 2013 | Join the Socialist Party