The Socialist 5 June 2013
Food bank Britain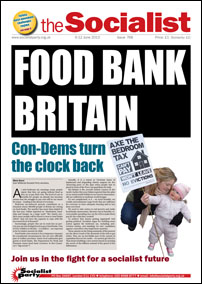 ---
Food bank Britain: Con-Dems turn the clock back
NSSN conference : Unite to fight all the cuts
Legal aid cuts: Justice in the balance
Continued deterioration of the Labour Party
---
Mass joblessness wrecks lives! Youth must fight for a future
A day in the life of a Primark employee
---
NHS crisis: Turn anger into action
---
Turkey: Mass movement challenges Erdogan's authoritarian government
---
97% vote for strike action at Carling brewery
Thera Trust: the campaign moves up a gear
Unison and Labour: Welsh government cuts are still cuts
Lecturers' union UCU members vote to fight austerity
---
1983: A political voice for the working class
---
Campaigning against the bedroom tax
Standing for TUSC in Woolston, Southampton
Save the Independent Living Fund
Needed: new social housing NOT unaffordable rents
Support the Fighting Fund collectathon!
Socialist Party national organisers' school
---
Crackdown on democratic rights
PO Box 1398, Enfield EN1 9GT
020 8988 8777
editors@socialistparty.org.uk

Link to this page: https://www.socialistparty.org.uk/issue/768/16839
Home | The Socialist 5 June 2013 | Join the Socialist Party
Subscribe | Donate | PDF | ebook
Thera Trust: the campaign moves up a gear
Following the strike on 18 April, Unison members at Thera East Midlands (TEM) struck again on 29 and 30 May against a new contract which severely attacks their terms and conditions. The strike certainly had an effect.
It was reported to the Socialist that in Derbyshire, TEM had to bring in Community Support Leaders from as far as Northamptonshire and Leicester and also operations managers to cover the houses where staff were on strike.
It was also reported that management also had to cover for striking staff in Nottingham.
On 29 May, in driving rain and despite a letter from Thera's lawyers trying to undermine the will of the members to protest, almost 30 Unison members held a noisy protest with banners, placards and flags outside the TEM head office.
One striker delivered an impromptu and witty serenade to TEM management. Brian, an officer from Notts County Unison, is bringing his guitar next time.
After the protest one striker told the Socialist: "We had a meeting in the nearby hotel with an excellent discussion.
"There was a strong determination to carry on the campaign to get the new contract thrown out, to fight for a wage increase for non-TUPEd staff and to protect wages of TUPEd staff.
"It was reported that TEM have already started to attack our sick pay. One member told me that it has already been implemented on her with a cut of over £300 in her wages.
"There was a discussion about the campaign for union recognition and it was agreed to step this up. There will be meetings aimed at non members."
After the strike, a Unison officer found out that Notts county council has suspended all future referrals to TEM. The pressure is building up.
---
In this issue
---
Socialist Party news and analysis

Food bank Britain: Con-Dems turn the clock back

NSSN conference : Unite to fight all the cuts

Legal aid cuts: Justice in the balance

Continued deterioration of the Labour Party

Them & Us
---
Youth feature

Mass joblessness wrecks lives! Youth must fight for a future

A day in the life of a Primark employee
---
NHS feature

NHS crisis: Turn anger into action
---
International socialist news and analysis

Turkey: Mass movement challenges Erdogan's authoritarian government
---
Socialist Party workplace news

PCS rolling strike programme

97% vote for strike action at Carling brewery

Thera Trust: the campaign moves up a gear

Unison and Labour: Welsh government cuts are still cuts

Lecturers' union UCU members vote to fight austerity

Workplace news in brief
---
Socialist history

1983: A political voice for the working class
---
Socialist Party reports and campaigns

Campaigning against the bedroom tax

Stopping the BNP in London

EDL blocked by counter demo

Standing for TUSC in Woolston, Southampton

Save the Independent Living Fund

Needed: new social housing NOT unaffordable rents

Support the Fighting Fund collectathon!

Socialist Party national organisers' school
---
Readers' comments

Stop drone attacks!

Crackdown on democratic rights
---
Home | The Socialist 5 June 2013 | Join the Socialist Party