The Socialist 5 June 2013
Food bank Britain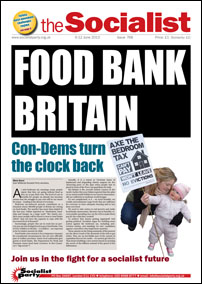 ---
Food bank Britain: Con-Dems turn the clock back
NSSN conference : Unite to fight all the cuts
Legal aid cuts: Justice in the balance
Continued deterioration of the Labour Party
---
Mass joblessness wrecks lives! Youth must fight for a future
A day in the life of a Primark employee
---
NHS crisis: Turn anger into action
---
Turkey: Mass movement challenges Erdogan's authoritarian government
---
97% vote for strike action at Carling brewery
Thera Trust: the campaign moves up a gear
Unison and Labour: Welsh government cuts are still cuts
Lecturers' union UCU members vote to fight austerity
---
1983: A political voice for the working class
---
Campaigning against the bedroom tax
Standing for TUSC in Woolston, Southampton
Save the Independent Living Fund
Needed: new social housing NOT unaffordable rents
Support the Fighting Fund collectathon!
Socialist Party national organisers' school
---
Crackdown on democratic rights
PO Box 1398, Enfield EN1 9GT
020 8988 8777
editors@socialistparty.org.uk

Link to this page: https://www.socialistparty.org.uk/issue/768/16840
Home | The Socialist 5 June 2013 | Join the Socialist Party
Subscribe | Donate | PDF | ebook
Unison and Labour: Welsh government cuts are still cuts
A Unison member
Socialist Party members attending Unison conference tell me that there are motions on the agenda congratulating the Welsh government for supposedly protecting Welsh workers from the worst impact of the cuts. There must be another Wales besides the one I live in.
As a Welsh worker, I worry about the cuts taking place in the NHS, £660 million of them in the last three years.
When A&E units are shut in London in the name of 'centralising expertise', Unison quite rightly labels it as cuts.
But when a Welsh Labour government downgrades hospitals and services, giving the same reason, our union calls it 'reform', 'reorganisation' or 'modernisation'.
I'm well aware of the disgusting role played by Welsh Labour councils in attacking members' conditions and cutting services.
Two Welsh Labour councils, Neath-Port Talbot (NPT) and Rhondda Cynon Taff (RCT), were enthusiastic pioneers of threatening those refusing to sign new contracts, with worse terms, with the sack.
Not a single Labour council in Wales has publicly committed to not evicting those too poor to pay the bedroom tax.
Not one Welsh Labour MP voted against the Con-Dems' retrospective legislation over workfare. There is no Welsh local authority councillor willing to sign up to the 'councillors against cuts' pledge to vote against all cuts.
If Unison members want to fight Welsh NHS cuts then they can't wait for a lead that's never going to come from above - join with other rank and file trade unionists in the Welsh Shop Stewards Network to build a fight against all cuts.
And we need a political alternative, a fighting, socialist alternative. We need to build the Trade Unionist and Socialist Coalition.
Wales Shop Stewards Network Conference 2013. Saturday 8 June, 10.00am - 3.00pm, Maldron Hotel, St. Mary Street, Cardiff (Close to Cardiff Central station)
---
In this issue
---
Socialist Party news and analysis

Food bank Britain: Con-Dems turn the clock back

NSSN conference : Unite to fight all the cuts

Legal aid cuts: Justice in the balance

Continued deterioration of the Labour Party

Them & Us
---
Youth feature

Mass joblessness wrecks lives! Youth must fight for a future

A day in the life of a Primark employee
---
NHS feature

NHS crisis: Turn anger into action
---
International socialist news and analysis

Turkey: Mass movement challenges Erdogan's authoritarian government
---
Socialist Party workplace news

PCS rolling strike programme

97% vote for strike action at Carling brewery

Thera Trust: the campaign moves up a gear

Unison and Labour: Welsh government cuts are still cuts

Lecturers' union UCU members vote to fight austerity

Workplace news in brief
---
Socialist history

1983: A political voice for the working class
---
Socialist Party reports and campaigns

Campaigning against the bedroom tax

Stopping the BNP in London

EDL blocked by counter demo

Standing for TUSC in Woolston, Southampton

Save the Independent Living Fund

Needed: new social housing NOT unaffordable rents

Support the Fighting Fund collectathon!

Socialist Party national organisers' school
---
Readers' comments

Stop drone attacks!

Crackdown on democratic rights
---
Home | The Socialist 5 June 2013 | Join the Socialist Party