The Socialist 5 June 2013
Food bank Britain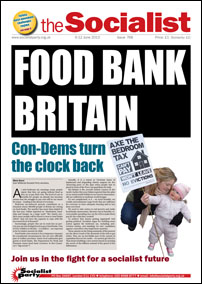 ---
Food bank Britain: Con-Dems turn the clock back
NSSN conference : Unite to fight all the cuts
Legal aid cuts: Justice in the balance
Continued deterioration of the Labour Party
---
Mass joblessness wrecks lives! Youth must fight for a future
A day in the life of a Primark employee
---
NHS crisis: Turn anger into action
---
Turkey: Mass movement challenges Erdogan's authoritarian government
---
97% vote for strike action at Carling brewery
Thera Trust: the campaign moves up a gear
Unison and Labour: Welsh government cuts are still cuts
Lecturers' union UCU members vote to fight austerity
---
1983: A political voice for the working class
---
Campaigning against the bedroom tax
Standing for TUSC in Woolston, Southampton
Save the Independent Living Fund
Needed: new social housing NOT unaffordable rents
Support the Fighting Fund collectathon!
Socialist Party national organisers' school
---
Crackdown on democratic rights
PO Box 1398, Enfield EN1 9GT
020 8988 8777
editors@socialistparty.org.uk

Link to this page: https://www.socialistparty.org.uk/issue/768/16841
Home | The Socialist 5 June 2013 | Join the Socialist Party
Subscribe | Donate | PDF | ebook
Lecturers' union UCU members vote to fight austerity
Thomas House and James Naish
On 29-31 May, the University and College Union (UCU) held its national congress in Brighton. The congress took place against the backdrop of vicious Con-Dem cuts, which had provoked massive anger among delegates who voted to reject employers' insulting pay offers and to ballot for industrial action in further and higher education.
Another important vote involved support for a national strategy to defend post-16 education, which was successfully amended to call on the TUC to: "lay urgent concrete plans for united strike action against Tory austerity policies".
There are, however, dangers of a repeat of the recent failure to defend pensions due to the dominance of general secretary Sally Hunt (who was not present at congress due to illness) and her supporters.
Socialist Party members have always warned against the direction that this section of the union wishes to pursue, attacking its democratic structures.
Their arguments that UCU should pursue its own version of austerity to balance its books, at the expense of democratic and campaigning activity, were defeated.
Now the task is, in the words of the congress, to 'Build the Union', which can only be done if a serious coordinated battle on pay is pursued.
The attacks on the pay and conditions of academics and academic-related staff in higher and further education are not taking place in a vacuum.
The UCU membership understands that and delegates therefore voted for united action across all unions to defeat the Con-Dems' austerity, and to call on all Labour councillors to refuse to implement cuts.
---
In this issue
---
Socialist Party news and analysis

Food bank Britain: Con-Dems turn the clock back

NSSN conference : Unite to fight all the cuts

Legal aid cuts: Justice in the balance

Continued deterioration of the Labour Party

Them & Us
---
Youth feature

Mass joblessness wrecks lives! Youth must fight for a future

A day in the life of a Primark employee
---
NHS feature

NHS crisis: Turn anger into action
---
International socialist news and analysis

Turkey: Mass movement challenges Erdogan's authoritarian government
---
Socialist Party workplace news

PCS rolling strike programme

97% vote for strike action at Carling brewery

Thera Trust: the campaign moves up a gear

Unison and Labour: Welsh government cuts are still cuts

Lecturers' union UCU members vote to fight austerity

Workplace news in brief
---
Socialist history

1983: A political voice for the working class
---
Socialist Party reports and campaigns

Campaigning against the bedroom tax

Stopping the BNP in London

EDL blocked by counter demo

Standing for TUSC in Woolston, Southampton

Save the Independent Living Fund

Needed: new social housing NOT unaffordable rents

Support the Fighting Fund collectathon!

Socialist Party national organisers' school
---
Readers' comments

Stop drone attacks!

Crackdown on democratic rights
---
Home | The Socialist 5 June 2013 | Join the Socialist Party