The Socialist 4 June 2014
Workers can win: Victory for $15 campaign in Seattle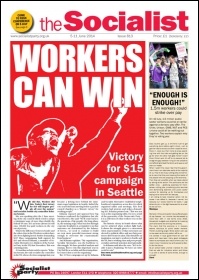 ---
Workers can win: Victory for $15 campaign in Seattle
Enough of 'all the same' capitalist politics!
TUSC: Next steps building political voice for workers
Inclusive capitalism? You're having a laugh!
Children handed poverty "life sentence"
---
US: How Seattle won a $15 minimum wage
Ireland: Electoral surge against austerity
---
"Enough is enough!" - 1.5m could strike over pay
Unite conference: Fighting policies needed
UCU: Members losing patience with leadership
PCS-Unite merger: Will it strengthen our fightback?
Leeds unions prepare for action
---
Bakers' Union interview: "We can stop race to bottom"
Stevenage: March against the far-right, racist EDL
Rhydyfelin library occupied by protesters
---
NHS: Night shift and a cold rage
---
Why I joined the Socialist Party
Plan now for the fundraising collectathon
'Join the socialists' week of action
Successful building in east London
PO Box 24697, London, E11 1YD
020 8988 8777
editors@socialistparty.org.uk