The Socialist 25 June 2014
10 July: All out to end poverty pay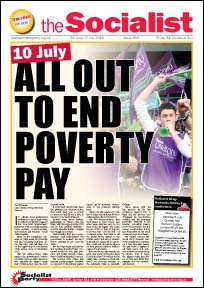 ---
10 July: All out to end poverty pay
Western hypocrisy as Iraq disintegrates
Blame the profit system not its victims!
NHS: The world's best - but for how long?
Miliband - the emperor with no clothes
---
---
Hong Kong: Pro-Beijing newspaper attacks socialists
Israel: Nationalist thugs assault CWI members
---
How can Unite lead fight against cuts?
Unison conference: members call for united action
GMB members question Labour link
Safety Glass strikers demonstrate their strength
---
People's Assembly demo shows anti-austerity anger
South Yorkshire 'Freedom Riders' attacked by police
Fighting for young people in Blackwall and Cubitt Town
Victory! York socialists win university letting agency
Tottenham: Stop fascist attacks
Winning recruits for socialism
---
A day in the life of a supermarket worker
---
When Thatcher unleashed her attack dogs
---
Gerry Conlon: Fighter against state injustice
PO Box 1398, Enfield EN1 9GT
020 8988 8777

Link to this page: https://www.socialistparty.org.uk/issue/816/18841
Home | The Socialist 25 June 2014 | Join the Socialist Party
Subscribe | Donate | PDF | ebook
Supermarket price wars
Iain Dalton, Usdaw shop workers' union member
In March Sainsbury's posted the first drop in like-for-like sales in nine years, the Co-operative group went into meltdown, and Morrisons announced £176 million in pre-tax losses for 2013.
Over the last few years high street names such as Woolworths, Borders, MFI, Comet, JJB Sports, Zaavi and others have all disappeared from the high street, taking thousands of retail jobs with them.
Despite the doom and gloom headlines, retail industry as a whole remains profitable, particularly the big supermarkets. Much of Morrisons' losses this year were due to £900 million worth of one-off write-downs - indeed shareholders' dividends went up! Despite Tesco talking of a 23.5% drop in profits for the half year to last October, it still made a whopping £1.39 billion over that period.
Of course, employers are always out to maximise profit. So despite still being hugely profitable Tesco over the last two years has launched an assault on staff terms and conditions, raising the pension age, introducing 'Ideal Scheduling', where workers' hours are fitted to store needs, as well as driving down pay and conditions in distribution. Now Morrisons has also announced a cull of 2,600 'middle managers'.
End of the Superstore?
But lately the growth of the big stores has slowed down. The big four chains have turned to the convenience sector, where there are 3,000 convenience stores run by Tesco, while Sainsbury's run 523. Such shops are not affected by the Sunday trading act, and therefore can open when and for as long as they like.
Another major trend over the last few years has been the rapid growth of the discounters, particularly Aldi and Lidl. Since first opening a store in 1990, Aldi now has over 500 across the UK, and at the time of writing is recording a growth rate of 33.5%.
This has been achieved by ruthlessly squeezing most costs - no frills for customers and Aldi is among those who pay farmers the lowest price for milk.
While the discounters grow, the big supermarkets' market share is squeezed. Tesco's share of the UK grocery market dropped below 29% for the first time in a decade. This has sparked a price-cutting war as Tesco and Morrisons try to arrest falling sales and market share and Sainsbury's have just announced a joint venture with Netto.
The other major growth is in the online sector and 'dark' stores, those stores laid out purely for picking online orders. Almost all the major retailers offer some sort of online shopping now, and the floor space of such 'dark stores' is set to double over 2014.
An estimated 15% of purchases in the four days running up to Christmas 2013 were made online. In the next five years the market is set to double to £13 billion of sales per year.
This doesn't mean the end of superstores and hypermarkets. They still accounted for the bulk of sales in the food and grocery market, over £70 billion in 2013, and are set to grow to £80 billion by 2018. What has changed is that these are no longer expanding at the same pace.
Despite the difficulties of the big supermarket chains, they are all still highly profitable, accounting for 8% of the UK's GDP with sales of around £300 billion a year.
Socialism
Under the system of capitalism, production will always be organised on the basis of profit. Pay, working conditions, good customer service, the environment - all other concerns are secondary to that of maximising profit.
Socialists believe that the economy should be run in the interests of ordinary people. The vast amounts of data from loyalty cards, staff surveys, and production plans within certain supermarket departments - all currently used to maximise profits - could be used to ensure we can democratically co-ordinate the production of goods and services to meet the needs of society.
If the supermarkets were brought into public ownership, then the wealth we produce could be used to ensure improvements in our living standards as well as reducing the working day.
---
In this issue
---
Socialist Party news and analysis

10 July: All out to end poverty pay

Western hypocrisy as Iraq disintegrates

Blame the profit system not its victims!

NHS: The world's best - but for how long?

Miliband - the emperor with no clothes

Poverty Britain

Them & Us
---
Socialist Party review

Thomas Piketty: The new Marx?
---
International socialist news and analysis

Hong Kong: Pro-Beijing newspaper attacks socialists

Israel: Nationalist thugs assault CWI members
---
Socialist Party workplace news

How can Unite lead fight against cuts?

Reinstate Bryan Kennedy!

Unison conference: members call for united action

GMB members question Labour link

Safety Glass strikers demonstrate their strength

National Museum Wales strike

Workplace news in brief
---
Socialist Party reports and campaigns

People's Assembly demo shows anti-austerity anger

South Yorkshire 'Freedom Riders' attacked by police

Fighting for young people in Blackwall and Cubitt Town

Victory! York socialists win university letting agency

Tottenham: Stop fascist attacks

Winning recruits for socialism

Tax dodgers feel the heat
---
Readers' comments

Supermarket price wars

A day in the life of a supermarket worker
---
Socialist history

When Thatcher unleashed her attack dogs
---
Obituary

Gerry Conlon: Fighter against state injustice
---
Home | The Socialist 25 June 2014 | Join the Socialist Party