The Socialist 25 June 2014
10 July: All out to end poverty pay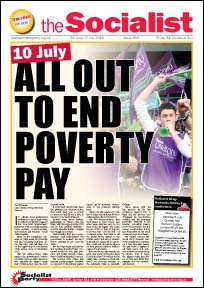 ---
10 July: All out to end poverty pay
Western hypocrisy as Iraq disintegrates
Blame the profit system not its victims!
NHS: The world's best - but for how long?
Miliband - the emperor with no clothes
---
---
Hong Kong: Pro-Beijing newspaper attacks socialists
Israel: Nationalist thugs assault CWI members
---
How can Unite lead fight against cuts?
Unison conference: members call for united action
GMB members question Labour link
Safety Glass strikers demonstrate their strength
---
People's Assembly demo shows anti-austerity anger
South Yorkshire 'Freedom Riders' attacked by police
Fighting for young people in Blackwall and Cubitt Town
Victory! York socialists win university letting agency
Tottenham: Stop fascist attacks
Winning recruits for socialism
---
A day in the life of a supermarket worker
---
When Thatcher unleashed her attack dogs
---
Gerry Conlon: Fighter against state injustice
PO Box 1398, Enfield EN1 9GT
020 8988 8777

Link to this page: https://www.socialistparty.org.uk/issue/816/18845
Home | The Socialist 25 June 2014 | Join the Socialist Party
Subscribe | Donate | PDF | ebook
30th anniversary of the miners' strike
When Thatcher unleashed her attack dogs
Members of the National Union of Mineworkers (NUM) during their year-long (1984-85) battle against pit closures and mass redundancies faced the full might of the state from the Tory Thatcher government. In particular, thousands of striking miners at a mass picket outside the Orgreave coking plant in south Yorkshire on 18 June 1984 were subjected to brutal assaults by police in riot gear and on horseback. Hundreds were injured, some seriously, many arrested and 95 charged with unlawful assembly.
Below, Barbara Jackson, secretary of the Orgreave Truth and Justice Campaign, explains the struggle to secure justice for the 95.
Also, below, two miners present at Orgreave share their memories of that day.
Despite the heroic resistance of the miners and the enormous solidarity of trade unionists and the wider working class, the strike was defeated. This was not a failure of industrial militancy but the consequence of the refusal of the TUC leaders to call wider solidarity action and the conscious betrayal of the Labour Party leadership around Neil Kinnock.
Orgreave: seeking truth and justice
The Orgreave Truth and Justice Campaign was launched in November 2012. What are its aims?
The aim is have a full public inquiry into the policing of the Orgreave coking plant on 18 June 1984 when 95 miners were arrested that day and charged with riot and unlawful assembly.
What support have you received, and what progress has the campaign made?
We've had support, obviously from the NUM, and recently support from Unite and GMB who are also calling for a full public inquiry. And, in the last six weeks, full support from Ed Miliband to have an investigation or an inquiry (he's not using the same terminology as us).
We've had a lot of support in South Yorkshire and North East Derbyshire because the campaign is run from Sheffield. We've also got support in Scotland where Labour SMP Neil Findlay is running a campaign about what happened to the miners in Scotland during the strike, particularly at Ravenscraig.
We are now making connections with the Welsh miners and we've got connections with the ex-Kent miners. Interest in the campaign is spreading throughout the country. We get trade union donations particularly from Aslef and the RMT transport unions.
Since the campaign started we've had really favourable media coverage - three Observer articles, and several articles in the Guardian relating Orgreave to the Hillsborough tragedy. We've had substantial support from the Morning Star and papers such as the Socialist.
We've had two programmes on BBC Radio 4 this year. We get a lot of support from Radio Sheffield and from Look North, and recently ITN news has been in touch with a view to running a news item.
Nicholas Jones, the BBC's former industrial correspondent, is very angry about being misled by the government's propaganda. He says he honestly believed that if only 20 pits closed that would've made the coal industry economically viable.
Now, he feels deceived as the government's real aim (revealed in recently released Cabinet papers) was the complete decimation of the industry and the NUM - in order to make way for privatisation and their neoliberal economic agenda.
We made a decision at the start of the campaign to work with media and to trust them until they gave us a reason not to. So far that is working for us.
Recently we've had support from Vera Baird, the police and crime commissioner from Northumbria, because she is now realising that the Independent Police Complaints Commission (IPCC) has seriously dragged their feet on the scoping exercise (preliminary investigation) that they're undertaking.
In this year, on the 30th anniversary of the strike, we've worked our socks off to push the campaign. But it's not just about our campaign; there has been a massive rethink among the intelligentsia, and more sympathy and more clarity of the issues.
Of course the Hillsborough tragedy reverberates constantly. Every major injustice involving the police strengthens the belief that what the police did at Orgreave was wrong.
What is the legacy of Orgreave and the miners' strike?
I think the defeat of the miners' strike has been devastating for working people's confidence, their history and collective memory. Only in the last 18 months, particularly among the miners and their supporters, have people lifted up their heads and think that there might be something done about it.
It was always said during the strike that if the NUM was defeated then there would be massive reverberations around the trade union movement. That happened, and such a defeat takes a generation to work its way through and for people to realise what it meant.
People have to grasp the reality of state power in this country - the 'iron fist in the velvet glove'.
Young people today are in a very difficult position with unemployment, scarcity of good jobs - the minimum wage has become the maximum wage! There's no security of employment, zero-hour contracts, temporary work, etc. There's no discussion now about what employers will pay unless you're a professional.
Since the abolition of the union closed shop and the anti-trade union laws were put into place, people are not in a very revolutionary state of mind - those in work now consider themselves lucky. They are determined to hang on to a job and not become 'benefit scroungers' - as the Tories have successfully labelled people claiming benefits.
But if we can get justice for the mineworkers, and if we can get the truth out into the public domain, we would hope people gain huge confidence that eventually things do come right. But you have got to organise and to fight for it.
We hope that if we can achieve success like the Hillsborough campaign and in individual justice campaigns, then that will give people confidence to organise and come together.
►Orgreave Truth and Justice Campaign:
[email protected]
Secretary Barbara Jackson 0114 2509510
---
►'With banners held high'.
Next March, at the newly refurbished Unity Hall in Wakefield, along with the Press and Broadcasting Freedom campaign, the NUM and the National Justice for Mineworkers campaign, OTJC will be holding a day-long event (film, speeches, workshops) to commemorate the end of the 1984-85 strike.
---
The battle of Orgreave - eyewitness reports
I remember that it was a beautiful sunny English summer's day. But that was as good as it got. As I arrived the amount of pickets was surprising as getting to a picket was very difficult in 1984, everything was put in your way by police road blocks etc.
The police at first were very accommodating, directing pickets to specific areas. Today we know this is 'kettling'. The pickets were in good spirits. Against us were lined the massed ranks of police, in ordinary uniform at first. These officers soon stood down for those kitted in full riot gear.
These storm troopers soon weighed into the pickets who fought back manfully at first but all we had were fists and feet against batons, shields and helmets. The blows were relentless, bloodied pickets were everywhere.
The memory that has stuck with me to my 51st year is the look on the faces of the police, they were loving the pain and terror that they were paying out to people fighting to save their communities.
One comrade from my pit was trampled by a horse and even after the end of the year long strike couldn't return to work for another three months due to the extent of his injuries. Another comrade was jailed in Lincoln prison for 'unlawful assembly'. What a price to pay for wanting to secure a future for your family.
The Orgreave Truth and Justice Campaign is doing a great job, but could we spare a thought for the men and women we have lost over the years? They will never see justice for their fight and carry the stain of the lies from the media, police and politicians to their graves.
La lutte continue!
Ian Whitehouse, Sheffield
---
'Destination Orgreave' we were told. In the van we rode, fear, sweat and methane gas followed us on the road. Out we got, bold as brass to face Thatcher's army who had amassed.
A whisper then a shout, Arthur Scargill was about, our leader, my hero was here today. I shouted "Arthur sign us this", a pound note was all I had, worried of its return, Arthur signed and gave it back.
Then they came and took Arthur away, our leader had been taken. We said no way and like warriors in the sun we charged that day singing our song, "here we go".
Thirty years on and as the memories fade I look at that pound note Arthur signed that day and I am sure I can hear the words, "here we go".
To the cowards and traitors, history knows who you are. To the heroes of Orgreave I say: "Better to have tried and failed, than never to have tried at all, one day all this will not have been in vain."
The workers united will never be defeated.
Rebel with a cause, Rotherham
---
A Civil War Without Guns
The lessons of the 1984-85 miners' strike
by Ken Smith
Only £7 + p&p
Available at www.leftbooks.co.uk
Or call 020 8988 8789
---
In this issue
---
Socialist Party news and analysis

10 July: All out to end poverty pay

Western hypocrisy as Iraq disintegrates

Blame the profit system not its victims!

NHS: The world's best - but for how long?

Miliband - the emperor with no clothes

Poverty Britain

Them & Us
---
Socialist Party review

Thomas Piketty: The new Marx?
---
International socialist news and analysis

Hong Kong: Pro-Beijing newspaper attacks socialists

Israel: Nationalist thugs assault CWI members
---
Socialist Party workplace news

How can Unite lead fight against cuts?

Reinstate Bryan Kennedy!

Unison conference: members call for united action

GMB members question Labour link

Safety Glass strikers demonstrate their strength

National Museum Wales strike

Workplace news in brief
---
Socialist Party reports and campaigns

People's Assembly demo shows anti-austerity anger

South Yorkshire 'Freedom Riders' attacked by police

Fighting for young people in Blackwall and Cubitt Town

Victory! York socialists win university letting agency

Tottenham: Stop fascist attacks

Winning recruits for socialism

Tax dodgers feel the heat
---
Readers' comments

Supermarket price wars

A day in the life of a supermarket worker
---
Socialist history

When Thatcher unleashed her attack dogs
---
Obituary

Gerry Conlon: Fighter against state injustice
---
Home | The Socialist 25 June 2014 | Join the Socialist Party