The Socialist 3 June 2015
Strikes get results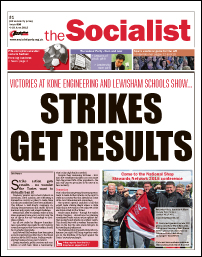 ---
Labour leadership 'choice' confirms need for new party
Bruised and Blattered - Fifa's boss eventually resigns
Finance capital - taking Liborties
Setting the anti-war record straight
Filipino nurses fight Daily Mail smears
---
The lessons of Labour's 1945 victory
Heysel: How socialist councillors built bridges
---
Budget Day: Smash Tory austerity!
Queen's Speech protests: determination to fight back
---
Lewisham academy schools plans dropped
Glasgow council concedes over pay grading
Network Rail forced to make new offer
PCS members rally in Trafalgar Square
Bromley anti-privatisation action continues
---
Spain: left 'popular unity' lists win key victories
Britain: end deportations - solidarity needed
Chile: 200,000 protest in Santiago
Hong Kong: refugee campaign victory
---
Mental health services gutted by Labour cuts
How the unemployed are targeted with sanctions
PO Box 1398, Enfield EN1 9GT
020 8988 8777

Link to this page: https://www.socialistparty.org.uk/issue/858/20783
Home | The Socialist 3 June 2015 | Join the Socialist Party
Subscribe | Donate | PDF | ebook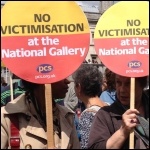 PCS members rally in Trafalgar Square
The PCS nationally mobilised support on Saturday 30 May for the struggle against privatisation of its members in the National Gallery, with a demonstration of solidarity and strength in Trafalgar Square.
Not far below the steps of the gallery itself, thousands of PCS members and supporters gathered to listen to a line-up of speakers at a rally chaired by PCS president Janice Godrich.
PCS members in the gallery are in the middle of a ten-day strike, their longest yet in a dispute that will have involved 34 days of strike action by the end of this present round on 4th June.
The National Gallery - which is mostly funded by government money - is the UK's most visited tourist destination. But its management is intent on privatising it, including the jobs of 400 of the 600 staff.
PCS represents over 200 gallery assistants and other staff who have been heroically fighting this attack on the workforce and the future of the gallery as a public institution.

They are also fighting management's disgraceful decision to sack PCS representative Candy Udwin, who was part of the union's negotiating team.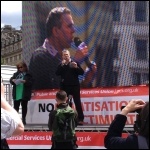 Mark Serwotka, PCS general secretary, addressing the rally, photo J Beishon
Candy Udwin was accused of "breaching commercial confidentiality" by drafting questions for the union's full time negotiations officer to ask the gallery about the cost of using CIS, a private company employed in response to the dispute.
To support the PCS campaign at the National Gallery:
Make a donation to the hardship fund via sort code 08-60-01 and a/c number 20169002. Cheques should be sent to PCS Culture Media and Sport Association c/o PCS North West Regional Centre, Jack Jones House, 1 Islington, Liverpool L3 8EG
.
---
This version of this article was first posted on the Socialist Party website on 31 May 2015 and may vary slightly from the version subsequently printed in The Socialist.
---
In this issue
---
Socialist Party news and analysis

Strikes get results

Tories deepen housing crisis

Labour leadership 'choice' confirms need for new party

Bruised and Blattered - Fifa's boss eventually resigns

Finance capital - taking Liborties

Setting the anti-war record straight

Filipino nurses fight Daily Mail smears

Them & Us
---
Socialist history

The lessons of Labour's 1945 victory

Heysel: How socialist councillors built bridges
---
Socialist Party youth and students

Budget Day: Smash Tory austerity!

Queen's Speech protests: determination to fight back

Sri Lankan students protest
---
Socialist Party workplace news

Lewisham academy schools plans dropped

Victory for Kone strikers!

Glasgow council concedes over pay grading

Network Rail forced to make new offer

PCS members rally in Trafalgar Square

Bromley anti-privatisation action continues

Workplace news in brief
---
International socialist news and analysis

Spain: left 'popular unity' lists win key victories

Britain: end deportations - solidarity needed

Chile: 200,000 protest in Santiago

Hong Kong: refugee campaign victory
---
Readers' comment

Mental health services gutted by Labour cuts

How the unemployed are targeted with sanctions

Human rights hypocrisy
---
Home | The Socialist 3 June 2015 | Join the Socialist Party