The Socialist 3 June 2015
Strikes get results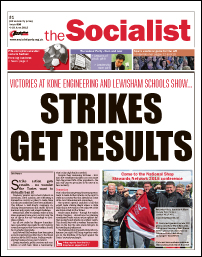 ---
Labour leadership 'choice' confirms need for new party
Bruised and Blattered - Fifa's boss eventually resigns
Finance capital - taking Liborties
Setting the anti-war record straight
Filipino nurses fight Daily Mail smears
---
The lessons of Labour's 1945 victory
Heysel: How socialist councillors built bridges
---
Budget Day: Smash Tory austerity!
Queen's Speech protests: determination to fight back
---
Lewisham academy schools plans dropped
Glasgow council concedes over pay grading
Network Rail forced to make new offer
PCS members rally in Trafalgar Square
Bromley anti-privatisation action continues
---
Spain: left 'popular unity' lists win key victories
Britain: end deportations - solidarity needed
Chile: 200,000 protest in Santiago
Hong Kong: refugee campaign victory
---
Mental health services gutted by Labour cuts
How the unemployed are targeted with sanctions
PO Box 1398, Enfield EN1 9GT
020 8988 8777

Link to this page: https://www.socialistparty.org.uk/issue/858/20790
Home | The Socialist 3 June 2015 | Join the Socialist Party
Subscribe | Donate | PDF | ebook
Victories at Kone engineering and Lewisham schools show...
Strikes get results
Bob Severn
Strike action gets results - no wonder the Tories want to virtually ban it!
Teachers, parents and school students in Lewisham, south London, are celebrating a tremendous victory as plans to make three schools into academies have been sidelined. This follows a hard-fought campaign including demonstrations and strikes by both teachers and pupils, and a legal challenge.
Meanwhile, after escalating strike action, Kone engineers have won a victory over the use of 'spy in the cab' technology to discipline workers.
An all-out strike by Glasgow homelessness caseworkers has made the city's Labour council recognise that those workers should be on a higher pay grade.
And Network Rail workers have been given a much improved pay offer due to the threat of action by the RMT union. Striking works - and big business bosses can't stand it.
Living standards, public services and conditions at work have taken a hammering. That's why a fightback is needed.
Despite their increasing fortunes - Britain's five wealthiest families now own more than the poorest fifth of the population - the rich still want to get richer as the rest of us face austerity.
Draconian
That's why they are getting their Tory government to make further attacks on the right to strike in a country that has already has some of the most draconian anti-union laws.
The Queen's Speech included a bill that would make striking illegal unless a strike ballot had a 50% turnout. Yet only 24% of the electorate voted for the Tories!
Trade union leaders - through the Trades Union Congress - should now be planning coordinated trade union action against further austerity and attacks on workers' rights. This should start with a workers' demonstration on the day the anti-union bill gets its first reading in parliament.
The National Shop Stewards Network conference will bring together workers on the frontline of the fight against the Tories' austerity onslaught.
Come to the National Shop Stewards Network 2015 conference
Saturday 4 July, 11am to 4.30pm
Conway Hall, Holborn, London WC1R 4RL
Confirmed speakers include PCS general secretary Mark Serwotka, FBU general secretary Matt Wrack, BFAWU general secretary Ronnie Draper and anti-blacklisting campaigner Dave Smith
---
In this issue
---
Socialist Party news and analysis

Strikes get results

Tories deepen housing crisis

Labour leadership 'choice' confirms need for new party

Bruised and Blattered - Fifa's boss eventually resigns

Finance capital - taking Liborties

Setting the anti-war record straight

Filipino nurses fight Daily Mail smears

Them & Us
---
Socialist history

The lessons of Labour's 1945 victory

Heysel: How socialist councillors built bridges
---
Socialist Party youth and students

Budget Day: Smash Tory austerity!

Queen's Speech protests: determination to fight back

Sri Lankan students protest
---
Socialist Party workplace news

Lewisham academy schools plans dropped

Victory for Kone strikers!

Glasgow council concedes over pay grading

Network Rail forced to make new offer

PCS members rally in Trafalgar Square

Bromley anti-privatisation action continues

Workplace news in brief
---
International socialist news and analysis

Spain: left 'popular unity' lists win key victories

Britain: end deportations - solidarity needed

Chile: 200,000 protest in Santiago

Hong Kong: refugee campaign victory
---
Readers' comment

Mental health services gutted by Labour cuts

How the unemployed are targeted with sanctions

Human rights hypocrisy
---
Home | The Socialist 3 June 2015 | Join the Socialist Party