The Socialist 3 June 2015
Strikes get results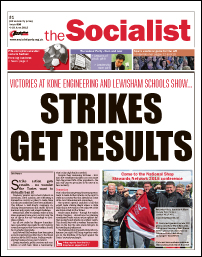 ---
Labour leadership 'choice' confirms need for new party
Bruised and Blattered - Fifa's boss eventually resigns
Finance capital - taking Liborties
Setting the anti-war record straight
Filipino nurses fight Daily Mail smears
---
The lessons of Labour's 1945 victory
Heysel: How socialist councillors built bridges
---
Budget Day: Smash Tory austerity!
Queen's Speech protests: determination to fight back
---
Lewisham academy schools plans dropped
Glasgow council concedes over pay grading
Network Rail forced to make new offer
PCS members rally in Trafalgar Square
Bromley anti-privatisation action continues
---
Spain: left 'popular unity' lists win key victories
Britain: end deportations - solidarity needed
Chile: 200,000 protest in Santiago
Hong Kong: refugee campaign victory
---
Mental health services gutted by Labour cuts
How the unemployed are targeted with sanctions
PO Box 1398, Enfield EN1 9GT
020 8988 8777

Link to this page: https://www.socialistparty.org.uk/issue/858/20791
Home | The Socialist 3 June 2015 | Join the Socialist Party
Subscribe | Donate | PDF | ebook
Lewisham academy schools plans dropped by Prendergast
Teachers, school students and parents in Lewisham, south London, have won a great victory! They beat off plans to turn three schools into 'academies' which would have been a step towards privatisation. Martin Powell-Davies, Lewisham NUT union secretary and Stop Academies in Lewisham activists, explains.
For several months members of NUT and other trade unions at the Prendergast Federation of schools, alongside students and parents, have mounted a tremendous campaign to oppose these damaging academy conversion proposals.
Sizeable demonstrations, strikes and meetings - and now legal challenges over government regulations - all helped to keep pressure on governors to think again. Now they have agreed to rescind the academy orders for all three schools in the Prendergast Federation.
This major breakthrough for the campaign reflects the pressure that months of our determined opposition built up. The legal challenges then left governors with little option but to pull back from their plans.
Every campaigner should be proud of standing firm and refusing to accept that the academy steamroller was unstoppable. The campaign shows how little public support there is for academies and the total lack of any evidence that academies help education.
This is not yet a final victory. The Department for Education (DfE) will want to rewrite their regulations so the Prendergast Federation can start over with their plans. However, we will keep up the pressure on Prendergast's governors to resist DfE attempts.
As parent Ned Boulting told the Guardian: "governors have created a rift [that] will raise questions with teachers as to whether they want to stay on at the school". Regrettably, he understood the dangers better than the governors.
Unless or until the governors withdraw their academy plans altogether, then the dispute still continues. For now, the proposed strike action on 3-4 June has been withdrawn. We are confident that, boosted by the latest news, staff, students and parents will be ready to continue their campaign if necessary.
---
In this issue
---
Socialist Party news and analysis

Strikes get results

Tories deepen housing crisis

Labour leadership 'choice' confirms need for new party

Bruised and Blattered - Fifa's boss eventually resigns

Finance capital - taking Liborties

Setting the anti-war record straight

Filipino nurses fight Daily Mail smears

Them & Us
---
Socialist history

The lessons of Labour's 1945 victory

Heysel: How socialist councillors built bridges
---
Socialist Party youth and students

Budget Day: Smash Tory austerity!

Queen's Speech protests: determination to fight back

Sri Lankan students protest
---
Socialist Party workplace news

Lewisham academy schools plans dropped

Victory for Kone strikers!

Glasgow council concedes over pay grading

Network Rail forced to make new offer

PCS members rally in Trafalgar Square

Bromley anti-privatisation action continues

Workplace news in brief
---
International socialist news and analysis

Spain: left 'popular unity' lists win key victories

Britain: end deportations - solidarity needed

Chile: 200,000 protest in Santiago

Hong Kong: refugee campaign victory
---
Readers' comment

Mental health services gutted by Labour cuts

How the unemployed are targeted with sanctions

Human rights hypocrisy
---
Home | The Socialist 3 June 2015 | Join the Socialist Party