The Socialist 3 June 2015
Strikes get results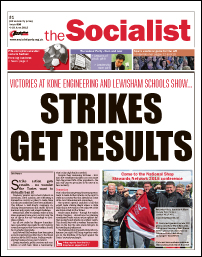 ---
Labour leadership 'choice' confirms need for new party
Bruised and Blattered - Fifa's boss eventually resigns
Finance capital - taking Liborties
Setting the anti-war record straight
Filipino nurses fight Daily Mail smears
---
The lessons of Labour's 1945 victory
Heysel: How socialist councillors built bridges
---
Budget Day: Smash Tory austerity!
Queen's Speech protests: determination to fight back
---
Lewisham academy schools plans dropped
Glasgow council concedes over pay grading
Network Rail forced to make new offer
PCS members rally in Trafalgar Square
Bromley anti-privatisation action continues
---
Spain: left 'popular unity' lists win key victories
Britain: end deportations - solidarity needed
Chile: 200,000 protest in Santiago
Hong Kong: refugee campaign victory
---
Mental health services gutted by Labour cuts
How the unemployed are targeted with sanctions
PO Box 1398, Enfield EN1 9GT
020 8988 8777

Link to this page: https://www.socialistparty.org.uk/issue/858/20795
Home | The Socialist 3 June 2015 | Join the Socialist Party
Subscribe | Donate | PDF | ebook
Workplace news in brief
Tube ballot
The RMT, Aslef, Tssa and Unite unions are to ballot London Underground workers who face a two year pay cut and imposed night working.
All four unions are saying enough is enough, as staff already working intensive shift patterns are being told they will have to work all night and work more weekends. And the reward? A real term pay cut over two years. Our reasonable demands are a decent pay offer, a shorter working week and no job cuts.
Station workers will also be balloted separately to take action against almost 900 job losses.
We are fighting not only for our members but for the public as well. We want a fully staffed tube, otherwise it will be unsafe to use. Assaults on staff are already up 44% since the beginning of the cuts.
We make no apologies for wanting to defend our members' pay. All workers in London should be on our scale of pay as a minimum. If they get away with cutting the pay of the best organised workers, they will come gunning for other workers.
John Reid, RMT executive member
---
DLR strike
Up to 30 RMT members were on the picket at the Poplar depot of London's Docklands Light Railway (DLR) on 27 May as the union started a 48-hour strike.
The pickets stood either side of the road in a fantastic show of strength by low-paid Interserve cleaners and security staff over pay and working conditions.
One picket told the Socialist: "This strike has been coming for a long time. This work should be all brought back in-house. Companies like Interserve bid too low for the contract and then try and take it out on us. We're not giving in."
Rob Williams
---
In this issue
---
Socialist Party news and analysis

Strikes get results

Tories deepen housing crisis

Labour leadership 'choice' confirms need for new party

Bruised and Blattered - Fifa's boss eventually resigns

Finance capital - taking Liborties

Setting the anti-war record straight

Filipino nurses fight Daily Mail smears

Them & Us
---
Socialist history

The lessons of Labour's 1945 victory

Heysel: How socialist councillors built bridges
---
Socialist Party youth and students

Budget Day: Smash Tory austerity!

Queen's Speech protests: determination to fight back

Sri Lankan students protest
---
Socialist Party workplace news

Lewisham academy schools plans dropped

Victory for Kone strikers!

Glasgow council concedes over pay grading

Network Rail forced to make new offer

PCS members rally in Trafalgar Square

Bromley anti-privatisation action continues

Workplace news in brief
---
International socialist news and analysis

Spain: left 'popular unity' lists win key victories

Britain: end deportations - solidarity needed

Chile: 200,000 protest in Santiago

Hong Kong: refugee campaign victory
---
Readers' comment

Mental health services gutted by Labour cuts

How the unemployed are targeted with sanctions

Human rights hypocrisy
---
Home | The Socialist 3 June 2015 | Join the Socialist Party