The Socialist 3 June 2015
Strikes get results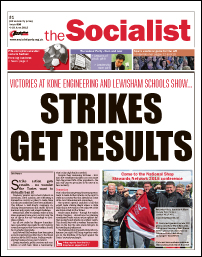 ---
Labour leadership 'choice' confirms need for new party
Bruised and Blattered - Fifa's boss eventually resigns
Finance capital - taking Liborties
Setting the anti-war record straight
Filipino nurses fight Daily Mail smears
---
The lessons of Labour's 1945 victory
Heysel: How socialist councillors built bridges
---
Budget Day: Smash Tory austerity!
Queen's Speech protests: determination to fight back
---
Lewisham academy schools plans dropped
Glasgow council concedes over pay grading
Network Rail forced to make new offer
PCS members rally in Trafalgar Square
Bromley anti-privatisation action continues
---
Spain: left 'popular unity' lists win key victories
Britain: end deportations - solidarity needed
Chile: 200,000 protest in Santiago
Hong Kong: refugee campaign victory
---
Mental health services gutted by Labour cuts
How the unemployed are targeted with sanctions
PO Box 1398, Enfield EN1 9GT
020 8988 8777

Link to this page: https://www.socialistparty.org.uk/issue/858/20796
Home | The Socialist 3 June 2015 | Join the Socialist Party
Subscribe | Donate | PDF | ebook
Mental health services gutted by Labour cuts
Andrew Walton, Leicester Socialist Party
Rizwan Dodya, a mental health service user, contacted Leicester Socialist Party about cuts to local mental health services. He had been given help with confidence-building skills by a local centre called Akwaaba Ayeh.
The project has been around for over 20 years, helping some of Leicester's most vulnerable. It is a specialist service for ethnic minorities, situated in a diverse, working class area with high unemployment and poverty. Rizwan found the staff there helpful and experienced.
The nearby Adhar Project also provides mental health services for ethnic minorities. The two centres are being closed, merged and moved miles from the community. This change is driven by cuts, not service users' needs.
Stigma
The stigma surrounding mental health issues makes many reluctant to come forward about them. This is why specialist centres must be situated in the communities they serve, to make people feel welcome.
I tried to visit Akwaaba Ayeh to discuss cuts with staff and ask if the Socialist Party could help. A notice informed me it would be closing next month.
Reports are that staffing will be cut. Meal charges have increased from £2 a month to £6 a week - a huge difference for unemployed and low-paid workers.
Activities have been lost as well, including group sessions where service users could solve problems together. The new site is overcrowded - and offers only bingo and cooking.
To be effective, mental health services need to be delivered locally, in a safe and comfortable environment, with therapeutic activities. To remain stable they need direct funding from councils and the NHS, not charity or lottery handouts.
Mental health difficulties often arise from long-term unemployment, social isolation and discrimination. All of these are exacerbated by austerity. Leicester's Labour council has meekly accepted Tory cuts.
The council actually has £50 million in reserve - and is adding to this pot "for a rainy day". We say that cuts are raining down on vulnerable people now!
If councillors had the will, they could keep services running with reserves. This would buy time to build a trade union and community campaign, including strikes and occupations if necessary, to win the money back.
This is what the Socialist Party fights for, and stands for in elections as part of the Trade Unionist and Socialist Coalition (TUSC). This approach would give vulnerable people purpose and the confidence to fight back, as well as safeguarding the services they need to recover.
---
In this issue
---
Socialist Party news and analysis

Strikes get results

Tories deepen housing crisis

Labour leadership 'choice' confirms need for new party

Bruised and Blattered - Fifa's boss eventually resigns

Finance capital - taking Liborties

Setting the anti-war record straight

Filipino nurses fight Daily Mail smears

Them & Us
---
Socialist history

The lessons of Labour's 1945 victory

Heysel: How socialist councillors built bridges
---
Socialist Party youth and students

Budget Day: Smash Tory austerity!

Queen's Speech protests: determination to fight back

Sri Lankan students protest
---
Socialist Party workplace news

Lewisham academy schools plans dropped

Victory for Kone strikers!

Glasgow council concedes over pay grading

Network Rail forced to make new offer

PCS members rally in Trafalgar Square

Bromley anti-privatisation action continues

Workplace news in brief
---
International socialist news and analysis

Spain: left 'popular unity' lists win key victories

Britain: end deportations - solidarity needed

Chile: 200,000 protest in Santiago

Hong Kong: refugee campaign victory
---
Readers' comment

Mental health services gutted by Labour cuts

How the unemployed are targeted with sanctions

Human rights hypocrisy
---
Home | The Socialist 3 June 2015 | Join the Socialist Party