The Socialist 3 June 2015
Strikes get results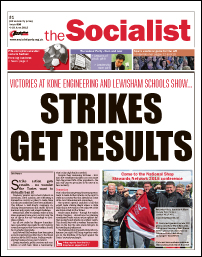 ---
Labour leadership 'choice' confirms need for new party
Bruised and Blattered - Fifa's boss eventually resigns
Finance capital - taking Liborties
Setting the anti-war record straight
Filipino nurses fight Daily Mail smears
---
The lessons of Labour's 1945 victory
Heysel: How socialist councillors built bridges
---
Budget Day: Smash Tory austerity!
Queen's Speech protests: determination to fight back
---
Lewisham academy schools plans dropped
Glasgow council concedes over pay grading
Network Rail forced to make new offer
PCS members rally in Trafalgar Square
Bromley anti-privatisation action continues
---
Spain: left 'popular unity' lists win key victories
Britain: end deportations - solidarity needed
Chile: 200,000 protest in Santiago
Hong Kong: refugee campaign victory
---
Mental health services gutted by Labour cuts
How the unemployed are targeted with sanctions
PO Box 1398, Enfield EN1 9GT
020 8988 8777

Link to this page: https://www.socialistparty.org.uk/issue/858/20800
Home | The Socialist 3 June 2015 | Join the Socialist Party
Subscribe | Donate | PDF | ebook
Bruised and Blattered - Fifa's boss eventually agrees to resign
Reclaim football from corrupting big business
Suzanne Beishon
Fifa president Sepp Blatter has finally succumbed to widespread pressure and resigned. He says he will stay on until a special congress is convened to elect his replacement. However, although denying any involvement in the organisation's courruption scandals, Blatter still has to explain how he failed to notice the huge sums of money Fifa dished out in bribes during his tenure.
"Corruption that is rampant, systemic and deep-rooted both abroad and here in the United States" said US attorney general Loretta Lynch.
Yet the world wasn't shocked by the allegations against 14 Fifa officials and high-level football marketing executives, the world was shocked by the fact that something was finally being done about it!
The extreme level of corruption that has allegedly seen $150 million in bribes has spanned "at least two generations of soccer officials who, as alleged, have abused their positions of trust to acquire millions of dollars in bribes and kickbacks," Lynch outlined.
"And it has profoundly harmed a multitude of victims, from the youth leagues and developing countries that should benefit from the revenue generated by the commercial rights these organisations hold, to the fans at home and throughout the world whose support for the game makes those rights valuable."
Alongside the arrests and release of the FBI indictment came the news that Swiss officials were also launching a separate criminal investigation into the 2018 and 2022 World Cup bidding process that saw the tournaments controversially awarded to Russia and Qatar respectively.
As the news broke on the eve of Fifa's 65th World Congress and the presidential election, fans globally celebrated the demise of the scandal-hit organisation's seemingly untouchable status.
Fifa and beleaguered president Sepp Blatter, before he resigned, tried to put a positive spin on the crisis saying: "Fifa is the damaged party," and that the indictments were a 'witch-hunt'.
The re-election of Blatter for a fifth term, only days before resigning, saw him perversely claim that after holding post since 1998 he was the man to "clean up" football.
But should we really be surprised by the corruption in the lucrative sport's top body?
As Thatcherism ushered in a new age of deregulation and globalisation it wasn't long before business began to look at the popular sport that enrapts millions of working-class fans and sought a way to massively boost their profits.
Ticket prices rose, big-money TV and sponsorship deals came in and football was sanitised and marketed for a global audience.
Rich plaything
The sport has become the plaything of the rich and powerful who are competing to snap up top clubs that they have no ties to, only for their personal pleasure and, most importantly, profit.
The corruption and the wealth siphoned off at the top of football at the expense of ordinary fans is a reflection of what takes place in wider society. While in general society the rich have increased their wealth massively through further exploitation of working people on a global scale - the number of billionaires has in fact doubled since the economic crash - so the greed of the sporting elites has seen them squeeze more and more out of supporters.
While fans take pleasure in the crumbling of "maFifa," we can't rely on the US and Swiss investigations to save football for ordinary fans.
It's telling that it is the corruption and money laundering that has threatened Qatar's right to host the 2022 World Cup and not the appalling rising death toll of migrant workers - 62 workers are expected to have died for each match played by the time the tournament gets underway.
The reality is that under capitalism money is worth more than lives.
It's up to ordinary fans to fight to wrest the people's game from the hands of big business and reclaim it for working people.
---
A total of 14 Fifa executives have been accused of 47 counts of money laundering, racketeering and tax evasion linked to $150 million of kick-backs
Former Fifa vice-president Jack Warner is accused of receiving a $10 milion bribe from an unnamed Fifa official to secure South Africa's 2010 world cup bid
---
In this issue
---
Socialist Party news and analysis

Strikes get results

Tories deepen housing crisis

Labour leadership 'choice' confirms need for new party

Bruised and Blattered - Fifa's boss eventually resigns

Finance capital - taking Liborties

Setting the anti-war record straight

Filipino nurses fight Daily Mail smears

Them & Us
---
Socialist history

The lessons of Labour's 1945 victory

Heysel: How socialist councillors built bridges
---
Socialist Party youth and students

Budget Day: Smash Tory austerity!

Queen's Speech protests: determination to fight back

Sri Lankan students protest
---
Socialist Party workplace news

Lewisham academy schools plans dropped

Victory for Kone strikers!

Glasgow council concedes over pay grading

Network Rail forced to make new offer

PCS members rally in Trafalgar Square

Bromley anti-privatisation action continues

Workplace news in brief
---
International socialist news and analysis

Spain: left 'popular unity' lists win key victories

Britain: end deportations - solidarity needed

Chile: 200,000 protest in Santiago

Hong Kong: refugee campaign victory
---
Readers' comment

Mental health services gutted by Labour cuts

How the unemployed are targeted with sanctions

Human rights hypocrisy
---
Home | The Socialist 3 June 2015 | Join the Socialist Party