The Socialist 3 June 2015
Strikes get results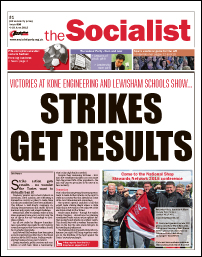 ---
Labour leadership 'choice' confirms need for new party
Bruised and Blattered - Fifa's boss eventually resigns
Finance capital - taking Liborties
Setting the anti-war record straight
Filipino nurses fight Daily Mail smears
---
The lessons of Labour's 1945 victory
Heysel: How socialist councillors built bridges
---
Budget Day: Smash Tory austerity!
Queen's Speech protests: determination to fight back
---
Lewisham academy schools plans dropped
Glasgow council concedes over pay grading
Network Rail forced to make new offer
PCS members rally in Trafalgar Square
Bromley anti-privatisation action continues
---
Spain: left 'popular unity' lists win key victories
Britain: end deportations - solidarity needed
Chile: 200,000 protest in Santiago
Hong Kong: refugee campaign victory
---
Mental health services gutted by Labour cuts
How the unemployed are targeted with sanctions
PO Box 1398, Enfield EN1 9GT
020 8988 8777

Link to this page: https://www.socialistparty.org.uk/issue/858/20805
Home | The Socialist 3 June 2015 | Join the Socialist Party
Subscribe | Donate | PDF | ebook
Heysel Stadium tragedy 30 years ago
How socialist councillors built bridges
Tony Mulhearn, former Liverpool city councillor from 1983-87 and past President of Liverpool Labour Party writes in reply to a Guardian article on the Heysel stadium disaster.
Ed Vulliamy's piece is important in reminding everyone of the appalling events of 29 May 1985 in which 39 Juventus fans died at a European Cup final at Heysel stadium in Brussels. Unfortunately he also suggests that no apology was received from Liverpool city council.
On the contrary, Labour councillors took the initiative and suggested that a delegation be sent from Liverpool to Turin to offer condolences and to discuss with the authorities what could be done to get to the root of the social conditions which breed violence.
The horrific scenes witnessed on television appalled the whole population of Liverpool.
But it later became quite clear that inadequate facilities at Heysel Stadium, lack of proper policing and chaos in the allocation of tickets and seats for the different fans had all also contributed to this tragedy. Liverpool council's architect had conclusively proved that the stadium was unsafe.
The red top press unleashed a collective character assassination on Liverpool, a city which dared to oppose Margaret Thatcher's savage cuts. Entirely ignored was the fact that genuine football fans in Liverpool consistently condemned mindless hooliganism and violence.
Many fans also reported that the fascist British National Party were handing out leaflets on the ferry taking fans to the match. The socialist group in the European Parliament also commented that on the Italian side young fascist militants had travelled to Belgium with the intention of having a confrontation with the Liverpool 'reds'.
The owner of the Daily Mirror at the time, pension thief Robert Maxwell, said: "This (Liverpool's stance) is the kind of thing that encourages hooliganism." That revealed the attitude of the powerful and privileged toward Liverpool for making a stand against cuts.
---
In this issue
---
Socialist Party news and analysis

Strikes get results

Tories deepen housing crisis

Labour leadership 'choice' confirms need for new party

Bruised and Blattered - Fifa's boss eventually resigns

Finance capital - taking Liborties

Setting the anti-war record straight

Filipino nurses fight Daily Mail smears

Them & Us
---
Socialist history

The lessons of Labour's 1945 victory

Heysel: How socialist councillors built bridges
---
Socialist Party youth and students

Budget Day: Smash Tory austerity!

Queen's Speech protests: determination to fight back

Sri Lankan students protest
---
Socialist Party workplace news

Lewisham academy schools plans dropped

Victory for Kone strikers!

Glasgow council concedes over pay grading

Network Rail forced to make new offer

PCS members rally in Trafalgar Square

Bromley anti-privatisation action continues

Workplace news in brief
---
International socialist news and analysis

Spain: left 'popular unity' lists win key victories

Britain: end deportations - solidarity needed

Chile: 200,000 protest in Santiago

Hong Kong: refugee campaign victory
---
Readers' comment

Mental health services gutted by Labour cuts

How the unemployed are targeted with sanctions

Human rights hypocrisy
---
Home | The Socialist 3 June 2015 | Join the Socialist Party