The Socialist 3 June 2015
Strikes get results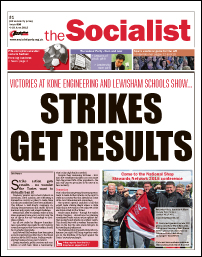 ---
Labour leadership 'choice' confirms need for new party
Bruised and Blattered - Fifa's boss eventually resigns
Finance capital - taking Liborties
Setting the anti-war record straight
Filipino nurses fight Daily Mail smears
---
The lessons of Labour's 1945 victory
Heysel: How socialist councillors built bridges
---
Budget Day: Smash Tory austerity!
Queen's Speech protests: determination to fight back
---
Lewisham academy schools plans dropped
Glasgow council concedes over pay grading
Network Rail forced to make new offer
PCS members rally in Trafalgar Square
Bromley anti-privatisation action continues
---
Spain: left 'popular unity' lists win key victories
Britain: end deportations - solidarity needed
Chile: 200,000 protest in Santiago
Hong Kong: refugee campaign victory
---
Mental health services gutted by Labour cuts
How the unemployed are targeted with sanctions
PO Box 1398, Enfield EN1 9GT
020 8988 8777

Link to this page: https://www.socialistparty.org.uk/issue/858/20807
Home | The Socialist 3 June 2015 | Join the Socialist Party
Subscribe | Donate | PDF | ebook
Editorial from the Socialist issue 858
Labour leadership 'choice' confirms need for new party
The Labour Party was founded over a century ago by trade unionists determined to create an independent political voice for working class people. Decades have passed since the pro-big business wing of the Labour Party, epitomised by Tony Blair, successfully wrested the party from the democratic influence of the organised working class, transforming it into one more capitalist party. The end result is the 'choice' between the utterly bland 'corporate speak' candidates on offer in the Labour leadership contest.
Blairism according to the media cacophony and the bleating of the Labour Party leadership candidates, was what made Labour popular. But this is not borne out by the facts. From 1997 to 2010 Labour lost five million, mainly working class, voters. In the 2015 general election Miliband failed to win back the majority of them. Among the poorest section of the working class - unskilled and casual workers and the unemployed - Labour's vote actually fell even further from 40% in 2010 to 37% in 2015.
This is no surprise. A real 'aspirational' programme, promising measures like an immediate increase in the minimum wage - to £10 an hour - instead of the measly £8 by 2020 that was on offer, and a mass programme of council house building, would have enthused millions of ex-Labour voters. Instead, far from being 'too left wing', Labour under Miliband offered austerity-lite.
This, of course, is not the conclusion being drawn by the Labour leadership contenders. Instead they are vying for who can lurch furthest to the right. Ultra-Blairite Liz Kendall has argued that the 50p top rate of tax on income over £150,000 a year should not be permanent. She has even gone so far in donning Tory clothes as to call for 2% of GDP to be allocated to 'defence', effectively posturing to the right of the Tory leadership.
Yvette Cooper has called for Labour to support Tory cuts in corporation tax to 20%. Andy Burnham, who has been described in the capitalist media as the 'trade unions' candidate' has done everything in his power to demonstrate that he is just a Blairite with a northern accent. He has dismissed Miliband's mansion tax as the 'politics of envy'. His campaign was launched at the headquarters of financiers Ernst & Young, which is up to its neck in tax avoidance. Entrepreneurs declared Burnham, "will be as much our heroes as the nurse or the teacher".
Trade union influence
All have joined in the capitalist media's clamour to denounce any 'trade union influence' on the leadership election. Kendall has attacked Len McCluskey, the general secretary of Unite the Union, for even daring to intervene in the Labour leadership campaign. The unions, that founded the Labour Party, are no longer allowed to even comment on its deliberations!
In reality, Miliband had already acted - in the Collins Review - to destroy the last vestiges of democratic influence by the trade unions on the Labour Party. The money of many union members money funds the Labour Party - to the tune of £7 million in the last quarter of 2014 alone - but they have no influence on its policies. The bar of needing support of 35 MPs to stand excludes the possibility of any left-wing candidate making it to the ballot paper. An open letter by MPs which called not for a restoration of trade union rights within the Labour Party - but merely defended the current right of the trade unions to support Labour without influence - could only get thirty Labour MPs to sign.
It is true that individual trade unionists who sign up to become 'affiliated supporters' will be able to vote in the Labour leadership contest, but so will any other individual who pays £3 to become a 'registered supporter'. This is a complete negation of the history of the Labour Party, where the organised working class could influence Labour via its democratic structures.
The introduction of One Member One Vote was used by the right wing as a means to mobilise the more passive membership of the Labour Party - sitting at home and seeing debates within the party via the capitalist media - against the more active layers who participated in the democratic structures of the party. Post-Collins this has gone further, to something akin to a US primary system, where voters do not even have to be party members. They will have a choice, not between different policies, but merely different styles of Blairism.
Break from Labour
The workers movement is facing a massive struggle against austerity and to defend its democratic right to organise. The important concessions won by workers this week - on the railways and also against academies in Lewisham - shows that when we fight we can win. But if we do not have a political voice we are fighting with one hand tied behind our backs.
The Labour leadership contest is making an overwhelming case for the trade union movement to break from Labour and to begin to build a new party. Unfortunately, despite overwhelming evidence, this conclusion has not yet been reached by the leaders of the affiliated trade unions. The clamour for such a move, however, is beginning to grow and will develop further in the course of the coming struggles. The Trade Unionist and Socialist Coalition is playing a vital role in pioneering the creation of an electoral voice for the struggle against austerity.
---
The contenders: who are they?
Between now and September, the Labour Party's remaining members have the choice of electing a new party leader following Miliband's failures. The trade unions have no say other than as individual members. These are the main candidates for party leader.
They are all Oxbridge graduates and specialise in progressing from special advisers to ministers, didn't vote against the Iraq war, or support rail renationalisation.
Liz Kendall
■ The out and out Blairite. She became a Shadow Health Minister with special responsibility for care and older people. Her line on private healthcare providers is that "what matters is what works".
■ She argues that Labour lost the election because it believed a "fantasy" that the public had moved to the left - presumably suggesting a shift to the right is necessary!
■ She backed the Tories' benefit cap, and wants further 'reform' (read: cuts and privatisation) of public services. She is opposed to cutting tuition fees and in favour of Tory 'free schools'.
■ A poll of readers of Tory blog Conservative Home chose Kendall as their preferred choice - no wonder - there may be some Tory MPs to the left of her!
Andy Burnham
■ Says he is running to "rediscover the beating heart of Labour". He was chief secretary to the Treasury in the run-up to the recession.
■ He says he wants to end the perception (from who?!) that Labour would give an "easy ride" to benefit claimants and would likely keep some of the Tories' planned £12 billion welfare cuts.
■ When privatising company Circle pulled out of running Britain's first wholly-privatised NHS hospital - Hinchingbrooke - Burnham, Labour's shadow Health Minister, merely said the government had chosen the 'wrong company'. Hardly opposition to privatisation! The privatisation of Hinchingbrooke began when Andy Burnham was health minister. When Labour left office three bidders - all private companies - were on the shortlist to run the hospital.
■ 103 PFI deals were struck by Labour for the NHS with a combined value of £11.4 billion. By the time that they are paid off, they will have cost more than £65 billion. These are the same schemes that Andy Burnham said in 2007 were "the right schemes and offer value for money."
■ He is claiming £17,000 a year of public money to rent a London flat as a second home while owning another flat within walking distance of parliament.
Yvette Cooper
■ Accused some of her opponents of "swallowing the Tory manifesto" after Miliband left. But she has said she is "in principle" in favour of the benefits cap and backs Tory plans to cut corporation tax because she believes Labour must "reset" its relationship with business.
■ Worked for then Labour leader John Smith and Bill Clinton by the age of 23. She was then minister in health and housing - implementing New Labour's right wing policies in both.
■ She was ordered to return overpayments of £1,363 after it was decided she had used the second homes allowance for personal gain.
---
In this issue
---
Socialist Party news and analysis

Strikes get results

Tories deepen housing crisis

Labour leadership 'choice' confirms need for new party

Bruised and Blattered - Fifa's boss eventually resigns

Finance capital - taking Liborties

Setting the anti-war record straight

Filipino nurses fight Daily Mail smears

Them & Us
---
Socialist history

The lessons of Labour's 1945 victory

Heysel: How socialist councillors built bridges
---
Socialist Party youth and students

Budget Day: Smash Tory austerity!

Queen's Speech protests: determination to fight back

Sri Lankan students protest
---
Socialist Party workplace news

Lewisham academy schools plans dropped

Victory for Kone strikers!

Glasgow council concedes over pay grading

Network Rail forced to make new offer

PCS members rally in Trafalgar Square

Bromley anti-privatisation action continues

Workplace news in brief
---
International socialist news and analysis

Spain: left 'popular unity' lists win key victories

Britain: end deportations - solidarity needed

Chile: 200,000 protest in Santiago

Hong Kong: refugee campaign victory
---
Readers' comment

Mental health services gutted by Labour cuts

How the unemployed are targeted with sanctions

Human rights hypocrisy
---
Home | The Socialist 3 June 2015 | Join the Socialist Party