The Socialist 3 June 2015
Strikes get results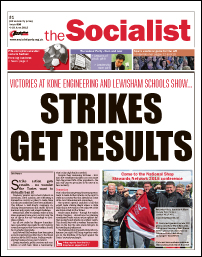 ---
Labour leadership 'choice' confirms need for new party
Bruised and Blattered - Fifa's boss eventually resigns
Finance capital - taking Liborties
Setting the anti-war record straight
Filipino nurses fight Daily Mail smears
---
The lessons of Labour's 1945 victory
Heysel: How socialist councillors built bridges
---
Budget Day: Smash Tory austerity!
Queen's Speech protests: determination to fight back
---
Lewisham academy schools plans dropped
Glasgow council concedes over pay grading
Network Rail forced to make new offer
PCS members rally in Trafalgar Square
Bromley anti-privatisation action continues
---
Spain: left 'popular unity' lists win key victories
Britain: end deportations - solidarity needed
Chile: 200,000 protest in Santiago
Hong Kong: refugee campaign victory
---
Mental health services gutted by Labour cuts
How the unemployed are targeted with sanctions
PO Box 1398, Enfield EN1 9GT
020 8988 8777

Link to this page: https://www.socialistparty.org.uk/issue/858/20813
Home | The Socialist 3 June 2015 | Join the Socialist Party
Subscribe | Donate | PDF | ebook
Queen's Speech protests: determination to fight back on a new scale
London
"Tory scum, here we come". This chant, which echoed through Westminster's streets on 27 May, was a declaration of war.
Thousands of people gathered outside Downing Street. This fresh, youthful and - above all - angry protest demonstrated the huge appetite for struggle. If we want to beat austerity, we'll need a fight back on a scale not seen for decades.
Youth Fight for Jobs, as well as other campaigns and groups, had put out a call to gather in central London. Organised at relatively short notice, the protest was mainly built through word-of-mouth and social media. By around 5.30pm up to 2,000 mostly young people were marching (and sometimes running) around Westminster.
The protest passed Downing Street, marched through Parliament Square, and snaked past Buckingham palace and Scotland Yard before returning to Trafalgar Square. It was here that we semi-spontaneously gathered on the steps outside the National Gallery and Youth Fight for Jobs led a short rally.
The crowd listened to speeches from different campaigns and organisations, as well as from individuals who wanted to share why they had come to protest. Paul Callanan, speaking for the Trade Unionist and Socialist Coalition was cheered and clapped when he attacked the so-called 'austerity consensus' supported by all the mainstream parties.
Calls for a 24-hour general strike - urgently needed to start building the kind of movement capable of ending austerity as well as new anti-union laws - were met with applause and chanting.
Other speakers included a Sweets Way housing campaigner, student activists and a public sector worker from Unison.
But it was clear the protest had not run out of steam.
After taking a vote, the demonstration continued. We marched to Oxford Street where tax avoiding companies like Boots and Vodafone were named and shamed.
There was a short sit-down protest at Piccadilly Circus before we wound our way back to Downing Street. Here, at around 8.30 in the evening and after more than three hours of marching, the protest began to wind down.
Many expressed an interest in finding out more about the Socialist Party.
Leeds
An anti-austerity protest organised by Leeds Youth Fight for Jobs on the day of the state opening of parliament - which inspired others across the country - drew 1,000 people.
The protest, in Victoria Gardens, Leeds, heard from young workers, students, anti-bedroom tax activists, asylum seeker rights campaigners and trade unionists, among others, on the savage plans to attack working class people that the new Tory government is announcing.
Ben Myers, a new member of the Socialist Party, said: "The idea that young people have no interest in politics was dispelled as myth as hundreds of young people - ineligible to vote for the government that will control our education, jobs and housing up until we are 22 years old - turned out to protest against the Tories' assaults on the working class. They only have a slim majority of 12 which could easily crumble."
---
In this issue
---
Socialist Party news and analysis

Strikes get results

Tories deepen housing crisis

Labour leadership 'choice' confirms need for new party

Bruised and Blattered - Fifa's boss eventually resigns

Finance capital - taking Liborties

Setting the anti-war record straight

Filipino nurses fight Daily Mail smears

Them & Us
---
Socialist history

The lessons of Labour's 1945 victory

Heysel: How socialist councillors built bridges
---
Socialist Party youth and students

Budget Day: Smash Tory austerity!

Queen's Speech protests: determination to fight back

Sri Lankan students protest
---
Socialist Party workplace news

Lewisham academy schools plans dropped

Victory for Kone strikers!

Glasgow council concedes over pay grading

Network Rail forced to make new offer

PCS members rally in Trafalgar Square

Bromley anti-privatisation action continues

Workplace news in brief
---
International socialist news and analysis

Spain: left 'popular unity' lists win key victories

Britain: end deportations - solidarity needed

Chile: 200,000 protest in Santiago

Hong Kong: refugee campaign victory
---
Readers' comment

Mental health services gutted by Labour cuts

How the unemployed are targeted with sanctions

Human rights hypocrisy
---
Home | The Socialist 3 June 2015 | Join the Socialist Party