The Socialist 3 June 2015
Strikes get results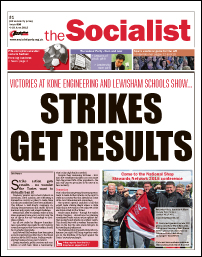 ---
Labour leadership 'choice' confirms need for new party
Bruised and Blattered - Fifa's boss eventually resigns
Finance capital - taking Liborties
Setting the anti-war record straight
Filipino nurses fight Daily Mail smears
---
The lessons of Labour's 1945 victory
Heysel: How socialist councillors built bridges
---
Budget Day: Smash Tory austerity!
Queen's Speech protests: determination to fight back
---
Lewisham academy schools plans dropped
Glasgow council concedes over pay grading
Network Rail forced to make new offer
PCS members rally in Trafalgar Square
Bromley anti-privatisation action continues
---
Spain: left 'popular unity' lists win key victories
Britain: end deportations - solidarity needed
Chile: 200,000 protest in Santiago
Hong Kong: refugee campaign victory
---
Mental health services gutted by Labour cuts
How the unemployed are targeted with sanctions
PO Box 1398, Enfield EN1 9GT
020 8988 8777

Link to this page: https://www.socialistparty.org.uk/issue/858/20814
Home | The Socialist 3 June 2015 | Join the Socialist Party
Subscribe | Donate | PDF | ebook
Sri Lankan students protest
End violence against women
Bharathi Subramanian, Tamil Solidarity
On 20 May, Jaffna in Sri Lanka came to a standstill, with shops being shut and black flags raised in memory of Vidya Sivaloganathan, the 17-year-old A-level student brutally gang raped and murdered. This came alongside the biggest public demonstrations in Sri Lanka's north in recent years.
Vidya's body was found in a dishevelled state with her hands and legs tied to a tree log using her school tie, and her mouth was stuffed with a rag.
Students from schools across the north and east showed their rage starting with the students from Vidya's school.
From the Kytes island, this sense of solidarity spread to Jaffna and elsewhere, including students from Muslim girls' schools, taking to the streets. They were protesting to condemn the brutal act and to demand that the culprits be brought to book.
State violence
As a consequence, nine suspects were arrested. The day that the suspects were brought before the Jaffna magistrates court saw an unprecedented number of protesters on the streets.
What began as a largely peaceful protest turned violent as state forces fired tear gas at the protesters and fired gunshots in the air. This was a huge overreaction to the throwing of stones at the court windows.
This antagonised the protesters, who defended themselves against the police. The result was that more than 120 people were arrested - protesters and bystanders. Some are still in police jails.
Demonstrations in Jaffna have now been banned, with arrest on the spot being issued to anyone protesting - a total denial of democratic rights.
The public outcry expressed the fear that the criminals will get away without prosecution.
When the crime was reported, the police initially disregarded the complaint by the parents. They said it was a family feud. However, they soon had to change their position due to the pressure they were under.
This highlights the complete lack of police accountability to the local population. In fact, they are seen as part of an occupying force, not even speaking the language of local people.
Militarisation
The objectification of women is a huge issue in Sri Lanka, as in all developing countries and around the world. The problems are further enhanced by the militarisation in the north and east and by the land grab. Tamils are treated as second-class citizens, with no real rights, and crimes against them can be committed with impunity.
The vulnerability of women to attack is also worsened by the lack of social and public services, good housing, and the lack of future prospects.
Tamil Solidarity stands in solidarity with the protesters and strongly condemns crimes of sexual violence. We welcome the mass expression of rage and strong sense of solidarity across the island.
---
In this issue
---
Socialist Party news and analysis

Strikes get results

Tories deepen housing crisis

Labour leadership 'choice' confirms need for new party

Bruised and Blattered - Fifa's boss eventually resigns

Finance capital - taking Liborties

Setting the anti-war record straight

Filipino nurses fight Daily Mail smears

Them & Us
---
Socialist history

The lessons of Labour's 1945 victory

Heysel: How socialist councillors built bridges
---
Socialist Party youth and students

Budget Day: Smash Tory austerity!

Queen's Speech protests: determination to fight back

Sri Lankan students protest
---
Socialist Party workplace news

Lewisham academy schools plans dropped

Victory for Kone strikers!

Glasgow council concedes over pay grading

Network Rail forced to make new offer

PCS members rally in Trafalgar Square

Bromley anti-privatisation action continues

Workplace news in brief
---
International socialist news and analysis

Spain: left 'popular unity' lists win key victories

Britain: end deportations - solidarity needed

Chile: 200,000 protest in Santiago

Hong Kong: refugee campaign victory
---
Readers' comment

Mental health services gutted by Labour cuts

How the unemployed are targeted with sanctions

Human rights hypocrisy
---
Home | The Socialist 3 June 2015 | Join the Socialist Party