The Socialist 19 August 2015
Corbyn: no cuts stand wins mass support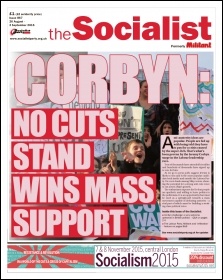 ---
The Labour Party, Militant and 'infiltration'
Gulf War 'unfinished business' remains today
---
Fascists caged, humiliated and driven out of Liverpool
We won't pay for their crisis!
Anger at bus service cuts in Sheffield
TUSC by-election boost in Grimsby and Cleethorpes
---
Corbyn stand: A welcome upheaval in British politics
Solidarity with the Polish workers' strike
Government discrimination against EU workers
---
Socialist challenges right winger for Unison leadership
National Gallery all-out strike goes on as bosses sell off jobs
London tube's summer of strikes joined by First Great Western
Probation and courts union Napo needs socialist leadership
Uni unions ready Manchester jobs fight
Retail union must fight Sunday trading deregulation
---
Greece: Building a new left alternative after Syriza capitulation
Ireland: drop the prosecutions, scrap the water charges
US: Kshama Sawant leads Seattle primary elections count on 50%
PO Box 1398, Enfield EN1 9GT
020 8988 8777

Link to this page: https://www.socialistparty.org.uk/issue/867/21221
Home | The Socialist 19 August 2015 | Join the Socialist Party
Subscribe | Donate | Audio | PDF | ebook
We won't pay for their crisis!
Laurence Maples
As the number of officially unemployed people increases, Tory Cabinet minister Michael Hancock has announced punitive plans to force unemployed youth to attend military-style boot camps.
This is supposedly to teach young people employability skills, but is in reality a further intensification of the government's benefit sanctions regime and an attempt to blame the unemployed for the crisis caused by the criminal bankers.
The odious, privately educated, carpetbagger Hancock has never been subjected to such a regime himself - despite once failing to get out of bed for a TV debate with Socialist Party member Ian Pattison and subsequently lying about it!
This attack follows on from tens of billions of pounds of cuts to social security by the previous government and the withdrawal of housing benefit for under-21s, announced in the June budget.
Labour no better
The Tories are deliberately attacking the young as an easy target, but this is the thin end of the wedge.
Once implemented, the change will be extended to others, just as the single room rate for housing benefit has been extended to all under-35s. However, the vast majority of Labour MPs are no better, having abstained on the welfare bill vote in the Commons.
The ruling class is making young people and workers pay for a crisis caused by the failings of the capitalist profit system.
The banks trashed the world economy resulting in millions of workers being laid off, while low-paid, insecure employment has proliferated.
The Tories would have us believe that there is no money to fund jobs and services. Yet while the previous government cut £80 billion, the exact same figure was paid out in bankers' bonuses!
This is to say nothing of the £120 billion plus stolen by big business in unpaid taxes, the £700 billion corporate cash hordes of UK plc, or the £93 billion in big business subsidies paid each year. Big business is the real scrounger!
A workers' government would eliminate unemployment by nationalising any company laying off workers and cutting the working week to share out the work with no loss of pay.
Taking the bosses' profits would also make it possible to raise the minimum wage to £10 an hour for all and bring an end to zero-hour contracts.
Socialist nationalisation of the major industrial and financial corporations would enable the democratic planning of the economy to end poverty, create full employment, and provide fully funded public services.
NSSN public rally and lobby of TUC Congress in Brighton
Speakers to include:
Mark Serwotka, PCS general secretary
Mick Cash, RMT general secretary
Matt Wrack, FBU general secretary
Ronnie Draper, BFAWU general secretary
Steve Gillan, POA general secretary
Sunday 13 September, 1pm
Charlotte Room in the Grand Hotel, 97-99 King's Rd BN1 2FW
(next to the Brighton Conference Centre)
---
In this issue
---
Socialist Party features

The Labour Party, Militant and 'infiltration'

Gulf War 'unfinished business' remains today
---
Socialist Party reports and campaigns

Subscribe to the Socialist!

Fascists caged, humiliated and driven out of Liverpool

We won't pay for their crisis!

Anger at bus service cuts in Sheffield

TUSC by-election boost in Grimsby and Cleethorpes
---
Socialist Party news and analysis

Corbyn stand: A welcome upheaval in British politics

Solidarity with the Polish workers' strike

Government discrimination against EU workers

Kids Company closure

Them & Us
---
Workplace news and analysis

Socialist challenges right winger for Unison leadership

National Gallery all-out strike goes on as bosses sell off jobs

London tube's summer of strikes joined by First Great Western

Probation and courts union Napo needs socialist leadership

Uni unions ready Manchester jobs fight

Retail union must fight Sunday trading deregulation

Workplace news in brief
---
International socialist news and analysis

Greece: Building a new left alternative after Syriza capitulation

Ireland: drop the prosecutions, scrap the water charges

US: Kshama Sawant leads Seattle primary elections count on 50%
---
Home | The Socialist 19 August 2015 | Join the Socialist Party