The Socialist 19 August 2015
Corbyn: no cuts stand wins mass support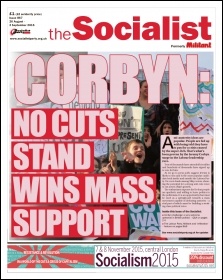 ---
The Labour Party, Militant and 'infiltration'
Gulf War 'unfinished business' remains today
---
Fascists caged, humiliated and driven out of Liverpool
We won't pay for their crisis!
Anger at bus service cuts in Sheffield
TUSC by-election boost in Grimsby and Cleethorpes
---
Corbyn stand: A welcome upheaval in British politics
Solidarity with the Polish workers' strike
Government discrimination against EU workers
---
Socialist challenges right winger for Unison leadership
National Gallery all-out strike goes on as bosses sell off jobs
London tube's summer of strikes joined by First Great Western
Probation and courts union Napo needs socialist leadership
Uni unions ready Manchester jobs fight
Retail union must fight Sunday trading deregulation
---
Greece: Building a new left alternative after Syriza capitulation
Ireland: drop the prosecutions, scrap the water charges
US: Kshama Sawant leads Seattle primary elections count on 50%
PO Box 1398, Enfield EN1 9GT
020 8988 8777

Link to this page: https://www.socialistparty.org.uk/issue/867/21222
Home | The Socialist 19 August 2015 | Join the Socialist Party
Subscribe | Donate | Audio | PDF | ebook
Solidarity with the Polish workers' strike
Maciej Krzymieniecki, Socialist Party Cardiff West branch and Cardiff strike organiser
On 20 August, Polish workers in Britain are going on strike to say no to cuts and low wages. They are also taking a stand against the migrant worker bashing attitude of the people in power, who use their media to try and shift the blame for the capitalist crisis from themselves onto people without any power.
This unofficial strike of thousands of workers (supported by 70% of Polish Express readers, the biggest Polish newspaper in the UK), represents Polish workers saying "enough!" to the xenophobic lies and wage slavery they have to put up with.
They will leave their delivery trucks idle, their buses in the station, their shops and workplaces closed, and instead will attend picket lines in cities from London to Cardiff. They will be joined by enthusiastic Lithuanian and Asian workers, as well as British people displaying their solidarity.
This day will show that Polish workers stand alongside British workers in the struggle against austerity.
Some right wing media have dismissed the strike as "pointless" and "nationalistic". Some even go as far as saying it's against British people.
This couldn't be further from the truth. We are going on strike, because we want to say no to the exploitation of everyone, regardless of origin.
One of our main aims is to simply point out that blaming the crisis on immigrants is not going to get us anywhere. The capitalist media is trying its hardest to turn worker against worker. Our aim is to change that, and this strike will help us to get this message in the mainstream.
Shifting the debate from immigrant blaming will help us start talking about political policies which will actually help this country's economy.
We have to explain that deportation won't raise the minimum wage; racist stories in the tabloids won't get rid of food banks; cutting our benefits won't provide a fair education; and getting rid of our right to vote won't stop austerity.
It's wrong to say that immigrants are a strain on the economy. The economy profits £20 billion from migrant labour, £5 billion from Polish workers alone.
Moreover, it's capitalist politicians who vote to spend £100 billion pounds on Trident weapons of mass destruction, and allow the super-rich and big corporations to dodge hundreds of billions of pounds in taxes.
Polish people want to end feeling isolated and bullied. We are not a statistic - we are people too, and we are ready to join up in the international struggle for a world free from austerity, poverty and capitalist exploitation. Together we can build a better world.
A Socialist Party leaflet is available online at www.socialistparty.org.uk
British trade unionists should give solidarity support to strikers. In particular, they should be prepared to defend their fellow workers from any victimisation by employers, arising from the strike. We would also encourage Polish workers to make links with UK trade unionists in their workplaces, as the best way of defending themselves.
---
In this issue
---
Socialist Party features

The Labour Party, Militant and 'infiltration'

Gulf War 'unfinished business' remains today
---
Socialist Party reports and campaigns

Subscribe to the Socialist!

Fascists caged, humiliated and driven out of Liverpool

We won't pay for their crisis!

Anger at bus service cuts in Sheffield

TUSC by-election boost in Grimsby and Cleethorpes
---
Socialist Party news and analysis

Corbyn stand: A welcome upheaval in British politics

Solidarity with the Polish workers' strike

Government discrimination against EU workers

Kids Company closure

Them & Us
---
Workplace news and analysis

Socialist challenges right winger for Unison leadership

National Gallery all-out strike goes on as bosses sell off jobs

London tube's summer of strikes joined by First Great Western

Probation and courts union Napo needs socialist leadership

Uni unions ready Manchester jobs fight

Retail union must fight Sunday trading deregulation

Workplace news in brief
---
International socialist news and analysis

Greece: Building a new left alternative after Syriza capitulation

Ireland: drop the prosecutions, scrap the water charges

US: Kshama Sawant leads Seattle primary elections count on 50%
---
Home | The Socialist 19 August 2015 | Join the Socialist Party