The Socialist 19 August 2015
Corbyn: no cuts stand wins mass support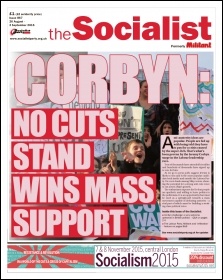 ---
The Labour Party, Militant and 'infiltration'
Gulf War 'unfinished business' remains today
---
Fascists caged, humiliated and driven out of Liverpool
We won't pay for their crisis!
Anger at bus service cuts in Sheffield
TUSC by-election boost in Grimsby and Cleethorpes
---
Corbyn stand: A welcome upheaval in British politics
Solidarity with the Polish workers' strike
Government discrimination against EU workers
---
Socialist challenges right winger for Unison leadership
National Gallery all-out strike goes on as bosses sell off jobs
London tube's summer of strikes joined by First Great Western
Probation and courts union Napo needs socialist leadership
Uni unions ready Manchester jobs fight
Retail union must fight Sunday trading deregulation
---
Greece: Building a new left alternative after Syriza capitulation
Ireland: drop the prosecutions, scrap the water charges
US: Kshama Sawant leads Seattle primary elections count on 50%
PO Box 1398, Enfield EN1 9GT
020 8988 8777

Link to this page: https://www.socialistparty.org.uk/issue/867/21225
Home | The Socialist 19 August 2015 | Join the Socialist Party
Subscribe | Donate | Audio | PDF | ebook
Kids Company closure
The failure of David Cameron's 'big society'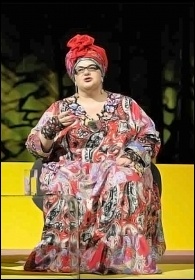 Kids Company founder Camila Batmanghelidjh, photo by NHS Confederation (Creative Commons) (Click to enlarge)
Paul Callanan
On 7 August Kids Company, a charity providing care for vulnerable children, closed its doors for the last time. Lauded by philanthropists and prime ministers, its demise is a demonstration of the folly of Cameron's 'big society' philosophy.
The charity closed as a result of not being able to secure funding of up to £4 million from wealthy individuals. The government was also attempting to recover £2.2 million from the charity after it used £800,000 to pay staff, apparently breaking an agreement.
Under the Tory government and the previous coalition there has been a massive increase in child poverty. There are currently 3.5 million children living below the poverty line in Britain. Of these 1.6 million live in severe poverty.
Two-thirds of those children living in poverty come from families where at least one parent works, indicating the prevalence of low paid work. It is becoming increasingly common for teachers to have to give money to children who come to school without money to pay for lunch.
There is a direct link between this poverty and the government's so-called big society policies. The past five years have seen £259 million in cuts to local children's services nationally. This includes £5.4 million in cuts to children's services in Southwark, south London, where Kids Company had its main base.
It is into the gaps left behind by the government's swingeing austerity that charities like Kids Company step. According to its own figures Kids Company provided support to 36,000 children and vulnerable adults.
The failure to attain the required funding shows that we cannot rely on the goodwill of the wealthy and charity to provide vital services. Cameron's previous enthusiasm for Kids Company appears to have been merely a PR exercise.
Council services
Charities like Kids Company should be integrated into the public sector. This would also allow local councils to redeploy staff into other children's services to bring staff levels back up to the level required to run them.
Bringing services back under local authority control would also mean that there can be proper scrutiny and democratic control over how services are run.
A number of accusations have been levelled against Kids Company since its closure. Every Friday the charity would hand out money directly to the children it worked with. The charity claimed that it would usually be spent on food or electricity. But some sources claim that it was often spent on drink and drugs.
It would be wrong to take accusations of impropriety made by the right-wing press at face value. The government and its supporters in the press have an interest now in demonising Kids Company as a pretext for ending its funding.
The only way to ensure services needed to lift children out of poverty is for a mass movement to defeat the government's austerity agenda.
---
In this issue
---
Socialist Party features

The Labour Party, Militant and 'infiltration'

Gulf War 'unfinished business' remains today
---
Socialist Party reports and campaigns

Subscribe to the Socialist!

Fascists caged, humiliated and driven out of Liverpool

We won't pay for their crisis!

Anger at bus service cuts in Sheffield

TUSC by-election boost in Grimsby and Cleethorpes
---
Socialist Party news and analysis

Corbyn stand: A welcome upheaval in British politics

Solidarity with the Polish workers' strike

Government discrimination against EU workers

Kids Company closure

Them & Us
---
Workplace news and analysis

Socialist challenges right winger for Unison leadership

National Gallery all-out strike goes on as bosses sell off jobs

London tube's summer of strikes joined by First Great Western

Probation and courts union Napo needs socialist leadership

Uni unions ready Manchester jobs fight

Retail union must fight Sunday trading deregulation

Workplace news in brief
---
International socialist news and analysis

Greece: Building a new left alternative after Syriza capitulation

Ireland: drop the prosecutions, scrap the water charges

US: Kshama Sawant leads Seattle primary elections count on 50%
---
Home | The Socialist 19 August 2015 | Join the Socialist Party