The Socialist 19 August 2015
Corbyn: no cuts stand wins mass support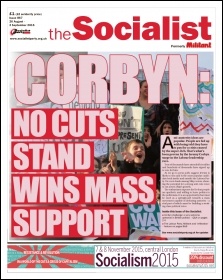 ---
The Labour Party, Militant and 'infiltration'
Gulf War 'unfinished business' remains today
---
Fascists caged, humiliated and driven out of Liverpool
We won't pay for their crisis!
Anger at bus service cuts in Sheffield
TUSC by-election boost in Grimsby and Cleethorpes
---
Corbyn stand: A welcome upheaval in British politics
Solidarity with the Polish workers' strike
Government discrimination against EU workers
---
Socialist challenges right winger for Unison leadership
National Gallery all-out strike goes on as bosses sell off jobs
London tube's summer of strikes joined by First Great Western
Probation and courts union Napo needs socialist leadership
Uni unions ready Manchester jobs fight
Retail union must fight Sunday trading deregulation
---
Greece: Building a new left alternative after Syriza capitulation
Ireland: drop the prosecutions, scrap the water charges
US: Kshama Sawant leads Seattle primary elections count on 50%
PO Box 1398, Enfield EN1 9GT
020 8988 8777

Link to this page: https://www.socialistparty.org.uk/issue/867/21229
Home | The Socialist 19 August 2015 | Join the Socialist Party
Subscribe | Donate | Audio | PDF | ebook
Socialist challenges right winger for Unison leadership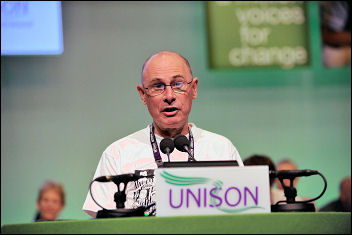 Roger Bannister, photo Paul Mattsson
Rank-and-file socialist Roger Bannister is standing for general secretary of Unison, Britain's largest public sector union. Unison members are some of the hardest-hit by austerity, and right-wing incumbent Dave Prentis has regularly undermined action.
If you agree that Unison needs a fighting strategy to beat the cuts, we urge your branch to nominate Socialist Party member Roger Bannister. Nominations open on 2 September and close at 5pm on 9 October.
Roger is secretary of Unison's Knowsley branch in Merseyside. He has been on Unison's leading national executive committee since the union was formed. In that time Roger has consistently supported fighting policies to defend members, and opposed the leadership's illegal attacks on activists.
He led a successful strike in Knowsley to defend the 35-hour week, and to extend it to other workers. He has won pay increases for many groups. He also serves on Unison's industrial action committee, and the health and safety committee. Roger has a proud record of working with members of all unions and building solidarity with workers in dispute.
He can win! He has been the leading left challenger in previous general secretary elections, reliably outpolling others by a sizeable margin. And he is the only candidate who has pledged to take an average workers' wage if elected.
Attacks
Unison members face massive attacks on their jobs, pay and conditions of service. The Tory government is passing the burden of the bankers' crisis onto ordinary working class people.
On top of that, the Tories are preparing to attack our democratic rights. They plan to massively curtail our right to strike against these injustices.
Unison needs a general secretary with a record of fighting for ordinary members. Roger Bannister is the candidate best prepared to lead an effective struggle against the Tory onslaught.
Join the campaign!
@Roger4UNISON
facebook.com/roger4gensec

[email protected]
---
In this issue
---
Socialist Party features

The Labour Party, Militant and 'infiltration'

Gulf War 'unfinished business' remains today
---
Socialist Party reports and campaigns

Subscribe to the Socialist!

Fascists caged, humiliated and driven out of Liverpool

We won't pay for their crisis!

Anger at bus service cuts in Sheffield

TUSC by-election boost in Grimsby and Cleethorpes
---
Socialist Party news and analysis

Corbyn stand: A welcome upheaval in British politics

Solidarity with the Polish workers' strike

Government discrimination against EU workers

Kids Company closure

Them & Us
---
Workplace news and analysis

Socialist challenges right winger for Unison leadership

National Gallery all-out strike goes on as bosses sell off jobs

London tube's summer of strikes joined by First Great Western

Probation and courts union Napo needs socialist leadership

Uni unions ready Manchester jobs fight

Retail union must fight Sunday trading deregulation

Workplace news in brief
---
International socialist news and analysis

Greece: Building a new left alternative after Syriza capitulation

Ireland: drop the prosecutions, scrap the water charges

US: Kshama Sawant leads Seattle primary elections count on 50%
---
Home | The Socialist 19 August 2015 | Join the Socialist Party