The Socialist 19 August 2015
Corbyn: no cuts stand wins mass support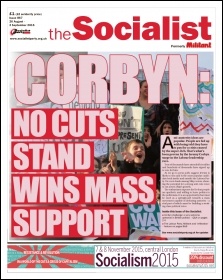 ---
The Labour Party, Militant and 'infiltration'
Gulf War 'unfinished business' remains today
---
Fascists caged, humiliated and driven out of Liverpool
We won't pay for their crisis!
Anger at bus service cuts in Sheffield
TUSC by-election boost in Grimsby and Cleethorpes
---
Corbyn stand: A welcome upheaval in British politics
Solidarity with the Polish workers' strike
Government discrimination against EU workers
---
Socialist challenges right winger for Unison leadership
National Gallery all-out strike goes on as bosses sell off jobs
London tube's summer of strikes joined by First Great Western
Probation and courts union Napo needs socialist leadership
Uni unions ready Manchester jobs fight
Retail union must fight Sunday trading deregulation
---
Greece: Building a new left alternative after Syriza capitulation
Ireland: drop the prosecutions, scrap the water charges
US: Kshama Sawant leads Seattle primary elections count on 50%
PO Box 1398, Enfield EN1 9GT
020 8988 8777

Link to this page: https://www.socialistparty.org.uk/issue/867/21233
Home | The Socialist 19 August 2015 | Join the Socialist Party
Subscribe | Donate | Audio | PDF | ebook
Retail union must fight Sunday trading deregulation
Iain Dalton, Vice chair, Usdaw Leeds private trade branch (personal capacity)
The Tory government's emergency budget angered many retail workers.
Among the vicious attacks on working class people was further deregulation of Sunday trading. At present, shops above 3,000 square feet can only open for six hours on a Sunday.
For many retail workers, Sundays are the only days they know they'll have an evening off or a later start. This is especially true given the 'flexibility' of hours supermarkets now demand.
In 2012 the government temporarily suspended Sunday trading laws for the Olympics. Shop workers' union Usdaw surveyed over 20,000 members: 77% opposed deregulation, and only 12% supported it.
Opt out
Even under existing laws, workers can opt out of Sunday working restrictions. Many are pressured into doing so.
Chancellor George Osborne claims deregulation would boost the economy by £20.3 billion over the next 20 years. However, during Olympic deregulation, retail sales for August actually fell 0.4% year on year.
Tories also say they want a level playing field between online retailers and the high street. Yet many of the major stores affected have online outlets now. The main effect would be to further cannibalise smaller and independent retailers.
Osborne proposes devolving powers over opening hours to elected mayors and councils. This is clearly an attempt to shield the government from any negative consequences. But it is also a step towards regional pay and conditions, breaking up national union agreements. And if Sunday becomes a normal working day, bosses could try to end what remains of Sunday premium pay.
Campaign
Given this, we should welcome Usdaw general secretary John Hannett's comment that the union "will vigorously campaign against such a proposal". However, Usdaw's leadership has a poor record on walking the walk. Hannett's fine words need to be turned into action.
As well as encouraging campaigning in stores against deregulation, Usdaw must call a national demonstration when parliament debates the new legislation. The union should mobilise members and supporters across the country - as part of a campaign to build for strike action if necessary.
---
In this issue
---
Socialist Party features

The Labour Party, Militant and 'infiltration'

Gulf War 'unfinished business' remains today
---
Socialist Party reports and campaigns

Subscribe to the Socialist!

Fascists caged, humiliated and driven out of Liverpool

We won't pay for their crisis!

Anger at bus service cuts in Sheffield

TUSC by-election boost in Grimsby and Cleethorpes
---
Socialist Party news and analysis

Corbyn stand: A welcome upheaval in British politics

Solidarity with the Polish workers' strike

Government discrimination against EU workers

Kids Company closure

Them & Us
---
Workplace news and analysis

Socialist challenges right winger for Unison leadership

National Gallery all-out strike goes on as bosses sell off jobs

London tube's summer of strikes joined by First Great Western

Probation and courts union Napo needs socialist leadership

Uni unions ready Manchester jobs fight

Retail union must fight Sunday trading deregulation

Workplace news in brief
---
International socialist news and analysis

Greece: Building a new left alternative after Syriza capitulation

Ireland: drop the prosecutions, scrap the water charges

US: Kshama Sawant leads Seattle primary elections count on 50%
---
Home | The Socialist 19 August 2015 | Join the Socialist Party