The Socialist 19 August 2015
Corbyn: no cuts stand wins mass support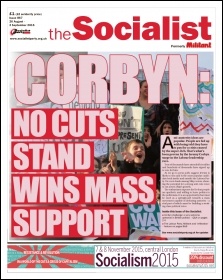 ---
The Labour Party, Militant and 'infiltration'
Gulf War 'unfinished business' remains today
---
Fascists caged, humiliated and driven out of Liverpool
We won't pay for their crisis!
Anger at bus service cuts in Sheffield
TUSC by-election boost in Grimsby and Cleethorpes
---
Corbyn stand: A welcome upheaval in British politics
Solidarity with the Polish workers' strike
Government discrimination against EU workers
---
Socialist challenges right winger for Unison leadership
National Gallery all-out strike goes on as bosses sell off jobs
London tube's summer of strikes joined by First Great Western
Probation and courts union Napo needs socialist leadership
Uni unions ready Manchester jobs fight
Retail union must fight Sunday trading deregulation
---
Greece: Building a new left alternative after Syriza capitulation
Ireland: drop the prosecutions, scrap the water charges
US: Kshama Sawant leads Seattle primary elections count on 50%
PO Box 1398, Enfield EN1 9GT
020 8988 8777

Link to this page: https://www.socialistparty.org.uk/issue/867/21234
Home | The Socialist 19 August 2015 | Join the Socialist Party
Subscribe | Donate | Audio | PDF | ebook
London tube's summer of strikes joined by First Great Western
Talks ahead of two 24-hour tube walkouts
Great Western 72-hour bank holiday stoppage
As we go to press, London Underground could be shuttered again by bosses' pig-headedness over staff restructuring and night service. But last-minute talks could still lead to management concessions.
Tube unions RMT, TSSA and Unite plan two more 24-hour walkouts. Unfortunately, drivers' union Aslef will not be taking action this time. To complement the tube's summer of strikes, RMT members on First Great Western walk out for 72 hours this bank holiday.
The next tube strikes will start on the evenings of 25 and 27 August. Aslef members voted by 98% for strikes, and many will be frustrated by leaders stepping back. Strikers will encourage rank-and-file members to support the action by not crossing picket lines in solidarity.
Joint action
This would be the platform for further joint action with Aslef. Tube workers from all unions need to stand firm to again bring London to a standstill.
The tube dispute is over devastating increases in unsocial working hours, hundreds of job cuts and attacks on pay and conditions. Unions accepted night trains from the off, but warn management's proposals will harm workers and safety. There was overwhelming public support for the last strike. It now needs to be mobilised with public meetings of tube workers, the wider union movement and the general public.
First Great Western workers are fighting driver-only operation and buffet car closures, which would hit conductors' and caterers' jobs. They are also defending maintenance workers from attacks on jobs and conditions. The strike will cause significant disruption on the London-Wales-West Country network during the 29 to 31 August long weekend.
---
In this issue
---
Socialist Party features

The Labour Party, Militant and 'infiltration'

Gulf War 'unfinished business' remains today
---
Socialist Party reports and campaigns

Subscribe to the Socialist!

Fascists caged, humiliated and driven out of Liverpool

We won't pay for their crisis!

Anger at bus service cuts in Sheffield

TUSC by-election boost in Grimsby and Cleethorpes
---
Socialist Party news and analysis

Corbyn stand: A welcome upheaval in British politics

Solidarity with the Polish workers' strike

Government discrimination against EU workers

Kids Company closure

Them & Us
---
Workplace news and analysis

Socialist challenges right winger for Unison leadership

National Gallery all-out strike goes on as bosses sell off jobs

London tube's summer of strikes joined by First Great Western

Probation and courts union Napo needs socialist leadership

Uni unions ready Manchester jobs fight

Retail union must fight Sunday trading deregulation

Workplace news in brief
---
International socialist news and analysis

Greece: Building a new left alternative after Syriza capitulation

Ireland: drop the prosecutions, scrap the water charges

US: Kshama Sawant leads Seattle primary elections count on 50%
---
Home | The Socialist 19 August 2015 | Join the Socialist Party