The Socialist 19 August 2015
Corbyn: no cuts stand wins mass support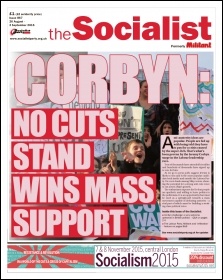 ---
The Labour Party, Militant and 'infiltration'
Gulf War 'unfinished business' remains today
---
Fascists caged, humiliated and driven out of Liverpool
We won't pay for their crisis!
Anger at bus service cuts in Sheffield
TUSC by-election boost in Grimsby and Cleethorpes
---
Corbyn stand: A welcome upheaval in British politics
Solidarity with the Polish workers' strike
Government discrimination against EU workers
---
Socialist challenges right winger for Unison leadership
National Gallery all-out strike goes on as bosses sell off jobs
London tube's summer of strikes joined by First Great Western
Probation and courts union Napo needs socialist leadership
Uni unions ready Manchester jobs fight
Retail union must fight Sunday trading deregulation
---
Greece: Building a new left alternative after Syriza capitulation
Ireland: drop the prosecutions, scrap the water charges
US: Kshama Sawant leads Seattle primary elections count on 50%
PO Box 1398, Enfield EN1 9GT
020 8988 8777

Link to this page: https://www.socialistparty.org.uk/issue/867/21235
Home | The Socialist 19 August 2015 | Join the Socialist Party
Subscribe | Donate | Audio | PDF | ebook
Workplace news in brief
Pizza pinchers
Pizza Express bosses are thieving 8% of tips paid by card. Workers at the Italian restaurant chain have held a series of protests in conjunction with general union Unite. The Socialist Party calls for an end to the larcenous "administration fee". Staff must receive their tips in full and be allowed full trade union rights.
Radio silence
As we go to press, radio workers at BBC Asian Network are due to strike over redundancies and job moves. Bosses have cut an editor from the Birmingham-based national station, and moved the award-winning Bobby Friction show to London. Members of the National Union of Journalists will walk out for 24 hours on 19 August.
EDF energy
Energy workers at EDF have suspended a 24-hour strike after management offered talks. Meter checkers, maintenance workers and office staff face job losses, and pay cuts of up to £6,000 a year. They are also fighting forced longer hours to install the new 'Smart meters' which send energy usage directly to EDF. Unite members voted by 85% for walkouts.
White goods walkout
Delivery and warehouse workers for Indesit have four days of stoppages, plus work to rule, stored up for stingy bosses. Deliveries of fridges, washing machines and more will be disrupted as Unite members fight years of below-inflation pay deals. Workers will strike for 24 hours on 21 August and 1 September, and 48 hours from 27 August.
Reinstate Alan Brown
Trade unionists expressed solidarity with Alan Brown, victimised union rep at Tory-run Bromley council, south London. Alan, a member of general union Unite, had his disciplinary hearing postponed.
He faces trumped-up charges from a council which has cancelled almost all union organising time.
Bromley also wants to privatise over nine-tenths of its workforce.
---
In this issue
---
Socialist Party features

The Labour Party, Militant and 'infiltration'

Gulf War 'unfinished business' remains today
---
Socialist Party reports and campaigns

Subscribe to the Socialist!

Fascists caged, humiliated and driven out of Liverpool

We won't pay for their crisis!

Anger at bus service cuts in Sheffield

TUSC by-election boost in Grimsby and Cleethorpes
---
Socialist Party news and analysis

Corbyn stand: A welcome upheaval in British politics

Solidarity with the Polish workers' strike

Government discrimination against EU workers

Kids Company closure

Them & Us
---
Workplace news and analysis

Socialist challenges right winger for Unison leadership

National Gallery all-out strike goes on as bosses sell off jobs

London tube's summer of strikes joined by First Great Western

Probation and courts union Napo needs socialist leadership

Uni unions ready Manchester jobs fight

Retail union must fight Sunday trading deregulation

Workplace news in brief
---
International socialist news and analysis

Greece: Building a new left alternative after Syriza capitulation

Ireland: drop the prosecutions, scrap the water charges

US: Kshama Sawant leads Seattle primary elections count on 50%
---
Home | The Socialist 19 August 2015 | Join the Socialist Party