The Socialist 19 August 2015
Corbyn: no cuts stand wins mass support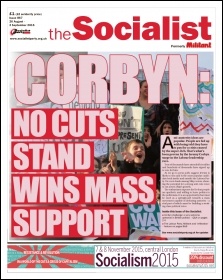 ---
The Labour Party, Militant and 'infiltration'
Gulf War 'unfinished business' remains today
---
Fascists caged, humiliated and driven out of Liverpool
We won't pay for their crisis!
Anger at bus service cuts in Sheffield
TUSC by-election boost in Grimsby and Cleethorpes
---
Corbyn stand: A welcome upheaval in British politics
Solidarity with the Polish workers' strike
Government discrimination against EU workers
---
Socialist challenges right winger for Unison leadership
National Gallery all-out strike goes on as bosses sell off jobs
London tube's summer of strikes joined by First Great Western
Probation and courts union Napo needs socialist leadership
Uni unions ready Manchester jobs fight
Retail union must fight Sunday trading deregulation
---
Greece: Building a new left alternative after Syriza capitulation
Ireland: drop the prosecutions, scrap the water charges
US: Kshama Sawant leads Seattle primary elections count on 50%
PO Box 1398, Enfield EN1 9GT
020 8988 8777

Link to this page: https://www.socialistparty.org.uk/issue/867/21237
Home | The Socialist 19 August 2015 | Join the Socialist Party
Subscribe | Donate | Audio | PDF | ebook
Subscribe to the Socialist!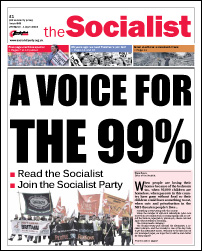 Mark Best
This edition of the Socialist and previous ones give a glimpse of the stormy period ahead of us. The Tories have announced they are ramping up attacks on young people and the organised working class. This autumn they will be trying to pass into law the anti-trade union bill, further attacks on benefits and more.
There is a massive need to fight back. At the same time as the attacks are being drawn up we've seen the rise of Jeremy Corbyn, showing the popularity of anti-austerity ideas. Whatever the outcome of the Labour leadership election it's clear that there are sharp turns ahead.
Analysis
This shows the importance of our weekly newspaper - the Socialist. Being able to react to events quickly, offer analysis and point the way forward is vital. The production of the newspaper is the result of hard work - writing, editing and laying out articles and pictures from around the country and the world.
Our members and supporters work hard writing for a publication that reflects their life and selling the paper to their friends and workmates. And we have a full time staff working on the paper every week.
We need to spend money on printing, distribution and wages. The Socialist is a newspaper funded by working class and young people most affected by the attacks and who see the need to fight back.
Production
To produce this paper on a regular basis, we need to have money coming in. One thing you can do to aid this is to make the simple step of subscribing to the Socialist to get it delivered direct to your door through the post each week.
So whether you are a long standing reader or this is the first issue you have read, if you would like to support our paper and receive our ideas and analysis regularly and would like to make sure you get your copy of the Socialist every week then you should subscribe via one of the methods below.
How about also taking direct debit forms (available from us) around the people you know who might subscribe?
---
In this issue
---
Socialist Party features

The Labour Party, Militant and 'infiltration'

Gulf War 'unfinished business' remains today
---
Socialist Party reports and campaigns

Subscribe to the Socialist!

Fascists caged, humiliated and driven out of Liverpool

We won't pay for their crisis!

Anger at bus service cuts in Sheffield

TUSC by-election boost in Grimsby and Cleethorpes
---
Socialist Party news and analysis

Corbyn stand: A welcome upheaval in British politics

Solidarity with the Polish workers' strike

Government discrimination against EU workers

Kids Company closure

Them & Us
---
Workplace news and analysis

Socialist challenges right winger for Unison leadership

National Gallery all-out strike goes on as bosses sell off jobs

London tube's summer of strikes joined by First Great Western

Probation and courts union Napo needs socialist leadership

Uni unions ready Manchester jobs fight

Retail union must fight Sunday trading deregulation

Workplace news in brief
---
International socialist news and analysis

Greece: Building a new left alternative after Syriza capitulation

Ireland: drop the prosecutions, scrap the water charges

US: Kshama Sawant leads Seattle primary elections count on 50%
---
Home | The Socialist 19 August 2015 | Join the Socialist Party