The Socialist 19 August 2015
Corbyn: no cuts stand wins mass support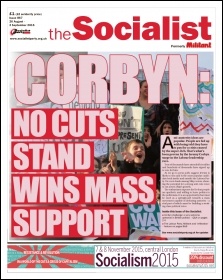 ---
The Labour Party, Militant and 'infiltration'
Gulf War 'unfinished business' remains today
---
Fascists caged, humiliated and driven out of Liverpool
We won't pay for their crisis!
Anger at bus service cuts in Sheffield
TUSC by-election boost in Grimsby and Cleethorpes
---
Corbyn stand: A welcome upheaval in British politics
Solidarity with the Polish workers' strike
Government discrimination against EU workers
---
Socialist challenges right winger for Unison leadership
National Gallery all-out strike goes on as bosses sell off jobs
London tube's summer of strikes joined by First Great Western
Probation and courts union Napo needs socialist leadership
Uni unions ready Manchester jobs fight
Retail union must fight Sunday trading deregulation
---
Greece: Building a new left alternative after Syriza capitulation
Ireland: drop the prosecutions, scrap the water charges
US: Kshama Sawant leads Seattle primary elections count on 50%
PO Box 1398, Enfield EN1 9GT
020 8988 8777

Link to this page: https://www.socialistparty.org.uk/issue/867/21238
Home | The Socialist 19 August 2015 | Join the Socialist Party
Subscribe | Donate | Audio | PDF | ebook
Anger at bus service cuts in Sheffield
Alistair Tice, Yorkshire Socialist Party
Sheffield Bus Partnership is attempting to make drastic cuts to bus services in the city. Through removing, replacing, reducing and re-routing, 10-15% of all services will be cut. 50 buses a day will be taken off the network resulting in approximately 150 bus workers losing their jobs.
The proposals are set to be implemented in October, and the lack of consultation has sparked huge anger across Sheffield with around 4,500 people voicing opposition in one form or another.
March
The Socialist Party and TUSC (Trade Unionist and Socialist Coalition), along with the South Yorkshire Freedom Riders and Sheffield Trades Council, have been at the forefront of campaigns against these cuts.
On 30 July, thirty people marched from the bus station to the South Yorkshire Passenger Transport Executive, forcing our way into their office and handing in TUSC petitions against the cuts.
We will also be demanding that the Labour led council, which ultimately has the final say, should halt any changes until a proper public consultation has been conducted. The 'official' consultation has been a sham with hardly any publicity and very confusing questions - you need to be a geographer to work out what's going on!
The Tory government funding cuts, passed on by the Labour council, and the drive by private bus operators First and Stagecoach to increase profits by cutting "not sustainable" services, have led to this.
That's why the Socialist Party will continue to demand that the Labour council defy Tory cuts. We call on South Yorkshire Labour councils to use existing legislation to introduce bus regulation through a Bus Quality Contract.
In the long run though, bus services should be taken out of the hands of the 'big five' private operators and returned to public ownership.
Over 25 joined a protest called by Cardiff Housing Action outside the offices of Peter Alan, which boasts that it is the biggest letting agent in Wales and charges extortionate rents. Socialist Party speakers called on the Welsh Assembly to end this rip-off and tackle the housing crisis. photo Christos Palmer
---
In this issue
---
Socialist Party features

The Labour Party, Militant and 'infiltration'

Gulf War 'unfinished business' remains today
---
Socialist Party reports and campaigns

Subscribe to the Socialist!

Fascists caged, humiliated and driven out of Liverpool

We won't pay for their crisis!

Anger at bus service cuts in Sheffield

TUSC by-election boost in Grimsby and Cleethorpes
---
Socialist Party news and analysis

Corbyn stand: A welcome upheaval in British politics

Solidarity with the Polish workers' strike

Government discrimination against EU workers

Kids Company closure

Them & Us
---
Workplace news and analysis

Socialist challenges right winger for Unison leadership

National Gallery all-out strike goes on as bosses sell off jobs

London tube's summer of strikes joined by First Great Western

Probation and courts union Napo needs socialist leadership

Uni unions ready Manchester jobs fight

Retail union must fight Sunday trading deregulation

Workplace news in brief
---
International socialist news and analysis

Greece: Building a new left alternative after Syriza capitulation

Ireland: drop the prosecutions, scrap the water charges

US: Kshama Sawant leads Seattle primary elections count on 50%
---
Home | The Socialist 19 August 2015 | Join the Socialist Party