The Socialist 16 September 2015
A new era for the 99%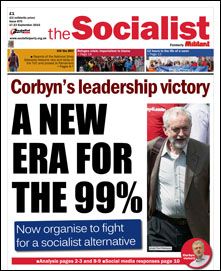 ---
Corbyn's leadership victory; A new era for the 99%
NSSN rally calls for mass action to 'Kill the Bill!'
'Socialism is popular' confirms Lord Ashcroft
Ministry of Justice : Stop this privatisation scandal!
---
Refugee crisis: Imperialist countries bear major responsibility
Northern Ireland Executive crisis
---
7½ out of 8 victory for Doncaster council workers
Parliament protest against the anti-union bill
Support Teesside construction workers: Pay the rate!
Sports Direct's 'workhouse conditions'
---
Students join campaign for affordable housing!
---
Refugee Lives Matter - large turnout for demo
'Collectathon': Sell the Socialist; and donate!
---
Twelve hours in the life of a carer
---
Queen celebrates longest reign - let's make it the last!
Theatre review: 'An angry call for revolt'
PO Box 24697, London, E11 1YD
020 8988 8777
editors@socialistparty.org.uk
Socialist Party comments and reviews