The Socialist 18 November 2015
No to terror, war, racism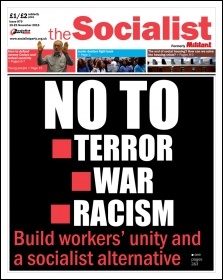 ---
How to defend Corbyn and defeat austerity
Tories flog bank assets to hellhound US profiteers
Athletics doping scandal: big business profits behind global sports corruption
---
The end of social housing? How can we solve the housing crisis?
How can young people organise to support Jeremy Corbyn?
---
---
Junior doctors: first strikes in 40 years
Trade union action needed to fight for steel jobs
Historic London bus drivers' agreement
Pro-Corbyn mood among Usdaw members
Support for Roger Bannister in Unison election
---
All NHS unions should join junior doctors' strike
A day in the life of a Game retail worker
Why I joined: "I already feel as if I am finally home"
Robert Tressell's characters are all too real to me
My struggle for an income I can live on
---
Thousands march against India premier's bloody sectarianism
Strike to save Lambeth libraries
PO Box 24697, London, E11 1YD
020 8988 8777
editors@socialistparty.org.uk
Readers' comments and reviews




LATEST POSTS

WHAT'S ON

CONTACT US
Locate your nearest Socialist Party branch Text your name and postcode to 07761 818 206
Regional Socialist Party organisers:
Eastern: 0798 202 1969
East Mids: 0773 797 8057
London: 020 8988 8786
North East: 0191 421 6230
North West 07769 611 320
South East: 020 8988 8777
South West: 07759 796 478
Southern: 07833 681910
Wales: 07935 391 947
West Mids: 02476 555 620
Yorkshire: 0114 264 6551

ABOUT US

ARCHIVE
---

2017

2016

2015

2014

2013

2012

2011

2010

2009

2008

2007

2006

2005

2004

2003

2002

2001

2000

1999