The Socialist 9 December 2015
Kick out all the warmongers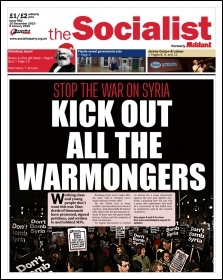 ---
How can Corbyn and the left win in the Labour Party?
International Brigades fought against capitalism, not for
---
Defending the right to deselect warmongers
Young people accused of extremism
Rail fares and profits rise as service suffers
Tax-dodging drug firm shuts research facility
---
French elections - Le Pen's far-right FN surges
Northern Ireland: movement needed for abortion rights
Ireland - defend the Jobstown protesters
Sweden - public housing victory
Belgium - party congress success
---
Floods reveal effect of government cuts
Carlisle - lives and livelihoods devastated
Capitalism's climate change policy failure
---
A week of anti-war campaigning in Walthamstow
---
Interview with new RMT president
Unison general secretary election in crisis
Trade unions must join the fight for steel nationalisation
Strike in support of suspended headteacher
Eleanor Marx: A life of struggle, solidarity and socialism
---
---
Thousands march around the country against the bombing of Syria
Confronting the far right in Derby
Subs campaign: have you increased yours yet?
North West fighting fund week of action!
The Socialist Christmas schedule
Socialist Party national committee meeting
PO Box 1398, Enfield EN1 9GT
020 8988 8777
editors@socialistparty.org.uk
Socialist readers' comments and reviews