The Socialist 17 February 2016
Councils have a choice: no cuts to jobs or services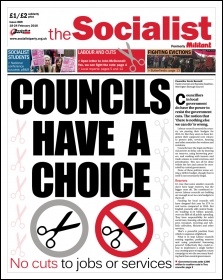 ---
Councils have a choice: no cuts to jobs or services
Junior doctors must stand firm
£300 million to cushion cuts in Tory councils
Scotland: battle heats up against council cuts
US fears EU exit will hinder vulture privatisers
Liverpool fans score victory v £77 ticket hike
Record-high 170 evictions a day
---
An open letter to John McDonnell from Tony Mulhearn
---
Irish election: fighting on an anti-austerity agenda
---
Socialist Students conference 2016: Delegates enthusiastic and confident
---
Doctors' strike 10th February - photos and reports
Rally to defend jobs in Northern Ireland: "We won't sit on the sidelines"
Library workers prepare to escalate strike action
Historic joint further education strike
Public meetings show readiness of workers to fight back
---
Hands off the Butterfields estate!
Sheffield no-cuts People's Budget conference
Southampton: absence of Corbynism as Labour swings Tory axe again!
"Staines has never seen anything like it!"
Students, unions and parents unite to save Pent Valley School
"You can cut the cake but not our libraries!"
London lobbies against cuts to jobs and services
---
If I had been in 1980s Labour, I'd have supported Militant
Socialist's anti-war art on show in Bradford
PO Box 24697, London, E11 1YD
020 8988 8777
editors@socialistparty.org.uk