The Socialist 30 March 2016
We demand a real living wage of 10 an hour now!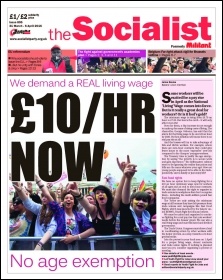 ---
Teachers and school students march against forced academies
Academy chain axed in head's pay scandal
Disabled activists shame tory cutters
---
Belgium: Far right attack vigil for Brussels victims
Kazakhstan: Treatment of political prisoners condemned
---
Why socialists should vote to leave the EU
Vote against the EU - but no unity with Tories or UKIP
---
Solidarity with junior doctors
NUT to ballot for action over academies
Museum workers strike to defend pay
Greenwich labour councillors given the red card
Lambeth: Librarians walk out over cuts and privatisation
Tube workers' strike shuts Piccadilly Line
---
'No forced academies' demonstrations
Swansea: Fascist thugs made to look pathetic
All you need is love - and a stall!
---
Featured letter: 'Universal Jobmatch' con: 'Rabbit trail' of recurring, non-existent job ads
Enter Shikari review: A kaleidoscope of colour
---
Fighting the great tax robbery: taxes and regulation or socialist nationalisation?
PO Box 24697, London, E11 1YD
020 8988 8777
editors@socialistparty.org.uk
European Union referendum
Socialist Party comments and reviews