The Socialist 27 April 2016
Bring down the Tories - fight cuts - vote TUSC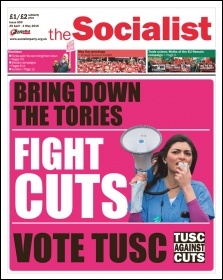 ---
Historic all-out junior doctors' strike action
Tata steel crisis: 100% nationalisation now!
Hillsborough inquest victory: cops unlawfully killed 96
Nationalise BHS to save 11,000 jobs
Rich List betrays lies of austerity
Queen reaches 90: abolish the monarchy
Most diesels emit illegal levels of poison
---
Defeats and u-turns show Tories are weak
---
Trade unions: myths of EU 'Remain' campaign
---
An anti-austerity alternative on the ballot paper
Welsh Assembly elections: A working class voice to say 'save our steel!'
Scottish elections: strong mood for anti-cuts strategy continues
London elections: fight for an anti-austerity GLA
Warrington: Socialist councillor fighting cuts and hitting doorsteps
Why I'm standing: TUSC can make a real difference
Southampton Labour council faces crisis as cuts hit city
Anti-cuts stand wins support from students in Leeds
Countering the growth of Ukip in south Wales
---
Junior doctors withdraw all labour to step up pressure
Trade Union Bill concessions made - now fight to scrap the lot!
Housing: Catalyst needs converting
---
Butterfields: campaign to stay getting results
---
USA: the un-Democratic primary
Poland: anger at abortion ban plan
---
PO Box 1398, Enfield EN1 9GT
020 8988 8777