The Socialist 13 July 2016
Organise the resistance: fight the Tories and the Blairites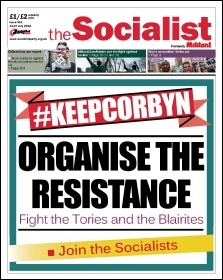 ---
Child poverty rises by 200,000 in a year
Welsh Assembly to scrap 'right to buy'
Nine-month prison sentence for fleeing ethnic cleansing
What we saw: Angela Eagle Facebook meme
---
Fight racism: for jobs, homes and services for all
Police racism still lethal in Britain
Majority support migrants staying - fight hate crime
---
Step up the campaign to back Corbyn's fight
Tory coronation is attempt at stability that can't work
---
Chilcot Iraq report: More piles of evidence against the blood-soaked war for oil
---
Angry prison officers walk out over reforms
New threat to impose junior doctors contract must be met with strike action
Vote Chas Berry for Napo national chair
Unite policy conference 2016: Blairite coup, Trident and cuts dominate opening days
---
Spain: Disappointment for left in re-run general election
---
Thousands mobilising to #KeepCorbyn
Why I joined: "I no longer felt isolated from politics"
Fight back is on to save NHS heart services
Sales of the Socialist through the roof since the referendum
PO Box 1398, Enfield EN1 9GT
020 8988 8777

Link to this page: https://www.socialistparty.org.uk/issue/910/23204
Home | The Socialist 13 July 2016 | Join the Socialist Party
Subscribe | Donate | Audio | PDF | ebook
Tory coronation is attempt at stability that can't work
The new Tory PM, Theresa May, was hastily chosen by only 0.0004% of the electorate on Monday 11 July. In doing so, 199 Tory MPs attempted to act decisively in the interests of the 0.002%, the richest 1,000 people in the country who own the majority of the wealth and control the lion's share of the economy. To achieve this result the leadership campaign of Andrea Leadsom was driven off the road and over a cliff.
Leadsom models herself on Thatcher. But so does May. In fact their CVs almost mirror each other with backgrounds in finance and in being dedicated austerians in parliament. But Leadsom's campaign was seen as a threat to the political stability that big business craves.
The capitalist class fought and fought against the Brexit vote which represented fundamentally a kick-back against austerity and the establishment. Leadsom pledged to trigger 'Article 50' immediately to start formal negotiations to bring Britain out of the EU. The FT, the mouthpiece of the boss class, approvingly says of May: "Sensibly, she has insisted that Article 50, the red button for exit, will not be pressed until early next year at least. This gives her time to formulate Britain's negotiating position before formal divorce talks with Brussels begin."
A more protracted process gives the ruling class time to try and "walk back" the Leave vote in the words of US Secretary of State John Kerry.
While the Tory government has not yet faced a mass movement it has glimpsed the opposition, especially in the Brexit vote. And it has been unable to carry through a number of planned attacks, even before then. Back in April in the Times, a Tory 'rebel' described the forced academisation of schools "as a 'f***ing poison' that could see parents camped outside popular council-run schools in protest while Tory councils have described the policy as wrong and bonkers." It's estimated that the rebellion could have risen to 40 MPs as they felt the heat in their constituencies. They fear more of this.
The Corbyn effect?
Over the weekend a mini Project Fear was unleashed at Leadsom by pro-capitalist newspapers and fellow Tory MPs. Her campaign manager, Tim Loughton, told the Guardian that "there was evidence that she felt hounded out of the race." He complained of an "onslaught of often very personal attacks from colleagues and journalists" and "spin and underhand tactics". This is only a sliver of the huge campaign that has raged against Jeremy Corbyn.
But it was inspired by the fear of a Corbyn-type situation where the parliamentary Tory party is divided from its membership. The Telegraph reported on a poll published on Thursday 7 July by Leave.EU of 5,000 Tory members which found 56% supported Leadsom to 44% for May.
This mood among the membership prompted Nick Boles, coordinator of the stop Leadsom campaign, to text Tory MPs saying: "What if Theresa stumbles? Are we really confident that the membership won't vote for a fresh face who shares their attitudes about much of modern life?" And so Leadsom was sacrificed.
But the campaign for a stable environment for profit-making does not stop there. Since entering the race May indicated that she is the 'continuity anti-continuity' candidate in an attempt to claim she can reach out beyond the hated Westminster bubble. She said: "It's not anti-business to suggest that big business needs to change... This is a different kind of Conservatism, I know. It marks a break with the past."
But she is also seeking to indicate that she won't go too far for fear of scaring the bosses, saying the government should "continue with its intention to reduce public spending and cut the budget deficit". So more austerity - but with some meagre gestures towards the working class.
The financial markets may have picked up in response to the risk of a nine-week blue-on-blue battle being averted and the hope that an early general election will now not take place. But the idea that May can deliver stability is a pipedream. For example, Britain's trade deficit widened in the first quarter of 2016 to its biggest since the early days of the 2007-8 financial crisis.
'Compassionate'
May's nods towards a break with Cameron's austerity are similar to the failed Miliband general election campaign of 2015 when he spoke about 'compassionate capitalism' and called for workers' representatives on company boards, etc. Her proposals to break with Osborne's austerity targets are an indication of how, shaken by the Brexit vote, the capitalist class is not confident to continue with promoting endless austerity. Now is the time for the trade unions to go on the offensive to demand a general election and to bring all the many struggles together in a 24-hour general strike against all cuts. In the absence of such a response the capitalist class can regroup.
This year the amount of wealth owned by the richest 1% of the world's population has surpassed that owned by the rest of us. Only working class struggle, including the building of fighting democratic mass organisations, for socialist change can end the nightmare of austerity and capitalism.
And May is not only recycling the failed ideas of Miliband but also of Cameron, booed at Wimbledon for his role in bringing misery to the lives of millions, who also once spoke of so-called 'compassionate conservatism' which was for him a byword for vicious capitalist austerity.
---
In this issue
---
Socialist Party news and analysis

Child poverty rises by 200,000 in a year

Welsh Assembly to scrap 'right to buy'

Nine-month prison sentence for fleeing ethnic cleansing

HSBC jailbreak

Rail fail

What we saw: Angela Eagle Facebook meme

Them & Us
---
Fighting racism

Fight racism: for jobs, homes and services for all

Police racism still lethal in Britain

Majority support migrants staying - fight hate crime
---
What we think

Step up the campaign to back Corbyn's fight

Tory coronation is attempt at stability that can't work
---
Chilcot report

Chilcot Iraq report: More piles of evidence against the blood-soaked war for oil
---
Socialist Party workplace news

Angry prison officers walk out over reforms

New threat to impose junior doctors contract must be met with strike action

Vote Chas Berry for Napo national chair

Unite policy conference 2016: Blairite coup, Trident and cuts dominate opening days

Workplace news in brief
---
International socialist news and analysis

Spain: Disappointment for left in re-run general election

CWI in brief
---
Socialist Party reports and campaigns

Thousands mobilising to #KeepCorbyn

Why I joined: "I no longer felt isolated from politics"

Fight back is on to save NHS heart services

Sales of the Socialist through the roof since the referendum
---
Home | The Socialist 13 July 2016 | Join the Socialist Party
Related links:

Ridley Road: An engaging story of fighting fascism

Caffeine and capitalism - a symbiotic relationship

Socialist Party national youth meeting

Preparing for struggle in post-Covid Britain

People's Budgets - a socialist answer to cruel cuts

Fight for a socialist recovery

"Are you the socialist cabby?"

Preparing for no-cuts People's Budgets

Save the planet from capitalist climate catastrophe

Austria: Chancellor Kurz resigns amid allegations of corruption

TV review: Squid Game

News in brief

Cladding: Tories refuse to protect leaseholders again

German general election

Covid 'vaccine wars' underline failure of capitalist nation states to deal with the global pandemic

Fight to defend homelessness services

Ten years since our 330-mile Jarrow March for Jobs