The Socialist 13 July 2016
Organise the resistance: fight the Tories and the Blairites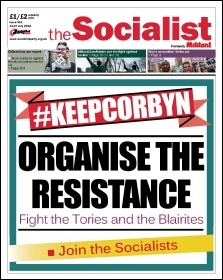 ---
Child poverty rises by 200,000 in a year
Welsh Assembly to scrap 'right to buy'
Nine-month prison sentence for fleeing ethnic cleansing
What we saw: Angela Eagle Facebook meme
---
Fight racism: for jobs, homes and services for all
Police racism still lethal in Britain
Majority support migrants staying - fight hate crime
---
Step up the campaign to back Corbyn's fight
Tory coronation is attempt at stability that can't work
---
Chilcot Iraq report: More piles of evidence against the blood-soaked war for oil
---
Angry prison officers walk out over reforms
New threat to impose junior doctors contract must be met with strike action
Vote Chas Berry for Napo national chair
Unite policy conference 2016: Blairite coup, Trident and cuts dominate opening days
---
Spain: Disappointment for left in re-run general election
---
Thousands mobilising to #KeepCorbyn
Why I joined: "I no longer felt isolated from politics"
Fight back is on to save NHS heart services
Sales of the Socialist through the roof since the referendum
PO Box 1398, Enfield EN1 9GT
020 8988 8777

Link to this page: https://www.socialistparty.org.uk/issue/910/23205
Home | The Socialist 13 July 2016 | Join the Socialist Party
Subscribe | Donate | Audio | PDF | ebook
Thousands mobilising to #KeepCorbyn
London
An all-London meeting was called at very short notice on 6 July by Momentum to organise support for Jeremy Corbyn. The chair reported that 2,000 were in the venue.
As well as Jeremy, other speakers included Matt Wrack, general secretary of the Fire Brigades Union, Jon Lansman, chair of Momentum, Diane Abbott MP, and several others. Matt Wrack made a hard-hitting speech, condemning the back-stabbing MPs and pledging full support for Corbyn in the expected leadership challenge.
Jon Lansman talked about the plans that have been made to defend Jeremy and he reported that already 100,000 have joined the Labour Party since MPs passed their motion of no confidence. Rhea Wilson, young member candidate for the Labour NEC said that the party was now reaching breaking point.
Socialism
Unfortunately, Jeremy could not attend the event in person, but he recorded a short video message, where he said he stood for the redistribution of wealth and for socialist values. The meeting was unanimous in condemning the attacks on the democratically elected leader of the Labour Party, and the audience was clearly very enthusiastic to take up the fight.
One shortcoming of the meeting was that no call was made to welcome in all left forces to participate in the struggle. At a meeting of Tower Hamlets Momentum a few months ago, Jon Lansman made it clear that I and other Socialist Party members would not be welcome to participate.
I hope that in the new circumstances, now battle lines have been drawn, the need for left unity will lead to a rethink.
Another worrying feature of the contributions was that there was no recognition that the traitor Labour MPs have, by their own actions, once and for all put themselves outside the ranks of the movement. Any move to welcome them back and let bygones be bygones would be disastrous.
Pete Dickenson
---
Birmingham
More than 500 people turned out for the Momentum organised Keep Corbyn rally on 7 July before marching to the Birmingham Council House in Victoria Square, where the crowd was addressed by a range of speakers. These included Labour councillors who had signed an open letter in support of Jeremy Corbyn against the Blairite coup in the Labour Party.
Ex-Respect councillor Salma Yaqoob correctly identified the need for Labour parliamentary and council candidates committed to anti-austerity policies in action not just words - to rapturous applause from the crowd and passers-by.
Council cuts
Socialist Party and ex-PCS executive member Kevin Greenaway took Salma Yaqoob's argument further, saying councillors should be repeating Jeremy Corbyn's policies in the council chamber - fighting funding cuts and job losses at every level.
Socialist Party members argued for an inclusive open conference of anti-austerity activists both inside and outside of the Labour Party, which was warmly received particularly from young Labour members.
Many people said they wanted to come to our meetings to find out how to defend Corbyn and his anti-austerity ideas.
Theo Sharieff
---
Plymouth
Plymouth Momentum organised a rally at short notice in the city centre on 9 July to defend Jeremy Corbyn.
Momentum speakers discussed the need for openness and an embracing of Corbyn's "new kind of politics". It was disappointing therefore that Momentum Plymouth members attempted to prevent Socialist Party members from handing out leaflets.
The leaflets were calling for Corbyn to organise a conference of all left forces inside and outside the Labour Party to come together to prepare for the battles ahead.
The overwhelming majority of people were supportive of the idea, with a number of people taking handfuls of leaflets to distribute at their workplaces.
We sold more than 20 copies of the Socialist and had some excellent discussions with people who wanted to discuss a strategy to defend Corbyn.
It is by uniting, discussing and organising that we stand the best chance of defending Corbyn, building on support from inside and outside the Labour Party.
Ryan Aldred
---
York
"Blairites out, Corbyn in," said many of the placards that set the tone at the York Momentum 'Keep Corbyn' rally on 8 July.
Over 100 people gathered in St Helen's Square, to denounce the attempted Blairite coup - in the week the Chilcot report came out which denounced Blair for launching the disastrous Iraq war.
The protest seemed to bring together lots of new people - both Labour Party members people and those not in the Labour Party but are active rank and file trade unionists, and who felt that the ideas being put forward by Corbyn were ones they could get behind.
Socialist Party member Iain Dalton was also able to address the rally, unlike recent ones in nearby Leeds (*see footnote). He offered Socialist Party support and pointed out that pressure from below was pushing most trade union leaders into backing Corbyn.
Iain also urged the need for all who support Corbyn, whether inside the Labour Party or not to come together in this campaign and that a conference of these forces could help plan out the next steps in the battle with the Blairites.
Footnote: This sentence was amended online on 15.7.16 to remove an inaccurate reference to Socialist Party members not being able to address previous Momentum meetings in York; the participation of Socialist Party members has in fact been welcomed in York Momentum.
---
In this issue
---
Socialist Party news and analysis

Child poverty rises by 200,000 in a year

Welsh Assembly to scrap 'right to buy'

Nine-month prison sentence for fleeing ethnic cleansing

HSBC jailbreak

Rail fail

What we saw: Angela Eagle Facebook meme

Them & Us
---
Fighting racism

Fight racism: for jobs, homes and services for all

Police racism still lethal in Britain

Majority support migrants staying - fight hate crime
---
What we think

Step up the campaign to back Corbyn's fight

Tory coronation is attempt at stability that can't work
---
Chilcot report

Chilcot Iraq report: More piles of evidence against the blood-soaked war for oil
---
Socialist Party workplace news

Angry prison officers walk out over reforms

New threat to impose junior doctors contract must be met with strike action

Vote Chas Berry for Napo national chair

Unite policy conference 2016: Blairite coup, Trident and cuts dominate opening days

Workplace news in brief
---
International socialist news and analysis

Spain: Disappointment for left in re-run general election

CWI in brief
---
Socialist Party reports and campaigns

Thousands mobilising to #KeepCorbyn

Why I joined: "I no longer felt isolated from politics"

Fight back is on to save NHS heart services

Sales of the Socialist through the roof since the referendum
---
Home | The Socialist 13 July 2016 | Join the Socialist Party
Related links:

Ten years since our 330-mile Jarrow March for Jobs

Corbyn had a social care plan

Goodlord strikers fight fire and rehire as part of day of action

The Socialist Inbox

Councillors in Surrey resign from Labour and look to stand independently

Devonport tugboat crews strike against rota changes

Why I joined the Socialist Party

Unions must organise throughout crisis

Plymouth students discuss rent strike

More market chaos: York students given digs in Hull

York: Non-binary and trans rights protest

York residents demand land for local community needs

Fightback to save Birmingham GKN jobs!

Socialist Students: Youth lit up when they saw us

Hillingdon Socialist Party: The ideas of Leon Trotsky

Fighting the cuts at the ballot box in Liverpool

Fighting fund target achieved - keep up the momentum

Bakers' union disaffiliates from Labour

Carlisle Socialist Party: After COP26 - what next?

News in brief

Ealing People's Budget - cuts can be resisted

Grenfell watch: Unions challenge 'mockery of justice'

"Are you the socialist cabby?"

Tower Hamlets Labour backs Tory cuts