The Socialist 13 July 2016
Organise the resistance: fight the Tories and the Blairites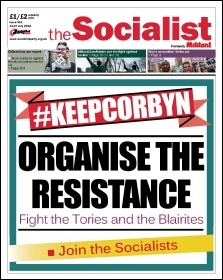 ---
Child poverty rises by 200,000 in a year
Welsh Assembly to scrap 'right to buy'
Nine-month prison sentence for fleeing ethnic cleansing
What we saw: Angela Eagle Facebook meme
---
Fight racism: for jobs, homes and services for all
Police racism still lethal in Britain
Majority support migrants staying - fight hate crime
---
Step up the campaign to back Corbyn's fight
Tory coronation is attempt at stability that can't work
---
Chilcot Iraq report: More piles of evidence against the blood-soaked war for oil
---
Angry prison officers walk out over reforms
New threat to impose junior doctors contract must be met with strike action
Vote Chas Berry for Napo national chair
Unite policy conference 2016: Blairite coup, Trident and cuts dominate opening days
---
Spain: Disappointment for left in re-run general election
---
Thousands mobilising to #KeepCorbyn
Why I joined: "I no longer felt isolated from politics"
Fight back is on to save NHS heart services
Sales of the Socialist through the roof since the referendum
PO Box 1398, Enfield EN1 9GT
020 8988 8777

Link to this page: https://www.socialistparty.org.uk/issue/910/23206
Home | The Socialist 13 July 2016 | Join the Socialist Party
Subscribe | Donate | Audio | PDF | ebook
Why I joined: "I no longer felt isolated from politics"
Corinthia Ward
Growing up in the 1990s and early 2000s I only ever knew Labour as the party who gave us Tony Blair, privatisation, tuition fees and the Iraq War. When I reached voting age I was told Labour was meant to be the party for working people but during my whole life I had seen no evidence of this.
I knew the Tory party were not to be trusted as I heard the horror stories of Thatcher, however, I was also too familiar with the horror stories of Labour from my own personal experience.
Innocent people
My earliest memory involving politics was sitting in front of the news as a child and seeing the first UK bombs hit Iraq and in my mind I saw innocent people and families dying. Knowing there wasn't a parliamentary party who fought for my interests or for that of people like me made me feel helpless and isolated throughout most of my life.
In spring 2015 I attended a Trade Unionist and Socialist Coalition (TUSC) meeting in my local town due to a leaflet being put through my door. There I saw TUSC chair Dave Nellist speak as well as my local TUSC candidate Ted Woodley. It was the first time I had ever heard people fight for the things I believed in; ending tuition fees and fighting for nationalisation.
It was through my involvement in TUSC that I was introduced to the Socialist Party and went to a branch meeting. There I learnt about the party's history (as Militant) and the issues which they fight for.
Talking with people at the meeting meant I no longer felt isolated from politics and was able to connect with like-minded people. Everyone involved in the branch had been welcoming and friendly and it didn't take me long to join.
Being a member of the Socialist Party has not only enabled me to find my political voice but also to understand politics on a class basis, giving me confidence to fight for issues I believe in and I feel more empowered than I did before.
But overall, the main point when talking to someone about why they should join the Socialist Party is how you will no longer feel alone or isolated. To know there are people on your side and feel the same as you.
With the surge in support of Jeremy Corbyn, it's an exciting time to be a socialist. The opportunity exists for a mass anti-austerity party completely different to the Labour Party I grew up with.
---
In this issue
---
Socialist Party news and analysis

Child poverty rises by 200,000 in a year

Welsh Assembly to scrap 'right to buy'

Nine-month prison sentence for fleeing ethnic cleansing

HSBC jailbreak

Rail fail

What we saw: Angela Eagle Facebook meme

Them & Us
---
Fighting racism

Fight racism: for jobs, homes and services for all

Police racism still lethal in Britain

Majority support migrants staying - fight hate crime
---
What we think

Step up the campaign to back Corbyn's fight

Tory coronation is attempt at stability that can't work
---
Chilcot report

Chilcot Iraq report: More piles of evidence against the blood-soaked war for oil
---
Socialist Party workplace news

Angry prison officers walk out over reforms

New threat to impose junior doctors contract must be met with strike action

Vote Chas Berry for Napo national chair

Unite policy conference 2016: Blairite coup, Trident and cuts dominate opening days

Workplace news in brief
---
International socialist news and analysis

Spain: Disappointment for left in re-run general election

CWI in brief
---
Socialist Party reports and campaigns

Thousands mobilising to #KeepCorbyn

Why I joined: "I no longer felt isolated from politics"

Fight back is on to save NHS heart services

Sales of the Socialist through the roof since the referendum
---
Home | The Socialist 13 July 2016 | Join the Socialist Party