The Socialist 13 July 2016
Organise the resistance: fight the Tories and the Blairites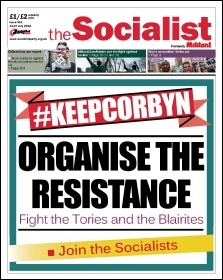 ---
Child poverty rises by 200,000 in a year
Welsh Assembly to scrap 'right to buy'
Nine-month prison sentence for fleeing ethnic cleansing
What we saw: Angela Eagle Facebook meme
---
Fight racism: for jobs, homes and services for all
Police racism still lethal in Britain
Majority support migrants staying - fight hate crime
---
Step up the campaign to back Corbyn's fight
Tory coronation is attempt at stability that can't work
---
Chilcot Iraq report: More piles of evidence against the blood-soaked war for oil
---
Angry prison officers walk out over reforms
New threat to impose junior doctors contract must be met with strike action
Vote Chas Berry for Napo national chair
Unite policy conference 2016: Blairite coup, Trident and cuts dominate opening days
---
Spain: Disappointment for left in re-run general election
---
Thousands mobilising to #KeepCorbyn
Why I joined: "I no longer felt isolated from politics"
Fight back is on to save NHS heart services
Sales of the Socialist through the roof since the referendum
PO Box 1398, Enfield EN1 9GT
020 8988 8777

Link to this page: https://www.socialistparty.org.uk/issue/910/23207
Home | The Socialist 13 July 2016 | Join the Socialist Party
Subscribe | Donate | Audio | PDF | ebook
Fight back is on to save NHS heart services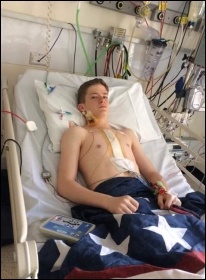 Jamie Score after his heart operation at Glenfield Hospital, Leicester photo Steve Score (Click to enlarge)
Steve Score
A massive attack has been launched on NHS congenital heart services in England. Patients, families and health workers will not accept it and we will fight back. As a parent whose 15-year old son had open heart surgery only seven months ago at one of the threatened units, Leicester Glenfield Hospital, I am furious.
NHS England has announced that three hospital trusts in Leicester, Manchester and London will have to stop complex surgery on people born with heart problems. Five other trusts will have to stop providing other heart services and procedures.
Four years ago the NHS nationally tried to 'centralise' services and were defeated by campaigns and legal challenges. The medical arguments they put forward are flawed and it is the billions of pounds of 'efficiency savings' (read cuts) required of the NHS by this government that are really behind it.
Leicester Glenfield heart unit is one of the best and has pioneered certain treatments in this country.
The care and support they gave my son was fantastic and makes you proud of the achievements of the NHS. Kids need their friends and family around them when they have long stays in hospital, centralisation would mean greater distances to travel for family as well as for appointments for the child.
Leicester had the first Ecmo (Extra Corporeal Membrane Oxygenation) machine in the country - allowing patients, especially children and babies, to survive heart or lung failure. It now has 50% of the country's paediatric capacity.
The children's heart service is much loved, with charity fundraising providing many of the facilities including Ecmo. A battle now has to be launched. The trade unions should play a key role alongside NHS staff, patients and families.
Leicestershire Against the Cuts is holding an emergency planning meeting on 13 July to discuss the campaign. We want to save the unit in Leicester, but we also want to avoid the attempt made last time by the NHS nationally to play one hospital off against another.
---
In this issue
---
Socialist Party news and analysis

Child poverty rises by 200,000 in a year

Welsh Assembly to scrap 'right to buy'

Nine-month prison sentence for fleeing ethnic cleansing

HSBC jailbreak

Rail fail

What we saw: Angela Eagle Facebook meme

Them & Us
---
Fighting racism

Fight racism: for jobs, homes and services for all

Police racism still lethal in Britain

Majority support migrants staying - fight hate crime
---
What we think

Step up the campaign to back Corbyn's fight

Tory coronation is attempt at stability that can't work
---
Chilcot report

Chilcot Iraq report: More piles of evidence against the blood-soaked war for oil
---
Socialist Party workplace news

Angry prison officers walk out over reforms

New threat to impose junior doctors contract must be met with strike action

Vote Chas Berry for Napo national chair

Unite policy conference 2016: Blairite coup, Trident and cuts dominate opening days

Workplace news in brief
---
International socialist news and analysis

Spain: Disappointment for left in re-run general election

CWI in brief
---
Socialist Party reports and campaigns

Thousands mobilising to #KeepCorbyn

Why I joined: "I no longer felt isolated from politics"

Fight back is on to save NHS heart services

Sales of the Socialist through the roof since the referendum
---
Home | The Socialist 13 July 2016 | Join the Socialist Party