The Socialist 13 July 2016
Organise the resistance: fight the Tories and the Blairites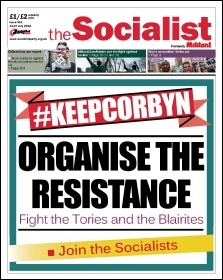 ---
Child poverty rises by 200,000 in a year
Welsh Assembly to scrap 'right to buy'
Nine-month prison sentence for fleeing ethnic cleansing
What we saw: Angela Eagle Facebook meme
---
Fight racism: for jobs, homes and services for all
Police racism still lethal in Britain
Majority support migrants staying - fight hate crime
---
Step up the campaign to back Corbyn's fight
Tory coronation is attempt at stability that can't work
---
Chilcot Iraq report: More piles of evidence against the blood-soaked war for oil
---
Angry prison officers walk out over reforms
New threat to impose junior doctors contract must be met with strike action
Vote Chas Berry for Napo national chair
Unite policy conference 2016: Blairite coup, Trident and cuts dominate opening days
---
Spain: Disappointment for left in re-run general election
---
Thousands mobilising to #KeepCorbyn
Why I joined: "I no longer felt isolated from politics"
Fight back is on to save NHS heart services
Sales of the Socialist through the roof since the referendum
PO Box 1398, Enfield EN1 9GT
020 8988 8777

Link to this page: https://www.socialistparty.org.uk/issue/910/23210
Home | The Socialist 13 July 2016 | Join the Socialist Party
Subscribe | Donate | Audio | PDF | ebook
New threat to impose junior doctors contract must be met with strike action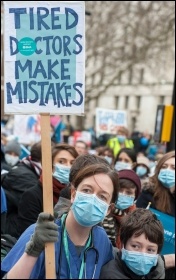 Junior doctors march against attacks on NHS and their contracts, photo Paul Mattsson (Click to enlarge)
Following news that junior doctors in England voted by 58% to 42% to reject the terms of their proposed new working contract, health minister Jeremy Hunt is again threatening to impose the contract on them.
As Yannis Gourtsoyannis of the BMA junior doctors' committee said at the recent National Shop Stewards Network (NSSN) conference: "We have come a long way in the last year. Our action was unprecedented in the NHS, probably the single most positive thing in NHS politics in decades. We are finally having a fight."
With teachers, college lecturers and many other groups of workers having to take strike action against this austerity-driven Tory government and greedy employers, junior doctors have set a great example and should now approach the TUC and coordinate further industrial action.
The only reason Jeremy Hunt backed down from imposing an earlier rotten contract and reopened negotiations was a series of determined strikes of the junior doctors, with overwhelming public support. This new threat must also be met by strike action.
Unacceptable
Junior doctors felt that negotiators had conceded too much and the compromise deal has now been thrown out. Clearly a majority of junior doctors believe that their loss of earnings and a lack of proper oversight on working excessive hours in an increasingly fragmented NHS were unacceptable.
The Socialist Party has mobilised public support for the junior doctors' previous pickets and demonstrations and once again we will support further action to secure a just deal and workable contract.
As Yannis concluded at the NSSN conference: "Now is the time to ramp things up, government capitulation on the contract is possible. We also need to defend Corbyn and show the government the door."
---
In this issue
---
Socialist Party news and analysis

Child poverty rises by 200,000 in a year

Welsh Assembly to scrap 'right to buy'

Nine-month prison sentence for fleeing ethnic cleansing

HSBC jailbreak

Rail fail

What we saw: Angela Eagle Facebook meme

Them & Us
---
Fighting racism

Fight racism: for jobs, homes and services for all

Police racism still lethal in Britain

Majority support migrants staying - fight hate crime
---
What we think

Step up the campaign to back Corbyn's fight

Tory coronation is attempt at stability that can't work
---
Chilcot report

Chilcot Iraq report: More piles of evidence against the blood-soaked war for oil
---
Socialist Party workplace news

Angry prison officers walk out over reforms

New threat to impose junior doctors contract must be met with strike action

Vote Chas Berry for Napo national chair

Unite policy conference 2016: Blairite coup, Trident and cuts dominate opening days

Workplace news in brief
---
International socialist news and analysis

Spain: Disappointment for left in re-run general election

CWI in brief
---
Socialist Party reports and campaigns

Thousands mobilising to #KeepCorbyn

Why I joined: "I no longer felt isolated from politics"

Fight back is on to save NHS heart services

Sales of the Socialist through the roof since the referendum
---
Home | The Socialist 13 July 2016 | Join the Socialist Party